Around two million women were diagnosed with breast cancer last year, making the disease the most diagnosed type of cancer in females in the world. Sadly, not all women examine themselves, particularly because they feel shame or are uncomfortable doing it. To encourage ladies to properly check their bodies, Indian soap maker Lux developed a soap with a lump, cleverly highlighting the importance of examining their own body. Even though it is a nice idea to get women to examine their own bodies, there are still people who don't like to touch themselves or get medical help.
According to a BBC report, people from ethnic minorities don't check out themselves as much as their Caucasian counterparts. The research found out that the disease affects around 25% of black African versus only 13% of white patients. So, what can one do to raise awareness among women—as well as change demographics—that are statistically less likely to examine their bodies, such as the BAME community, transgender community, and cisgender men? Well, according to creative agency Fold7 and breast cancer awareness charity CoppaFeel, you just go ahead and "Grab Life by the Boobs!"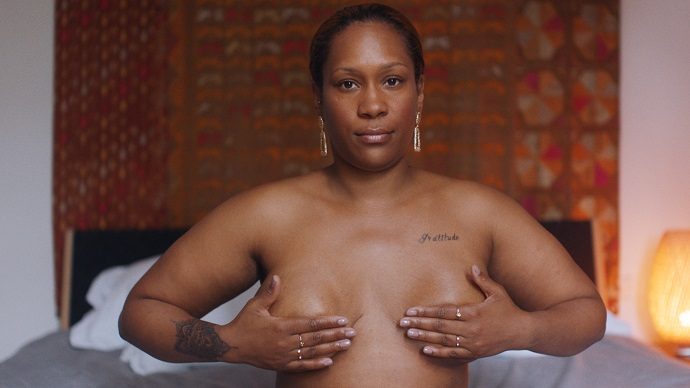 The campaign, which also celebrates Coppafeel's 10th anniversary, asks people to take their lives in their hands and 'grab it by the boobs', mainly to highlight how important it is to check your breasts. The initiative follows the widely-celebrated "Trust Your Touch" ad, the first-ever spot that showed a female nipple on daytime TV. To show how important these check-ups are, the charity created a campaign for which it asked real men and women to participate, some of whom have experienced breast cancer themselves, and visually point out how checking your boobs regularly could prove to be lifesaving.
Ryan Newey, Founder and CCO, Fold7, explains the vital role of regular check-ups: "Breast cancer can impact anyone regardless of age, gender, race – but simply checking gives us the gift of early diagnosis enabling us to get medical treatment as quickly as possible. The line 'grab life by the boobs' was designed to communicate this by subverting the phrase 'grab life by the balls' – and while Trust Your Touch was about building confidence around checking, the message this time is much more assertive and proactive."
Sinéad Molloy, Creative & Brand Manager at CoppaFeel, adds some more insight: "CoppaFeel! was born out of a need for a more representative narrative around breast cancer, after our founder Kris Hallenga was diagnosed with incurable breast cancer aged 23. Grab Life By The Boobs is a celebration of grabbing on to life and a reminder to all young people that getting to know their body is the best way to put the future in their hands"
The campaign will run across TV, cinema, radio, print, OOH, and online from July to November and was developed by a team of women, consisting of Charlotte Whittall at Fold7, Eloise King at Pretty Bird, Anna Patarakina at Clean Films, Ellie Johnson at tenthree, Mia Saunders & Kati Hall at The Mill. We can only ask our readers to do exactly the same as the headline suggests!
Credits:
Client: Fold7
Agency: CoppaFeel
Chief Creative Officer: Ryan Newey at Fold7
Creative: Simon Helm at Fold7
Creative Director: Adrian Lim at Fold7
Agency Producer: Charlotte Whittall at Fold7
Business Director: Chloe Cooper at Fold7
Strategy: Marie Conley at Fold7
Director: Eloise King at Pretty Bird
Production Company Producer: Ted Thornton at Pretty Bird
DoP: Anna Patarakina
1st AD: Dave Calland
Editor: Ellie Johnson at tenthree
Sound Designer: James Lyme at No.8
Music Composer: Aaron Williams at Wake The Town
Music Supervisor: Dave Bass at Wake The Town
Colourist: Tom Mangham at The Mill
Flame Ops: The Mill
Post Producers: Mia Saunders and Kati Hall at The Mill