More than 10 million people are affected by tremors, freezing, and rigidity – all because of a terrible disease known as Parkinson's. This makes the diagnosis the fastest-growing neurological disorder in the world. What's even worse is that there's no treatment out there, so the patients have to live with its debilitating consequences until the bitter end. To raise awareness about Parkinson's, Charité Berlin, Europe's largest University Hospital, and production company MediaMonks developed a campaign which lets a machine suffer from the same symptoms as a patient living with this disorder.
Just recently, the duo has launched "Printed by Parkinson's" – an art collection developed in partnership with INNOCEAN Worldwide that's entirely made by an 'infected' machine and available exclusively at Berlin's Alte Münze gallery. The showcase was meticulously designed in partnership with six Parkinson's patients to make others around the world discover how important it is to find a cure for this dreadful condition.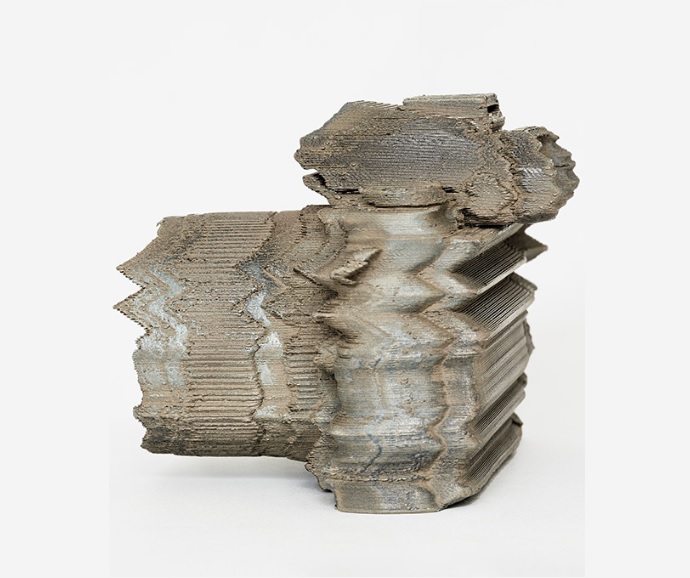 Living with Parkinson's means that the tremors obstruct you from exercising, working, and even carrying out your hobbies or simply manipulating everyday objects. Worst of all, the patients isolate themselves from others at some point. It is obvious that those suffering need a cure so much! And sooner rather than later. That's why Charité Berlin thinks it is important to find innovative ways to bring the discussion about Parkinson's disease into the forefront and to teach the audience how important research is when it comes to actually finding a cure for the degenerative disorder.
To make the patients' stories heard, Media Monks got inspired by their kinetic and neurological data and used the information to create unusual 3D models of usual objects. As a result, the art-like pieces were 3D-printed as if the printer itself was sick with Parkinson's.
For the time being, there are medication, therapy, and surgical operations that can help control de symptoms. Sadly, there is no treatment to completely cure the condition. But Charité Berlin is taking the responsibility to do more research and find something that can alleviate the condition. To do so, it needs your help, as the charity relies on financial donation to make some more progress.
Prof. Dr. med. Andrea Kühn further explains the need for funds: "There is always a need for us to have financial support and research can only work if you can continue to work very meticulously in one area. It is the small partial successes that take us further and put us on the right track so that we can hopefully establish real improvements for patients in everyday life. All donations help us to take the next small steps forward. Currently, we are in the process of developing active stimulation and that would also be our goal in the research projects to make progress there. We use the money to give doctors the opportunity to carry out more detailed scientific projects in that field."
Torsten Römer, Parkinson's patient at Charité and contributor to the art collection adds: "I think such a graphical project, where you can actually touch something that has a story behind it, certainly gives insight."
The art exhibition is supported by a website and could be admired from 26 to 27 July at Berlin's Alte Münze gallery. To further support the campaign, there is a series of docu-videos, which invites viewers to discover what is like to live with this disease. It's not a pretty sight…