According to a study quoted by BBC, swearing can boost strength and reduces pain. Moreover, the study states that volunteers who cursed could endure pain nearly 50% longer than those who tried to keep their composure. You might think it's just one study, but the 'hypoalgesic effect' of using profanity is a well-documented phenomenon.
So, to confirm all these experiments, Nurofen UK has released its own study, which bears almost the same results. Together with creative agency McCann London, the brand gathered a plethora of experts and asked them to carry out a scientific experiment. Its main subject was to investigate the effect of swearing on short term pain tolerance. Let's find out if cursing really helps!
The panel of experts, including Keele University's well-known senior lecturer in psychology, Dr. Richard Stephens, language expert and author, Dr. Emma Byrne, and acclaimed lexicographer Jonathon Green, have announced the findings of the Nurofen study just recently. Fundamentally, by using popular four-letter words when in pain does make you suffer less. According to the experts, swearing increased people's threshold (32%) and tolerance (33%) of pain by about a third.
Nurofen's study gets inspiration in Dr Richard Stephens' original piece from 2009, in which the expert concluded that swearing has the power to increase pain tolerance. As an expert in pain, Nurofen decided to further support Dr Stephens to continue his study and investigate the pain-alleviating power of using 'cuss words' at the right time. The aim of the new project was to see "whether the power of swearing could be emulated by a new 'socially acceptable' swear word," explains Nurofen in a press release.
The team consisted of scientists, lexicographers, and lay members of the public who have suffered from pain, who all met to find and develop brand-new words for the experiment. Jonathon Green, lexicographer and author of 'Green's Dictionary of Slang' stated that "slang has upwards of 1,000 swear words; still, there's always room for more. Our new word should be relevant, useful, inventive and if possible witty." He then shared the important features of such a word: "A swear word doesn't spring from nowhere. It's also got to have the appeal that can propel it out of its origins (a small group of like-minded people) into the larger linguistic world."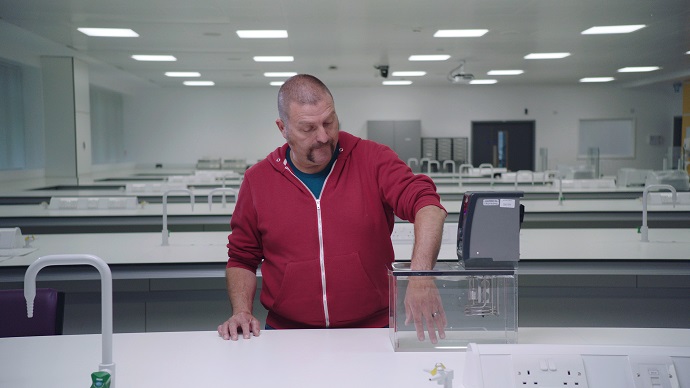 "After long discussions, we decided Twizpipe and Fouch were the best socially acceptable swear words, as they mimic real swear words quite closely. Twizpipe mirrors the humorous element of swearing and is fun to say, whereas fouch is harsh-sounding and concise, similar to the existing four-letter swear word," noted language expert and panelist, Emma Byrne, who helped create 'Twizpipe' and 'Fouch'. Quite the words, aren't they?
The participants present at the experiment were asked to use these words along with a traditional swear word and a control one while their hands were kept in an ice-water bath. This scenario provided a non-harmful method to test everyone's pain tolerance. As expected, the new words weren't that powerful, meaning that they didn't alleviate the pain the same way the f-word did. Oh, 'fouch'!
Dr. Richard Stephens, senior lecturer of psychology, and lead investigator of the study, also commented on the results: "It seems that swearing has a strong emotional connection, and this is likely due to the circumstances in which we first hear swear words. From a young age, we typically learn to associate them with high-stress situations and that they are forbidden. The study found that these strong sentiments cannot be mimicked by newly created swear words. Although the words we created, Twizpipe or Fouch, were shown to be similar to existing swear words in that they were rated as emotion-evoking and humorous, they didn't cut it when it came to pain relief. Repeating the f-word was the best option for increasing tolerance to pain."
Nurofen's big aim is to understand how pain works and how our bodies respond to it. The company is continuously searching for innovative ways to target pain. Still, when swearing is not enough, Nurofen has an ace up its sleeve: The Nurofen range includes Systemics, Gels, and Plasters, which all provide tested relief for body pain. So which way is it going to be? Are you going to use the f-word or take ibuprofen to ease the pain? Or will you try our favorite new word 'fouch'?
Credits:
Client: Nurofen UK
Agency: McCann London
Chief Creative Officers: Rob Doubal & Laurence Thomson
Creative Directors: Rob Webster & Alexei Berwitz
Senior Creatives: William Cottam & James Crosby
Managing Partner: James Latham
Account Directors: Annabelle Black & Shaun Geary
Senior Project Manager: Chloe Lockett
Head of Strategy: Karen Crum
Communications Partner: Nick Kavanagh
Planning Director: Jonathan Brown
Senior Planner: Matilda Ruffle
Planner: Emily Ellis
Head of Art: Dan Howarth
Designers: Jonathan Harper & Matthew Thomas
Production Company: Craft London
Chief Production Officer MWG: Sergio Lopez
Head of Integrated Production: Sophie Chapman-Andrews
Executive Producer: Juan Torres
Producer: Duncan Groves
Director: Blake Claridge
Editor: Matt Dollings
Sound Engineer: Giselle Hall
Nurofen
Marketing Director: Charlotte Schloesing
Category Manager: Luca Tamagni
Senior Brand Manager: Marcella Christophersen
Brand Manager: Kelly Green