The land and oceans of the free, the home and waves of the brave.
There is one thing in Americans' DNA that interests and unites them: pride and love for their great country. However, very few citizens of this 'great' North American nation are interested in the health of its oceans.
Although it might not be clear to many, the proud nation is made up of more water than land. Still, America's oceans cover almost 4.5 million square miles, which is 23% more than the landmass of the US. Talk about irony…
The USA's beautiful coasts have over time become a sought-after tourist destination with more than 100 million travellers, as well as citizens themselves, visiting the American beaches annually. In fact, according to Surfrider Foundation, coastal recreation and tourism "constitute 2.2 million jobs and contribute $115 billion to the nation's economy every year." And one can say that that's one vital contribution…
Unfortunately, there's still one major catch. Clean water and healthy beaches are increasingly threatened by several, and serious, issues. Plastic and ocean pollution, offshore oil drilling, rollbacks to federal protections, development and rising tides. It's clear, why the foundation decided to combine the power of patriotism with the power of environmentalism to introduce a disruptive approach to protect the priceless oceans. Yes, America doesn't end at the shoreline. The oceans should be considered as American as its mountains.
By pointing out to all of the country's inhabitants that they each have a stake in making sure the place where they surf, swim, play and live are protected for not just this but for all future generations, the Surfrider Foundation urges everyone to join and start a new fight. Because together, they are now the United States and Oceans of America!
The Atlantic. The Pacific. The Gulf. These are the nation's oceans. And it's clear now more than ever, that they need every one of America's people. That's why the Surfrider Foundation, a leading non-profit organization dedicated to the protection of clean water and healthy beaches, launches its nationwide United States and Oceans of America (USOA) campaign to rally Americans to join the bipartisan fight to protect their oceans and coasts for the future.
"We invite coastal defenders across the nation to join the movement to protect our oceans from urgent threats like plastic, offshore oil drilling and water pollution," rallies Surfrider's Marketing Director, Eddie Anaya. "The Surfrider Foundation's USOA campaign is a call to action for each of us to stand up and do our part to keep our precious coastal environment clean and healthy for this and future generations."
Notable USOA coastal defenders include world-renowned musicians Eddie Vedder from Pearl Jam, G. Love and Jack Johnson; world champion surfers Lisa Andersen and Carissa Moore; Academy Award-winning actor Tim Robbins; big wave surfing legends Greg Long and Kai Lenny; supermodel Carolyn Murphy; and speechwriter for Dr. Martin Luther King Jr., Dr. Clarence Jones, who co-wrote the iconic 'I Have a Dream' speech. They all have joined the grassroots movement to protect the 'land and oceans of the free, and the home and waves of the brave'. And yes, there's a lot to protect, as America's oceans and coasts are indeed increasingly at risk.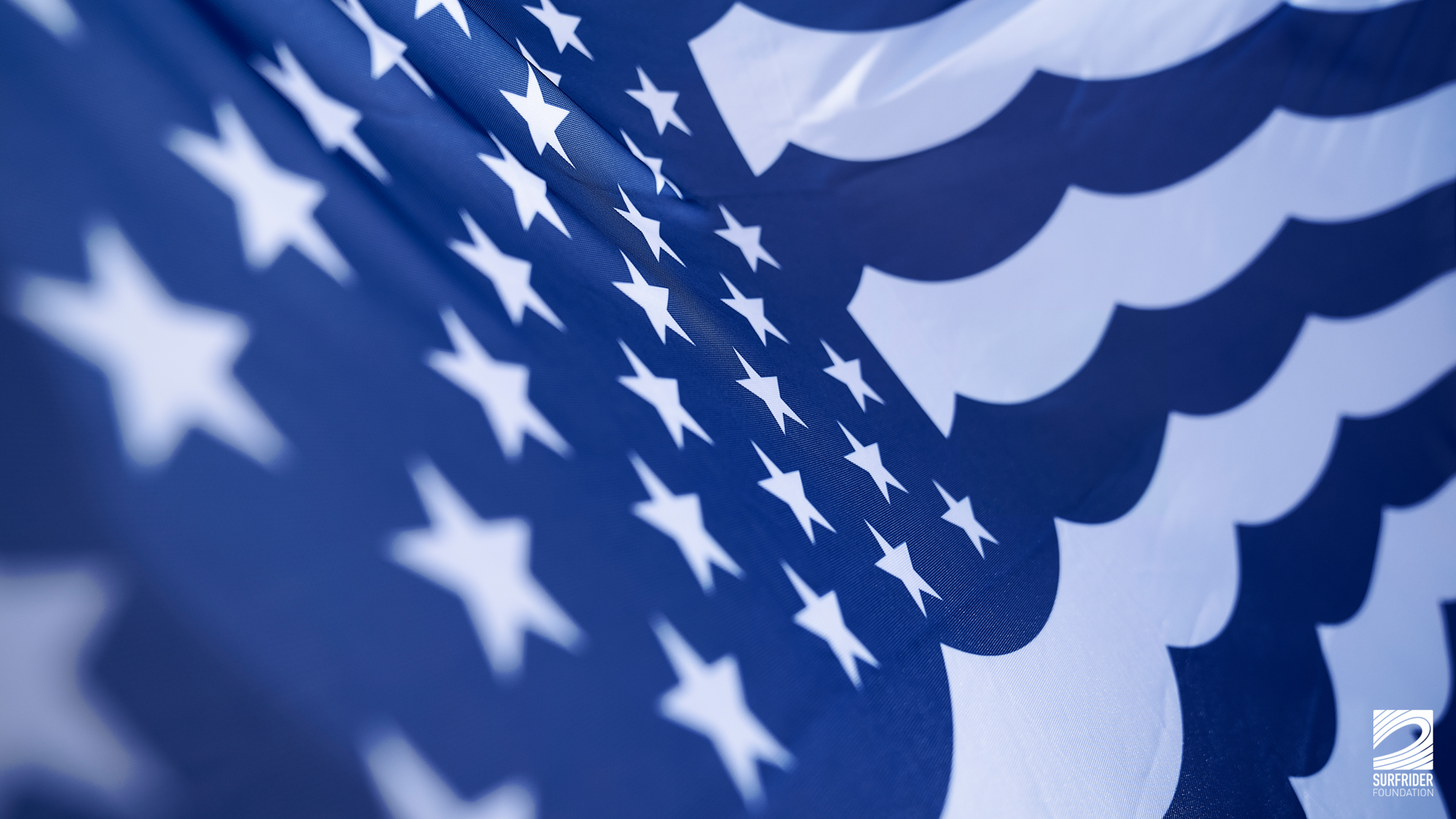 According to the foundation, pollution at recreational beaches costs the U.S. economy more than $2.2 billion and results in 20,000 health advisories every year. What's even more disturbing is the fact that at least "5.25 trillion plastic particles are currently floating at sea". To add to his, the Trump administration proposed opening up more than 90% of U.S. coastlines to offshore oil drilling this year, putting the "nation's economies, jobs, communities, and livelihoods at risk of a catastrophic oil spill".
"We have more water than land in the U.S. and it is up to each of us to protect it for the future," explains Dr. Chad Nelsen, CEO of the Surfrider Foundation. "We all have a stake in taking action to defend the places where we surf, swim, play and live. Together, we are the United States and Oceans of America," he adds.
The USOA campaign was developed in collaboration with the brand agency, Activista, and their award-winning creative directors, Roberto Fernandez and Paco Conde, who are committed to driving social, economic and cultural change through the power of ideas.
Paco Conde and Beto Fernandez from Activista provided their perspective: "When Surfrider briefed us we were sure about two things. First, we would do something totally different to unite people behind the cause, instead of just dramatizing the problem as everyone in this space does. Second, if we really wanted to provoke a change and give Surfrider a brand anthem idea all people could unite behind, we needed something bigger than just an advertising campaign to bring the brand and mission to life." explains Fernandez.
"As foreigners, we at Activista noticed the huge love and pride that Americans feel for the country. Beto is Brazilian and I am Spanish and it's still quite surprising seeing the national flag literally all over the country. We've lived on three continents and this doesn't really happen anywhere else.  But all the patriotic songs, anthems and icons are about the land -"this land is your land"- and say nothing about the oceans. We found out that the size of the ocean that belongs to America is bigger than the American land. So, we thought that it would be powerful and disrupting to combine patriotism and environmentalism to protect the oceans. And that's how we came up with the idea of renaming the country to reflect the true America – The United States and Oceans of America," adds Conde.
Activista has renamed the country The United States and Oceans of America.
Results:
All flags sold out within 48 hours.
80% growth in merchandise sales.
98% positive sentiment on social channels.
133% growth in Instagram followers.
46% growth in web traffic.
The best performing Surfrider campaign ever.
"I have seen the impacts of plastic pollution and sea level rise at my local breaks," concludes three-time surfing champion, Carissa Moore. "I believe we all need to become aware and do our part in taking care of our oceans. I'm proud to be a Surfrider Foundation coastal defender and believe in their mission to protect the oceans, waves, and beaches."
If you like the idea of making the United States recognise their beautiful and copious waters, you can watch Surfrider's USOA video narrated by Sal Masekela above, or join Surfrider and take action at Surfrider.org.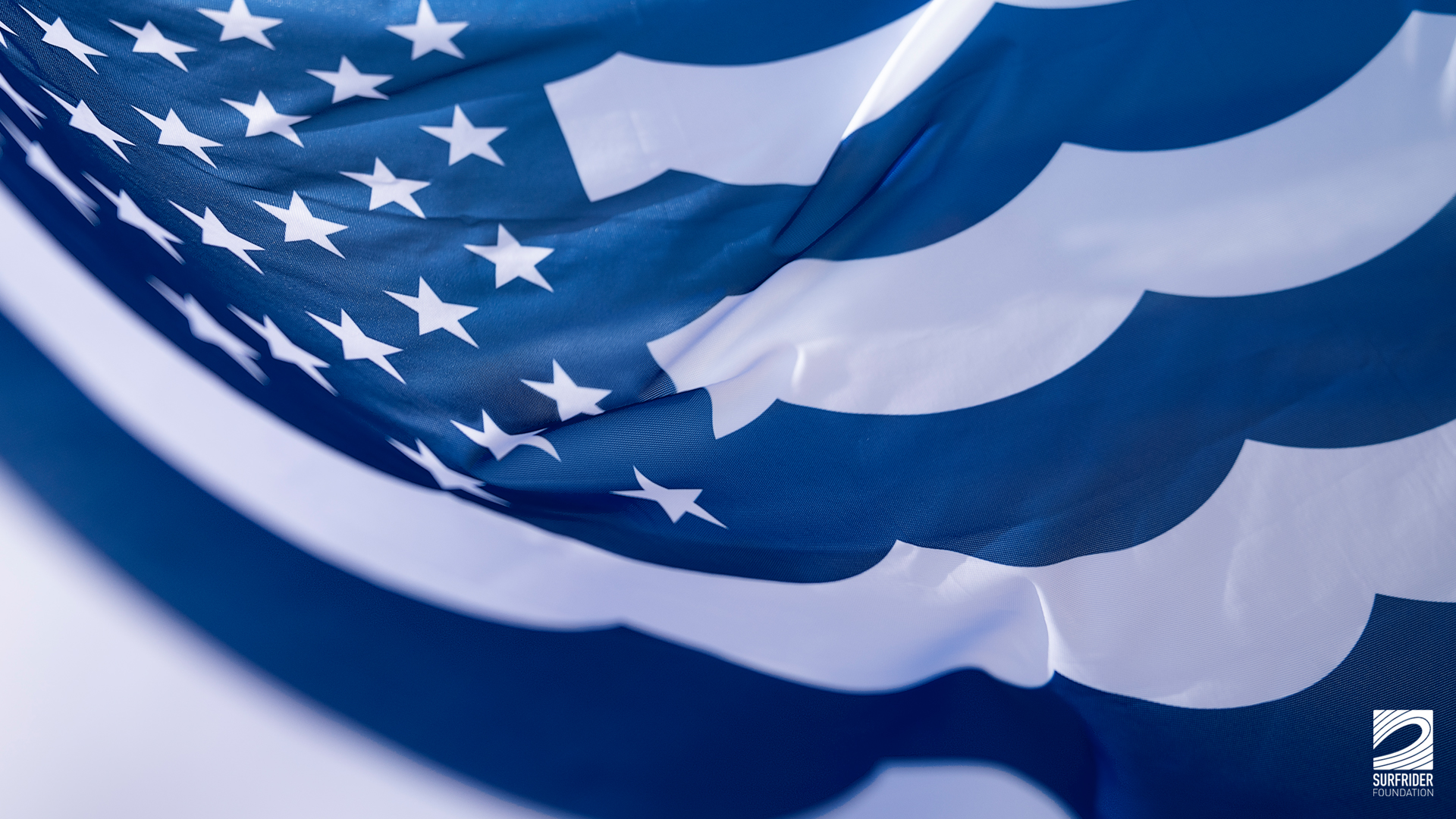 Credits:
Client: Surfrider Foundation
Agency: Activista LA