Sometimes, we don't really know what's happening with this world we live in, but clearly, there are things that are just wrong. Like, in Brazil, where one of the healthiest activities is heavily taxed. Yes, riding a bike in the Latin American country means that you have to pay up to 70% more taxes when purchasing the popular mean of transport. Luckily, advertising agency Talent Marcel and Bicycling magazine found a loophole and decided to trick the system by selling their bike as a piece of furniture. And all this effort only to avoid insanely high Brazilian taxes.
It would be fair to think that this example is absolutely ridiculous. And rare. But do you know that there's something even more absurd? Selling tampons as luxury goods. Indeed. In Germany, these tiny hygiene essentials—that are so important for any woman in the world—are subject to a luxury tax of 19%, whereas another common object, a book, is only taxed at 7%. Where is justice in that?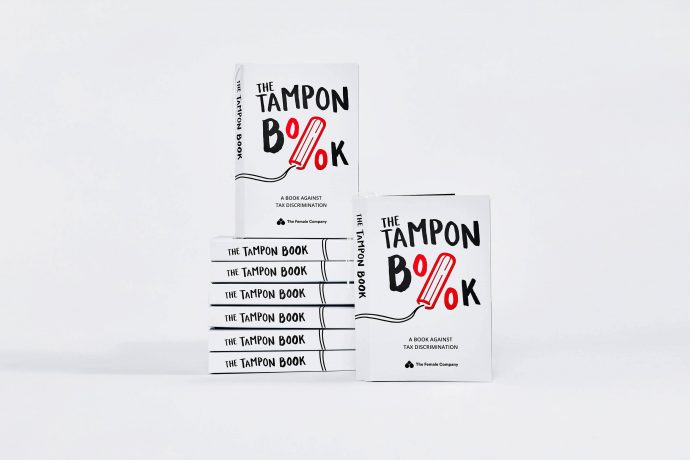 We don't know what the legislation in South Africa is, but here, girls are using leaves, newspaper, and even sand to protect themselves from having a very unpleasant experience. In this part of the world, sanitary pads are considered to be a luxury. It's quite a surprise to see that tampons are a luxury item even in Germany, which is considered a highly developed social market economy.
The Female Company wants to change this unpleasant status quo, so it teamed up with WPP agency Scholz & Friends of Berlin and introduced "The Tampon Book," a literary project incorporates 46 pages of stories and illustrations about menstruation with a hidden surprise. The book was written with love by Ana Curbelo together with illustrator and activist Alica Läuger and is, of course, printed on recycled paper. In addition to being a lovely publication, the book actually serves as a clever packaging for 15 tampons, which the company included in the book to trick the system and sell sanitary pads at a lower price.
Quite understandably, the tampon tax has provoked worldwide protests. Countries like India, Kenya, or Canada have abolished the tax already. Hey, Germany! Isn't it time to join the 21st century? Do you keep the tax because of political pressure or some parties that think that tampons are more luxurious than truffles? Why do you consider periods to be a luxury? To help the country answer all of these pressing questions, The Female Company nicely accompanied The Tampon Book with a petition at change.org. The initiative is all about getting rid of the sexist tampon tax once and for all. The petition that asks the government to reduce the tax has already amassed more than 179,000 signatures.
"The history of menstruation has been full of rumors and suppression," says Co-founder Ann-Sophie Claus. "This is why the period became a taboo in the first place. But it seems like during the last years we, as women, are standing up against such myths … The tampon tax was decided in 1963: 499 men and only 36 women voted. It's time that we question such decisions from a new perspective of modern, independent women," she explains the history of the ridiculous tax.
The first edition of the Tampon Book sold out immediately. It has become so successful that The Female Company plans to produce more editions. The video that supports the campaign reached more than 10.5 million views on YouTube, Facebook, and Instagram. Plus, media portals and national newspapers featured the story. It seems that the clever disguise is working… Now it's time for the government to act!
So, ladies, are we going to let the state tax us for being women? Let's try to stop this nonsense and help The Female Company gather 2000.000 signatures on the petition!