Singaporean parents with young children have always been financially struggling between contributing to their parents and providing support for their young family. This so-called phenomenon is known as the "sandwich generation," a part of the cycle of life that NTUC Income, one of Singapore's largest insurers, wants to end.
To do so, the brand reached for creative agency BBH Singapore's help. The agency with a fanatical commitment towards maintaining difference happily joined the initiative in a campaign that seeks to end this vicious cycle. Using the tagline "We can be the last sandwich generation when we plan our retirement," the campaign positions NTUC Income as one of the best partners one can have when planning one's retirement. Moreover, the project aims to educate young parents about the role they can play themselves in terminating this phenomenon by carefully planning for their retirement.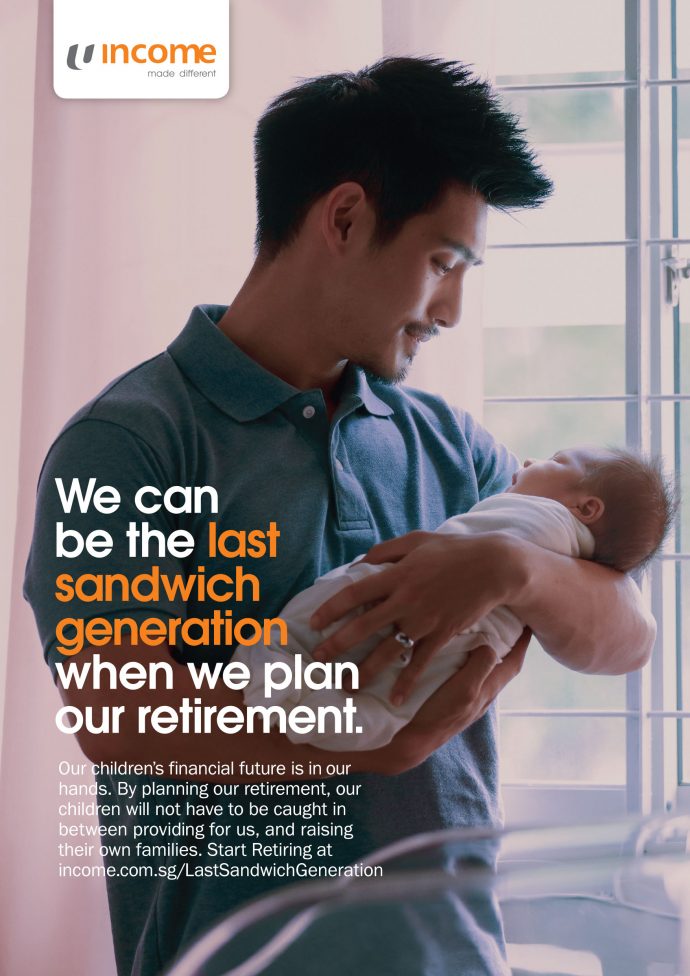 The one-of-a-kind campaign has got its foundation in a study commissioned by NTUC Income itself and conducted by Kantar, which discovered that 94% of individuals that fall within the sandwich generation feel financially pressured. At the same time, 80% of young Singaporeans feel like they are on an unpleasant way of becoming the next sandwich generation. The research also found out that up to 60% of people within the sandwich generation has not started planning for their retirement yet. On the other hand, 1 in 10 young parents believes that they can have better opportunities to support their kids by being part of this cycle.
A short film that promotes the initiative is courtesy of BBH agency and represents a visual adventure that focuses on the life of a young man who is caught between supporting his own family and providing for his parents. Marcus Chew, Chief Marketing Officer, Income, describes the issue in a press release: "We believe that today's generation of parents have better access to the knowledge and financial tools to be financially independent in their retirement years, as compared to their own parents before. By planning their retirement, they can ensure their children will not have to be 'sandwiched' in the future since their parents are financially independent. We hope that our target audience will embrace this message that we have shared through a relatable campaign."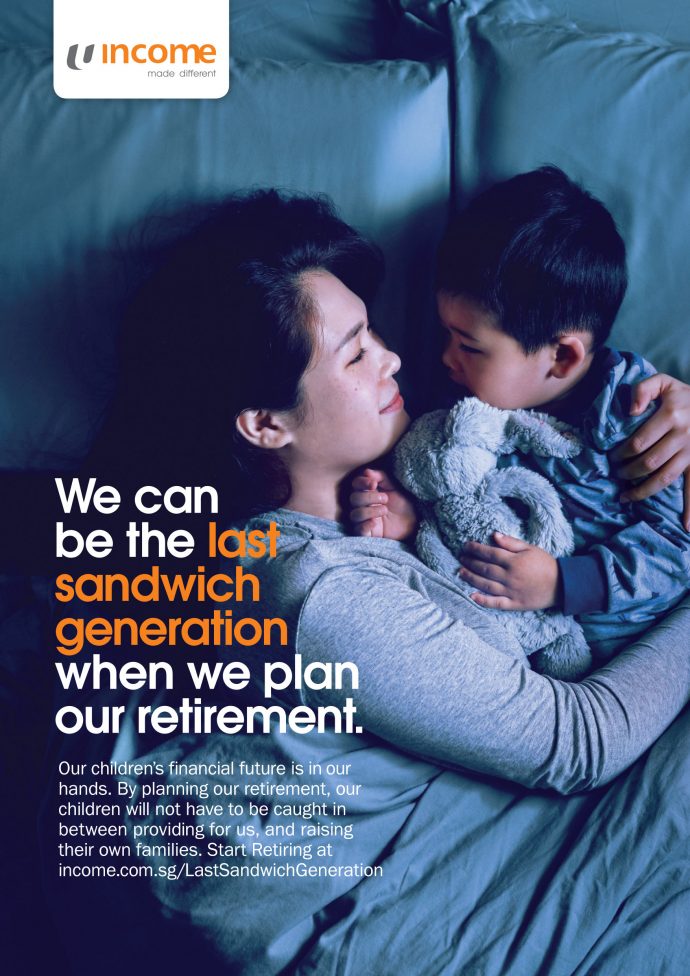 Janson Choo, BBH Singapore, further explains the trickiness of the situation: "The thing about being a sandwich generation is that many of us have a defeatist attitude towards it. We think of it almost like part of adulthood or growing up, and it becomes a vicious cycle from parent to child. So when Marcus and his team proposed the idea of ending the 'sandwich generation', it immediately resonated with us. There is a way out. It's not going to be easy, but we can be the last so that our children won't have to be sandwiched in the future."
The campaign can be observed on social, digital, OOH, and in-store components that further amplify the central promising idea – "We can be the last sandwich generation." The campaign was launched on September 5 and will continue rolling for three more months. Let's hope it will help plenty of young parents from Singapore.
Credits:
Client: NTUC Income
Agency: BBH Singapore
Chief Creative Officer: Joakim Borgstrom
Executive Creative Director: Sascha Kuntze
Creative Directors: Janson Choo & Khairul Mondzi
Account Director: Manavi Sharma
Account Manager: Priscilla Lim
Head of Planning: Thomas Wagner
Strategist: Amanda Lim
Agency Producer: Kim Lim
Production Company: Freeflow Productions
Director: Roslee Yusof
Audio Production: Fuse Adventures in Audio
Client credits:
Chief Marketing Officer: Marcus Chew
Head, Brand Marketing: Chloe Fair
Senior Executive, Brand Marketing: Charis Leong