Many species of bees are on the brink of extinction in many parts of the world. It is estimated that 30% of Sweden's wild bees are under a serious threat. Without them, we may not have as much food as we have (if any), as the little workers are responsible for pollinating the crops. If bees were to disappear from the planet, Earth's ecosystem would be destroyed, affecting global food supplies. Amongst the causes of global bees-decline are industrial agriculture, parasites, and climate change. But there's one more thing that people don't take into consideration: the fact these vital pollinators don't have a place to rest.
But worry not, dear bees, as McDonald's and creative agency NORD DDB found a place for you to put your little head down. To provide bees a place to live, the fast-food chain decided to use its regular billboards and transform them into actual bee houses. So, if you happen to be in Sweden around summertime, it will be no surprise when you discover that McDonald's OOH posters are efficient bee hotels.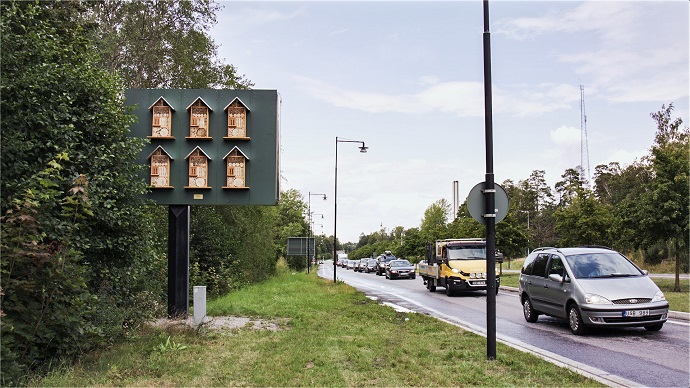 The interactive panels double as permanent wood installations with drilled holes in the message "Always open." These make up the spots where wild bees and other insects can make themselves cozy. Oh, and by the way, all McDonald's franchisees now have the opportunity to order their own bee hotel and customize it as they please.
Meanwhile, the fast-food restaurant has also started a collaboration with JC Decaux to transform the back of its billboards into bee houses. Otherwise, they will not be utilized. Bees feel most comfortable when their nests are positioned facing the South. The first OOH panel is now live in Järfälla outside Stockholm, where six large bee hotels have been installed on the backside of a north-facing billboard. McDonald's hopes to make others follow their initiative.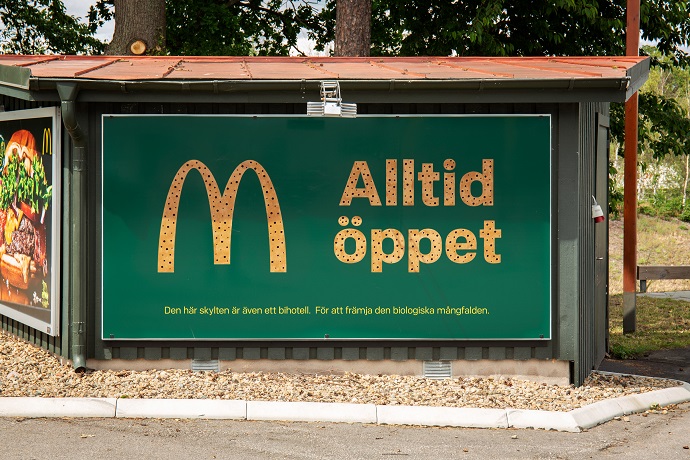 "The survival of bees is an important issue for society as a whole. That we can use our signs for a good cause feels great. The initiative, which has sprung from our franchisees' personal commitment to the issue, has been made possible in collaboration with JC Decaux and we are proud and excited to welcome our flying guests soon as they move into our bee hotels," explains Henrik Nerell, Environmental Manager at McDonald's in Sweden.
This isn't the first time when McDonald's does good for bees. A few months ago, the company, alongside the Stockholm-based agency, built the world's smallest fast-food restaurant so that bees can have their parties in there. The tiny house works a fully functioning beehive, which we would love to see on the rooftop of other restaurants. Let's see if McDonald's recipe to help bees will be adopted by other players in the industry. Meanwhile, have a look at the video below to find out how the bee hotels work!
Credits:
Client: McDonald's
Agency: NORD DDB