There are more than 10 million people in the world to which shaking isn't just a sign of a cold. It's a more serious symptom. One that suggests the presence of Parkinson's disease. Of the 10 million, 60,000 people live in the United States. Parkinson's disease is a neurodegenerative disorder that leads to progressive brain cell death and extensive loss of motor functions. Although there are many studies that have been conducted to help with diagnosis and treatment of this terrible disease, there are no definitive diagnostic tests currently available. Still, there's one little thing that can help us recognize the presence of the cruel condition. And it's not shaking.
One of the earliest signs of Parkinson's disease is the loss of sense of smell. Amongst the affected scents are peppermint, anise, and coffee. So, what if a cup of coffee can help doctors detect the disease sooner? Wouldn't that be a big help? Well, according to McCann Health, it would! And best of all, it is possible and not hard to do. So, just keep reading to find out how a simple cup of coffee can help someone diagnose Parkinson's early.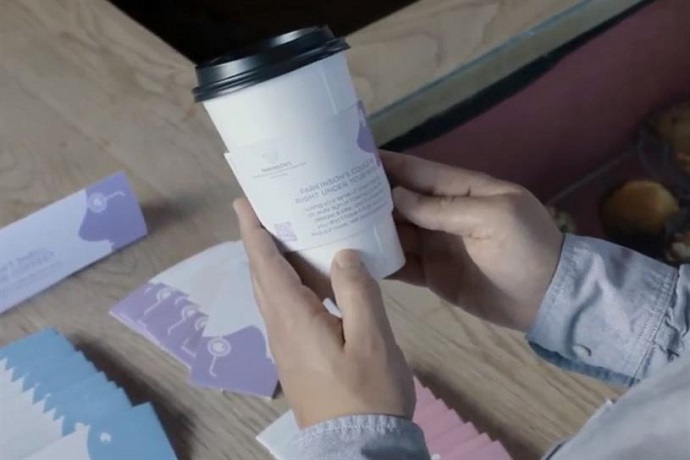 To mark National Coffee Day, the New-York-based agency took advantage of the glorious coffee scent as a potentially life-saving tool to detect Parkinson's. McCann Health partnered with coffee shops across the country and developed special characters to educate people about the importance of spotting early signs of Parkinson's. With coffee sleeves, lids, posters, tent cards, coasters, and an interactive website, customers were able to learn the lesser-known facts about Parkinson's and when it is the best time to see a specialist. The activation achieved tremendous success at the World Parkinson's congress in Japan, where both consumers and health care professionals appreciated the creative agency's effort.
"This is a simple, but effective idea that has the power to help with earlier diagnosis of a terrible, progressive disease like Parkinson's," said June Laffey, Chief Creative Officer at McCann Health New York, who was part of a team that helped raise awareness of Parkinson's on National Coffee Day. "Who would have thought that a cup of coffee could not just help you wake up but serve as a life-changing wake-up call?"
Now, next time you get out with friends or elder family members for a cup of coffee, have them take a good sniff first, maybe you can catch the disease early.
Credits:
Creative
Matt Eastwood: Global Chief Creative Officer
June Laffey: Chief Creative Officer
Zuzana Zaloudek: VP, Associate Creative Director
Ben Bartholomew: VP, Creative Director, Digital
Brice Rothenberg: Copywriter
Matt Sherring: Associate Creative Director
Meghan Patenaude: Group Art Supervisor
Samantha Cherif: Group Copy Supervisor
Sean Takach: Associate Creative Director, Design
Ivan Habalic: Senior Digital Designer
Binh Tran: Associate Creative Director, Digital
Man Kim: Senior Art Director
Account
Maria Cabrera: VP, Account Director
Medical Strategy
Whitney Winter: VP, Medical Strategy
Print Production
David Lacey: Senior Production Manager
Chi Vuong: Composite Design Artist
Strategy
Anna Gaudio: Experience Strategy Director
Production
Ed Zazzera: SVP, Director of Integrated Production
Eva Pipa: Producer
Eddie Danino: Producer
Project Management
Regine Leconte: Senior Project Manager
Nancy Davis: Project Coordinator
Editorial
David Shapiro: Senior Medical Editor