UNICEF UK — the world's leading organization battling for children rights that works in over 190 countries — has launched their first work done with their newly appointed creative agency The Community. The NGO is committed to helping kids in danger around the world. This time, they face an opponent that might seem almost banal, diseases. Kids possess the power to change the world, sadly, not many of them reach even the age of five. Puberty and maturity remain just a dream for many of them. But UNICEF hopes to disrupt the dire situation with an extraordinary measure, by declaring a war. War on disease, such as measles, tuberculosis, pneumonia, and other preventable diseases that claim so many children's lives around the world.
The campaign that urges for a "War on disease" highlights UNICEF's mission to eradicate diseases using vaccines. To support the initiative, the Publicis Group-owned agency created a short film, set to Sign of the Times by Harry Styles (who gave the charity permission to use the song free of charge) and features Lord of the Rings actor Orlando Bloom. The initiative asks people around the globe to embark on UNICEF's adventure and join the battle against global illnesses, and, well, anti-vaccination movement.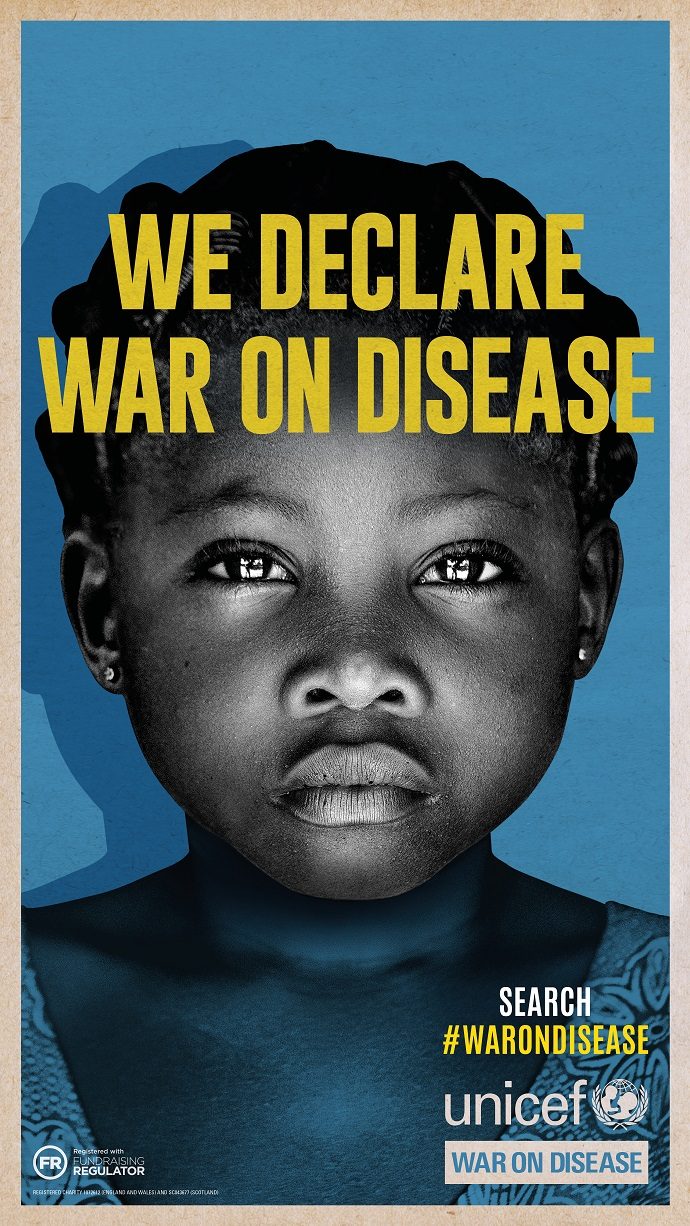 "At UNICEF, we feel strongly that our work protecting children's health will impact future generations and the shape of tomorrow's world. We asked The Community for a creative battle cry that would engage the UK public to join our movement and they answered our challenge with a powerful and contemporary campaign," says Sophie Gallois, Deputy Executive Director for Communications, Advocacy and Programmes at UNICEF UK.
Mark Hunter, ECD, and Ryan Lietaer, MD at The Community, also share their view: "We are thrilled to have such great client partners at UNICEF UK; from day one, they totally bought into the need to change the way they talk about themselves and their mission to get people re-engaged and inspired to join the cause. More than that, they pushed us at every stage to stay true to our vision so that we could deliver something capable of getting people to put their hands up and then in their pockets to give the money so urgently required to help vaccinate and protect children all over the world."
UNICEF launched the campaign on Monday 21st October and will see the ad running across social media, outdoor, radio, digital, and ambassador influencers, as well as corporate giving partners. So, what do you say? Shall everyone support the organization in its mission to save the world's most precious treasures? Let us know down below!
Credits:
Client: UNICEF UK
Agency: The Community
VP Managing Director: Ryan Lietaer
VP Executive Creative Director: Mark Hunter
Planning Director: Fern Miller
Account Director: Terri Turner
Account Manager: David Jenkins
Project Manager: Joe Durow
Art Direction & Design: Adam Brewster, Stephen Vaughan
Producer: Caroline Angell c/o Bridle Productions
Research Company: Hazel May
Editor: Matthew Prickett @ Cut & Run
Colourist: Henry Howard @ Jogger
Post Production: Davide Pascolo @ Jogger
Sound Design: Jonny Platt @ Wave
Music negotiations: Anne Booty @ SixtyFour Music