Just in time for the KIKK Festival in Belgium, the country's biggest Telco challenger, VOO Telecom, decided that it is time get creative. The brand decided that it would enter the art world and chose "modernism" as a way of expressing itself, because the art style follows values of modern industrial life. To be precise, VOO jumped all the way to contemporary issues rather than the industrial endeavours of the old days and used digital achievements to produce its art pieces.
The brand called — through Skype of course — creative agency FCB Inferno and together they've found a muse you'd never guess: crappy internet! You're probably wondering how bad internet connection can give birth to an art exhibition worthy of the attention of art connoisseurs, right? We hope you've got good connection to find out more!
Yes, we've all been there: Having a chat with our parents, best friend, or an important client and then, boom, slow internet kicks in. Now, all you're going to get are bad, pixelated images so typical of mid-1990s internet. But why settle for a crappy video call when you can transform it into exquisite art? When looking at these low-quality, weird images, Telecom suddenly realised that they somehow resemble beautiful illustrations which could have easily been displayed at an exhibition. And, honestly, if we wouldn't tell you, would you think that these are the result of truly bad internet connection? We don't think so…
To promote its fast internet, the brand released the pictures and points out that they are cool when it's art, but not when it happens during a call. What these illustrations highlight is that VOO Telecom offers up to four times faster connection than its competitors. The "Video Call Art" posters were featured as 'modern art' at the KIKK Festival last week. The artwork will also appear in print papers and will be turned into social ads targeting KIKK visitors.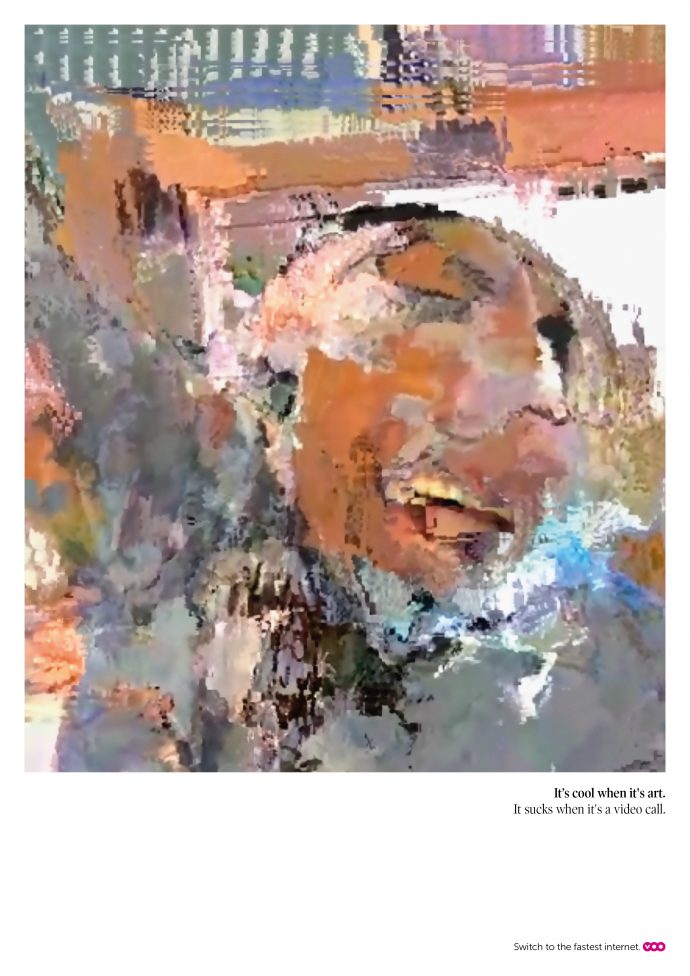 There are many reasons your Internet connection might appear slow. It could be a problem with your modem or router, Wi-Fi signal, signal strength on your cable line, or devices on your network saturating your bandwidth. Our advice is to diagnose and fix these problems with patience. We're not engineers, so we don't know what to do in such cases. Understandably, we're going to follow Telecom's artsy recipe: If you're having a bad internet connection during a video call, print screen it and use the image to adorn the walls of your room! Or even try getting into an art gallery?