This November marks the 30th year since the collapse of Berlin Wall. The dividing barrier witnessed break-ups, suffering, and stood tall against people's freedom. To mark the special occasion, The Cultural Heirs — a non-profit association committed to integration and violence prevention as well as the prevention of discrimination and inequalities in our society — and creative agency HEIMAT, Berlin, picked the anniversary as the right moment in history to bring back the wall to life. But first, they ask us an important question: "If the Wall had a voice, what would it say?"
Th question is exploited in a short film, courtesy of the Berlin-based agency, that depicts some of the scenes that the wall had witnessed before its demise. The ad is filled with sirens, dogs barking, and gunshots and shows what the wall had been through. The walk down a gloomy, walled-off memory lane ends with a deep warning, "Division is freedom's biggest threat."
To mark the milestone in the Wall's life, HEIMAT has developed a new typeface, entirely inspired by the graffiti that had adorned the wall throughout times. The font is available for anyone who wants to speak about freedom. The statements are registered at voiceofthewall.de and will be then collected to be turned into a book, which will be sent to current leaders around the world.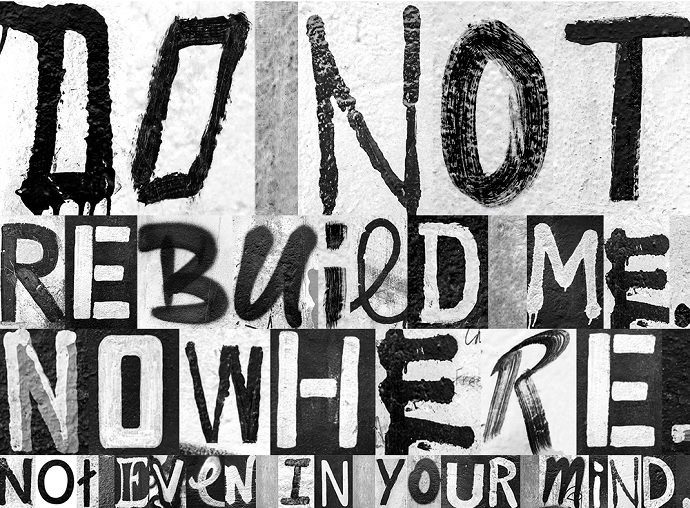 Matthias Storath, CCO at HEIMAT, Berlin, explains the role of graffiti in the wall's history: "Street art and iconic design can have a dramatic impact on culture, and creating a campaign to celebrate freedom and warn about division to mark this important anniversary was very meaningful to us. We hope that this project will help remind audiences of our hard-won freedoms, which we must cherish and enjoy."
The campaign highlights the threats and hardship such walls bring into society and the way they pose against freedom worldwide. The starting point was the question we already asked above. This way, the type font gives the Wall a voice and capacity to make a statement about freedom in our world.
The typeface has at its foundation 26 letters of the alphabet, where each is inspired by the graffiti from the Wall, which became a politically-charged canvas for numerous street artists over the years. To create the font, the creatives worked over three months, during which they photographed and researched parts of the wall that is still intact. Therefore, the wall now serves as a canvas for the people of Berlin, and not just them, who are able to share messages of anger, hope, sadness, boredom, and protest. Will you join them?