Believe it or not, we do read other magazines other than branding.news and brandingmag. While there are plenty of sources from where we get our cool campaigns, there's a place that we also like to visit occasionally: 9gag! Please, don't judge us! We sometimes like a bit of 'funny' and, who would have thought, you can come across some nice branding ideas. Yes, we are simple men: We see something we enjoy, we press like! Just recently, we have stumbled upon a marketing campaign that we absolutely love. It comes from a small/mid-size company, called Savotta which simply offers "Better gear, less misery" – now, at its third generation.
To promote its range of finest backpacks, Jääkäri, the company decided to bring to the mix their own outlook on life – adopting a good attitude, regardless of the circumstances. Luckily, this was quite easy to carry over to the ads, as all the 'actors' are actually Savotta's employees. It's clear that when your employee is happy at work, their good spirit transforms in the quality of the campaign. This time, it's not just about starring in an ad, but rather about delivering good content. And Savotta did its best to deliver creative results. Funny ones, at that too!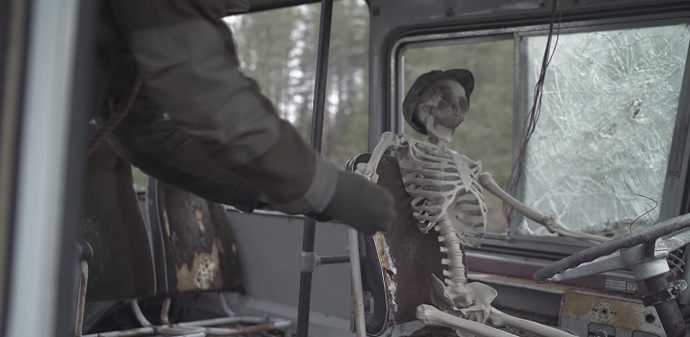 During this week's #ThrowBrandThursday, we are featuring a story that was made from scratch by the company itself, without the help of any creative agency. All the ideas you are about to see come from the mind of the company's CEO, Elmo Valkeinen, and volunteers who announced they want to help with the marketing.
The campaign, so far, consists of two videos, both of which were shot within a 50 km radius around the factory. The first video takes place in a national park next village over, whilst the second was shot in the company's hometown, Karstula. The first video presents a regular day in the life of a clumsy hiker. He falls, breaks his leg, gets attacked by a bear, and the list wouldn't be complete without getting stung by wasps. But, ha! Our clumsy, and brave, traveler doesn't give up. He makes into his tent, happy that he survived – especially thanks to the gear he had with him.
The second video is set in a gloomy, post-apocalyptic environment that looks very much like Pripyat. We see a survivor that feels like dancing despite the desolated surroundings. He goes to a market, scavenging for something to eat before embarking on what will probably be a long way home. Then, we follow him getting on a bus, shaking hands with the driver –- who is the company's quality manager — and then picking a place to sit. He doesn't seem to pay much attention to the fact that he is, in fact, alone in a post-apocalyptic world. Our hero seems quite complacent, might be that he has the 'better gear' with him!
We've had a chance to chat with Mr. Valkeinen himself, and asked if he could express his feelings regarding the campaign and the way he does the marketing for the company: "Way too many brands take themselves way too seriously. You can have fun with your marketing and if you do, it will show," he explains. "People really liked that desolate theme in the last video. Good marketing should invoke a feeling in a viewer. And if you are going to try invoking feelings, not everyone will like it of course and you will have to be ok with that," he continues.
"Personally, I love doing marketing stuff, we don't want to pay other people to do something which we love. How you put a price on creativity, anyway?"
Even though they were alone in the creative process, the campaign reached tremendous success. When asked about the results of the marketing strategy, Valkeinen said: "We are all most out of Jääkäri backpacks, it's not even funny." And that's how you do a great advertising campaign: with passion and love! Would you take Savotta's recipe and start creating your own ad campaign for your small company? Perhaps you'd also be out of backpacks…
Credits: