Chocolate might soon go extinct, as experts warn that rising global temperatures could make it more difficult to grow the immensely popular crop. According to scientists, chocolate-growing countries will experience a 2.1°C increase in the next 30 years. This way, by 2050, there won't be much chocolate left. Is there anything to do in such a terrible situation?
Fairtrade Finland has an answer to the gloomy scenario that would see people without their sweetest treat: By buying Fairtrade chocolate, consumers will make a positive impact on the environment, while the association supports producers with tools and practices to adapt.
To raise awareness about an incoming "Chocogeddon", the company launched a campaign — written in partnership with Hasan & Partners agency — that puts into spotlight delicious animal-shaped treats. Under a very warm spotlight at that. To highlight the seriousness of the issue, everyone's favorite sweets sadly do what chocolate does when you leave it in a warm environment. It melts of course…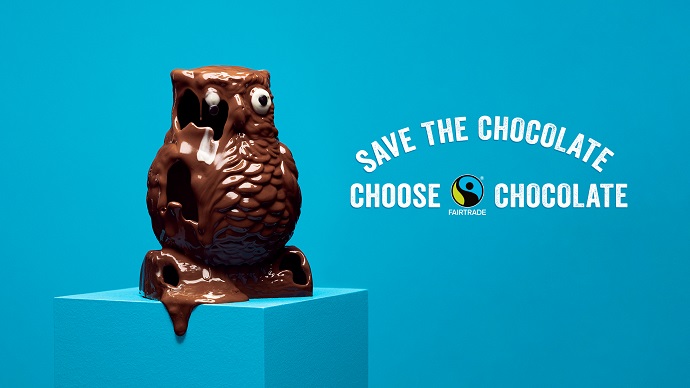 A snowy owl, a monkey, an African elephant, and a frog try all really hard to withstand the rising temperatures. Alas, the specifically chosen earth's most endangered species stand no chance to the soaring heat. They were picked not only to represent the fate of chocolate, but also of wildlife that is also at peril because of climate change.
For instance, in Finland, the snowy owl has become extremely endangered. Frogs all over the world are suffering, but the situation is most poignant in Ghana, where the world's second-biggest cocoa producer happens to reside. Here, the African elephant already has to adapt to a changing environment. Sadly, the very real threat of their extinction would also "speed up the climate crisis." Meanwhile, monkeys in South America are also vulnerable and face an "elevated risk of extinction," claims the agency.
"We wanted to create an insightful and supportive campaign that will stop the urgency of everyday life to reflect on the effects of climate change and cocoa farmers' poverty on chocolate production. Climate action and fairer producer prices are needed to save chocolate. Fair Trade promotes both, but Finnish companies and consumers continue to use a fair amount of FairTrade chocolate," says Mirka Kartano, Communications and Marketing Manager at Fair Trade Association.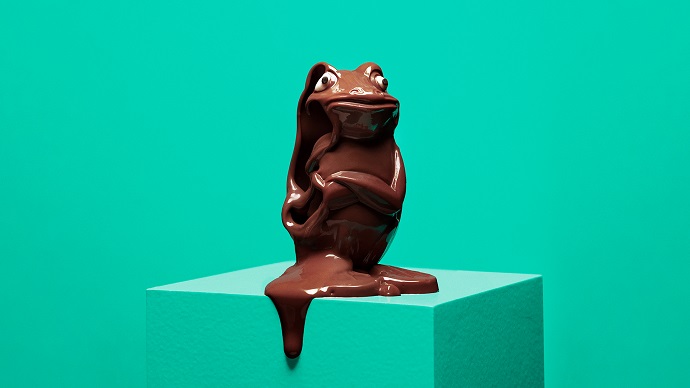 The campaign is supported by DOOH and OOH in Finland's' biggest cities (Helsinki, Turku, Tampere, Oulu, and Jyväskylä), Instagram stories, Facebook, and Twitter. The meltdown has already gained media attention all over Europe. Many influencers reacted, shared, and discussed its 'sticky message'.
The aim of the initiative is to raise awareness and boost understanding of Fairtrade certification amongst younger audiences. Plus, the campaign aims to increase sales of products made with Fairtrade chocolate. And thus, help not only the farmers, but animals too…