Exactly one year has passed since little Henry Hedgehog went viral. Millions of people have fallen in love with the adorable character that just wanted to be friends with its mates. However, Erste Bank is not done with bringing joy to the viewers' hearts and comes with yet another amazing, heartwarming story. In just a few days since its release, the new video has gathered three million views.
Clearly, that's why Martin Radjaby-Rasset, Head of Group Brand Management at Erste Group is over the moon about the new campaign: "The global success that we achieved with Henry the Hedgehog last year went far beyond our wildest dreams. But that success has also made clear that the principle of #believeinyourself knows no boundaries. In our current Christmas advert, we've managed to bring our core values across in a new and very touching story."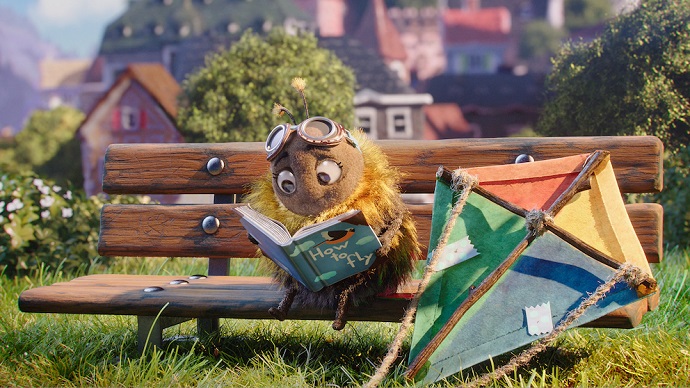 So, it's time to forget about Henry and meet Hanna, a cute bumblebee who also has a best friend by her side, Max. Together, they go great lengths to reach the sky and fly. Will they be able to grow wings? "This year's story takes place in a world in which bumblebees — freely applying the so-called bumblebee paradox — firmly believe that with their small wings and relatively large bodies make it impossible for them to fly. Only young Hanna Bumblebee isn't willing to simply follow what the others say, but instead pursues her own dream," explains the clever premise creative director Mike Nagy.
The spot is 'buzzing' with 3D graphics: The entire bumblebee community is CGI-animated and the characters rendered in minute detail – from their fluffy hair to their detailed facial expressions. The creatives behind the bold bumblebee endeavors are also the ones behind Henry's good name –London-based production studio Passion Pictures and director duo Kyra & Constantin. Still, the project couldn't have been brought to life without the help of creative agency Jung von Matt.
Debbie Crosscup, M.D., Passion Animation Studios explains why: "It was great working with Erste Bank and Jung von Matt for a second time on such lovely creative. It goes to the heart of what we try to do at Passion every day; tell stories that move people."
Kyra & Constantin, Directors, also adds: "What we like most about the story is that it's about a girl who shows the world that you should never give up even if the way is sometimes not clear."
The campaign is live on social media and on YouTube in 11 countries with the presence of Erste Bank. The song that accompanies the video — which is courtesy of Mcasso Productions and performed by singer Chanele McGuinness – will be launched on streaming platforms, such as Apple Music and Spotify. Similar to the campaign created last year, the lyrics for the Hanna Bumblebee ad have been created by Andreas Putz, managing director of Jung von Matt.
Credits:
Client: Erste Group Bank AG
Head of Group Brand Management: Martin Radjaby-Rasset
Group Brand Management: Daniel Ratzenböck, Juraj Flimel
Agency: Jung von Matt/DONAU
CD: Andreas Putz, Mike Nagy
Copywriter: Karin Uebelbacher, Eva Zefferer, Andreas Putz
Art Director: Mike Nagy, Eva Zefferer, Karin Uebelbacher
Account Director: Benedikt Nussbaumer, Katharina Höller
Production: Passion Animation Studios (UK)
Directors: Kyra Busch & Constantin Paeplow
Animation Director: Ferran Casas, Kyra Busch & Constantin Paeplow
Executive Producer: Debbie Crosscup
Head of Production: Mike Turoff
Producer: Anna Cunnington
CG Coordinator: Suzanne Forward
Head of CG: Jason Nicholas
VFX Supervisor: Dave Walker
CG Supervisor: Stuart Hall
Music: Mcasso Productions (UK)
Composer: Richard Atkinson
Lyrics: Andreas Putz
Sound Design: Tom Martin
Producer: Tom Martin
Vocalist: Chanele McGuinness
Media Agency: Wavemaker, Sabine Binder-Wessely
Social Media Agency: Mediabrothers, Stephan Götz