With a rich history dating nearly two centuries back, Bell's Whiskey has had plenty of time to establish itself as a reliable, traditional drink amongst consumers. Yet, after some time, the company felt that something is missing. Something had to be done to attract even more clients to the shelves. The obvious change Bell's had to go through was to adapt its looks to the modern age. And design agency Vault49 was there to give the brand a new personality, just in time for the Christmas season.
The history of Bell's Whiskey dates back to 1825 when it was created by Scotsman Arthur Bell, whose likeness still holds a place of prominence on the standard Bell's bottle. Even though the brand has maintained its heritage throughout history, it needed a drop of fresh ideas to establish a stronger connection with both new and old customers. While doing so, the brand also wanted to stand out on the shelves as a relatable and personalized gift. Simply put, Bell's needed a limited-edition gift packaging that highlights the brand's distinctive sense of humor and represents the fun side of the whiskey distillers.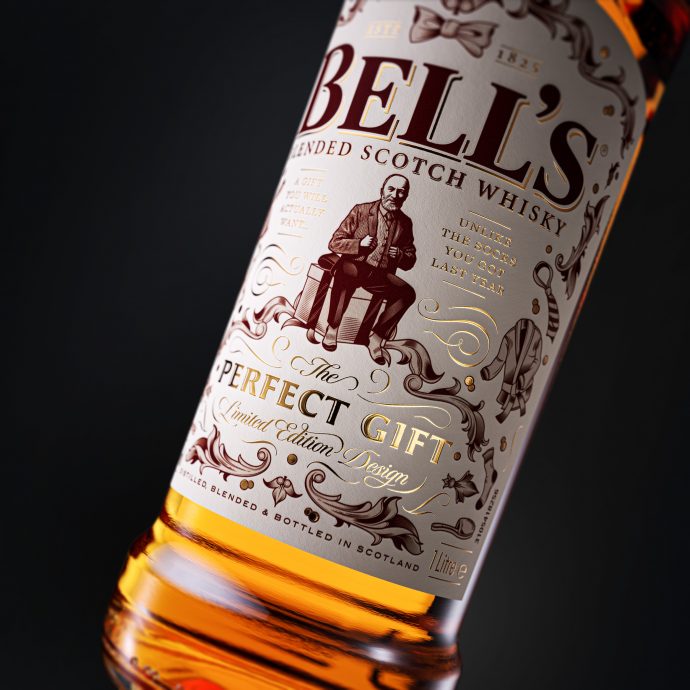 Sam Wilkes, Creative Director, Vault49, confirms the brand's approach: "We wanted to deliver something that spoke directly to Bell's long-standing core base of drinkers, but more importantly stood out to the family and friends searching for the perfect gift. The packaging and campaign we've designed – which pokes fun at classically cringey gifts – taps into a universal experience in a fun, fresh, lighthearted way. It will make the people buying it – and the people receiving it – feel in on a shared joke, and make them smile."
Vault49's LTO pack still does spin around the classic Bell's bottle. To make it even more appealing to the consumers, the design agency added a handcrafted style, which helps the bottle to evoke a premium feel whilst keeping a traditional Christmas coziness. Arthur Bell himself claims the center stage of the design, however the founder has no shoes on his feet and is surrounded by adorable illustrations of socks, woolly jumpers, and other disappointing gifts the Bell's LTO can replace.
"We were able to showcase the witty personality of the brand and give consumers a new way to connect with Bell's. Gift-giving can be difficult, so we wanted to encourage people to avoid the uncertainty and give their loved ones a gift they'll actually want," adds Wilkes.
The campaign aims to reinforce the principal gifting message. The work resulting from the collaboration of Vault49 and Bell's Whiskey includes a toolkit of hero creative assets and implementation guidelines. This allowed the agency to further develop Bell's tone of voice. The limited-edition bottle is now available on the shops' shelves. Moreover, fans can expect to see other projects coming from the minds of the powerful duo. Cheers!
Credits:
Client: Bell's Whiskey
Agency: Vault49