Do you know what makes a great Christmas gift? A bottle of Bell's Whiskey. But we talked about that. If you're not really into drinking whiskey, or alcohol, we do have another option for you. And it's a classic, with a twist – DillySocks! A brand of highly colored socks that will keep you warm not just during wintertime. Although they do come with bit of a catch: They will probably give all of your secrets away. At least, that's how Serviceplan Suisse sees these adorable socks.
Just in time for the festivities, the Zurich-based agency created an edgy campaign for DillySocks, which was photographed by acclaimed Swiss photographer Jonathan Heyer. What makes the Swiss start-up great is not just bright colors, but the fact that the company has socks for 'anyone with great taste'. Sadly, these are exactly the same socks that will make you vulnerable. Having great taste is a wonderful thing – with a couple of exceptions. Just as Serviceplan points out!
DillySocks don't recommend customers to wear their fashionable products when going camping. If you come across a bear, DillySocks won't help you survive! Or what if when you came across a killer during a calm walk in the woods, these adorable socks are not going to save your life. What's even worse — or the best, which is up to you, really — coming across your cheating wife… And the proof? Just look for DillySocks!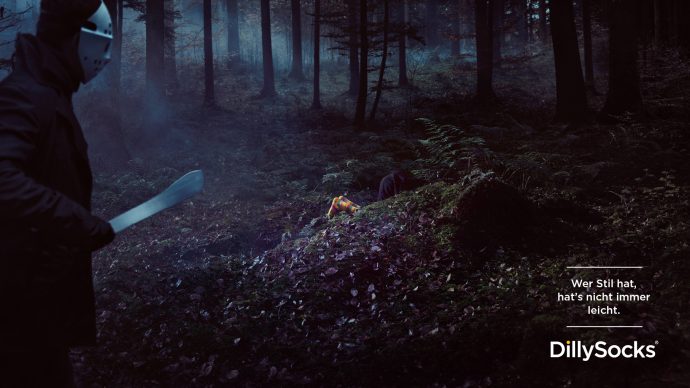 The idea behind the campaign is that having a fabulous sense of style is not always the best thing, because the socks by DillySocks do stand out, a lot! So much that even Santa Claus himself might find himself in a difficult situation. Plus, there's plenty of other scenarios in which things could go wrong if you choose looks over safety.
The project features three themes for both static and moving advertising media. Renowned Swiss photographer Jonathan Heyer did brilliantly behind the camera. Available in the form of posters and also on social media and in cinemas, the campaign portrays DillySocks as a perfect gift not just for Christmas, even though the company used sales promotions to herald the start of the Christmas shopping season. Let us know what's your favorite look!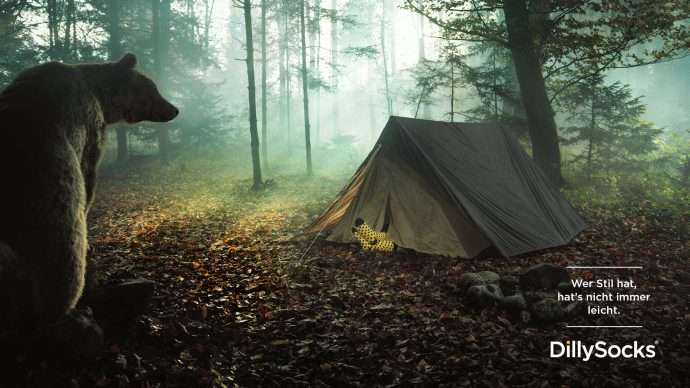 Credits:
Client: DillySocks
Sean Pfister -Co-Founder
Sophie Witte – Head of Marketing & Growth
Agency: Serviceplan Suisse
Raul Serrat – Executive Creative Director
Nicolas Vontobel – Creative Director
Michael Kathe – Creative Director
Hanning Beland – Art Director
Marietta Mügge – Copywriter
Peter Liptak – Copywriter
Alexandra Hofmänner, Aline Litchenhaus (Beratung), Pam Hügli (Gesamtverantwortung)
Photographer: Jonathan Heyer