With the end of the decade just around the corner, Vocation Brewery decided to celebrate each of 2019's month with twelve different limited-edition designs, which nicely compliment the Yorkshire brewery's monthly Special Series. The idea comes from Leeds-based branding agency Robot Food, which is indeed responsible for creating the designs of the twelve beers.
These come as part of a brand refresh that addresses the company's core values and strategy, with Robot Food proudly standing at the root of this beautiful approach. Starting January 2019, Vocation's brewing team released their monthly brews, with each beer created to pamper both taste buds and the eyes of consumers while inviting them to try diverse brewing styles. From Japanese rice lager to juicy Berliner 'Weiss bier', these chosen beers cover a broad range of flavors and styles – with the climax lying in a 'scrumdiddlyumptious' chocolate stout as the twelfth and final beer.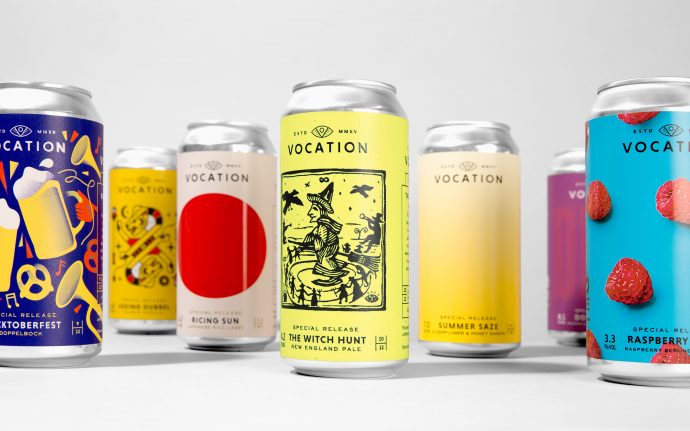 According to the British agency, "the approach had to be flexible yet still feel totally ownable to Vocation." Still, Robot Food shows their magic: The creatives succeeded to establish a consistent brand architecture that reflects the brand's real spirit. The same approach was then applied to the specialty brews which meant more freedom and fun. These were specially chosen to express the company's different personalities.
The Leeds-based agency went beyond what is just Vocation's brand identity: They developed the concept, names, stories, and graphic styles, each inspired by the beers' unique flavors. To bring each concept to life, the team closely worked with The Label Makers, who joined the project with a series of special skills that helped at creating special stocks, prints, and finishes.
Robot Food's Creative Director, Martin Widdowfield, describes the background behind the twelve designs: "With a high-level strategy underpinning the project, the design could be fast-paced and highly creative – just think of a cool idea and make it look as good as possible in just one day. Most of our team were able to get involved and that's reflected in the breadth of graphic styles represented. We're lucky to work with the team at Vocation. They trust us to treat the brand as if it were our own."
We were born in June, so we're going to try the delicious brew for this month. And we're curious: Which one are you going to try?
Credits:
Client: Vocation Brewery
Agency: Robot Food