Most of us, humans, share a deep love for animals. So, if you're reading this, we suppose that you feel the same way too. The pets we have bring so much joy into our lives that it comes as no surprise to see that the human-animal bond may be intertwined with our health status and well-being. This is why animals play a critical role in the society we live in.
To highlight this bond that forms between humans and animals, London-based animal charity, Mayhew, and McCann Demand creative agency created a highly-emotive campaign to raise people's awareness about the role pets play in our lives.
Titled "A Life, Shared," the campaign marries poetry with visual art to express this extraordinary connection. The story is narrated by Louis Theroux and Emily Raymond and tells three unique experiences through the perspective of pets and their respective owners. Each story has a centerpiece, their tone suggesting the owner's vulnerability, whilst emphasizing the reciprocal relationship.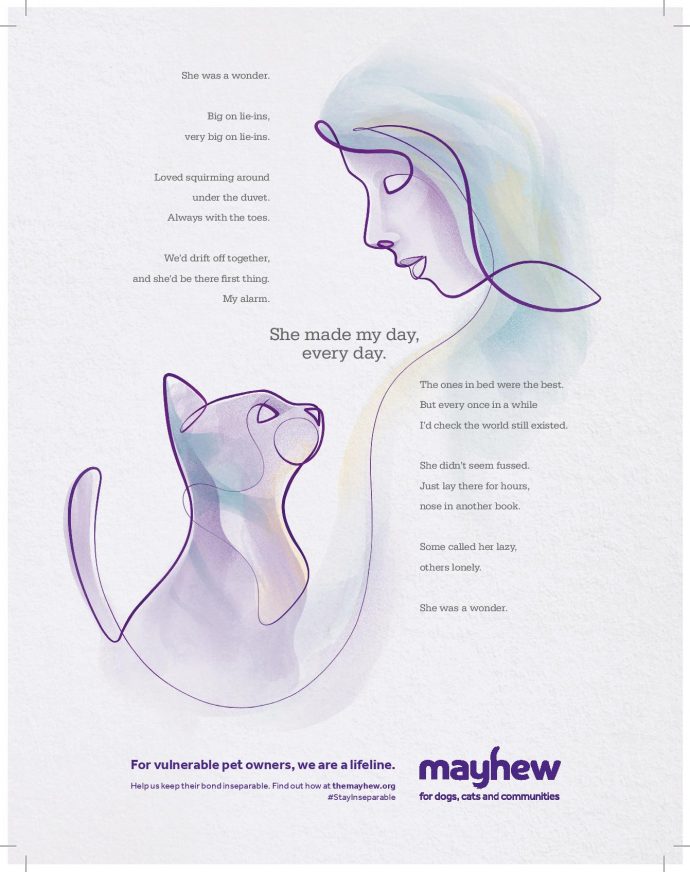 Over the last decade, Mayhew has offered support and shelter to more than 10,000 people and animals experiencing a crisis. This was made possible through community-based initiatives, working with homeless people, social welfare, and education projects, all to assure themselves that people and their beloved pets can be together even in hard times.
To bring the video to life, McCann Demand closely worked with renowned international artist Dane Khy. The animation is part of a series of poems for the charity. Two of the poems narrated will run outdoor in London tube stations and also press. The third story exists as a flawless film, which was created in partnership with production company Coffee & TV.
Caroline Yates, Mayhew CEO, said: "Mayhew is one of the oldest animal welfare charities in London, working in a truly holistic and preventative way to improve life for the people and animals in our community. We are in the midst of an ambitious marketing strategy to raise awareness of this unique approach and reach more people who need our help, as well as potential supporters of our work.
"Through 'A Life, Shared' we are aiming to bring people together and help people from all backgrounds relate and empathize with our mission, through the bond we all share with animals," Yates continues.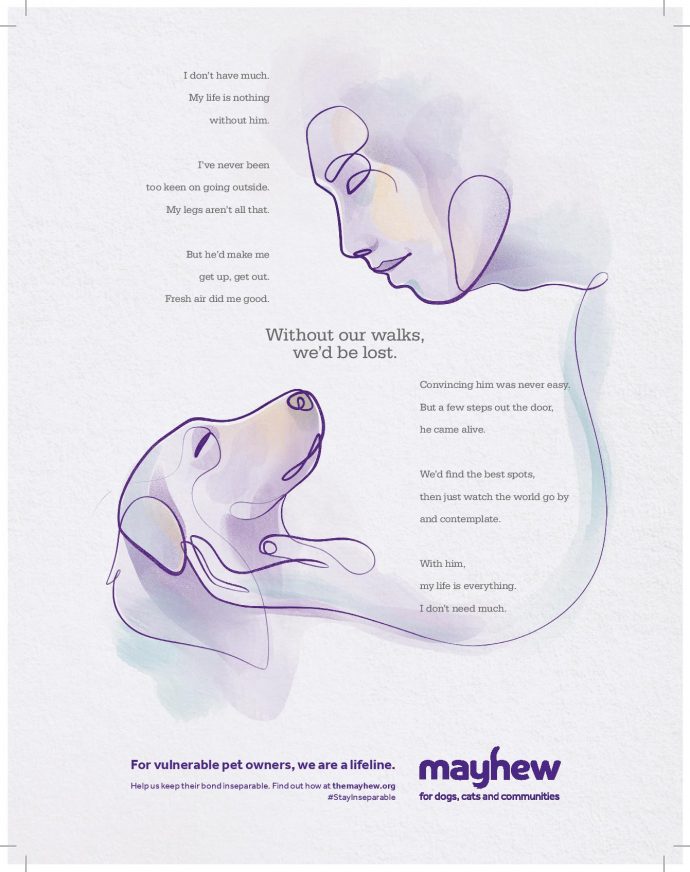 Mayhew's Head of Marketing & Communications, Natassja Yoxall, explained: "McCann Demand have been fantastic partners to take this strategy to the next level with. They helped us to distill our communications message to something that would speak to individuals, conveying why we exist and inspiring audiences to find out more. They have created a genuinely original, moving and meaningful campaign territory that we hope to build on throughout 2020 and beyond."
Chris Falconer, Managing Director at McCann Demand, concluded: "I'm incredibly proud of the work the team has produced for Mayhew. Not only is it a tearjerker, but I genuinely believe the emotional response will help Mayhew achieve the scale normally associated with a national charity. Overall, it's the perfect example of what makes our agency so special: a team that outthinks, outworks and out cares – to deliver work that outperforms."
The work that resulted from the creatives' hands reflects the strong connection a human has with their pet. Check out the video below and let us know if your feelings regarding your pet are the same way! Do you cherish every moment with your animal that cannot be replaced?
Credits:
Client: Mayhew
Agency: McCann Demand
Account leads: Claudine Gueriaux and Tally Martin
Creatives: Lily Peters and Alban Laurent
Creative Managing Partner: Rob Steeles
Artist: Dane Khy
Agency Producer: Sam Debock
Production Co: Coffee & TV
Director: Steve Waugh
Lead animator: Christian Tailor
Animator: Jon Foskett
Producer: Gus Quirk
Composer: Christopher Lukins
Media Agency: UM Birmingham