There is a small place, right in the heart of the Alps Mountains, where humans and cows coexist in harmony. Coincidence or not, this is the exact same spot where chocolate manufacturer Milka keeps its best-kept secret: the fresh milk, which comes from the cute cows which only graze organic grass. Born and raised in such a place, these cows give the purest milk that's out there, being perfect to be used in a chocolate recipe.
This dreamy-like set is the spot Milka carefully chose to establish its headquarters. Yet, the brand couldn't have done it alone, so it hand-picked the best partners one can find: Nexus Studios and Wieden+Kennedy Amsterdam. Together with the two collaborators, the company decided to give viewers a sneak peek of what's happening inside the rural location from where Milka supplies itself with the best milk on the planet.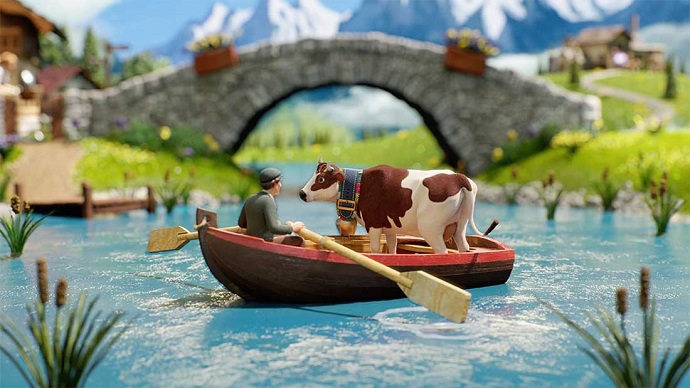 To point this out, Nexus hired director Sam Southward, who lent his creativity only to help viewers be carried away in an alpine setting, entirely made in CG. Within the whimsical set, we notice a young woman delivering milk via her bike. Along with her, there are other miniature men, cows, and domiciles, all merging together to deliver a rich designed scenery.
Titled "Goodness," the campaign surprises viewers by the details it carries. The blend of textures is the element that makes the animation feel real. It is like the characters we see are alive. The animation feels like a handmade miniature when, in reality, every detail of the environment was planned digitally.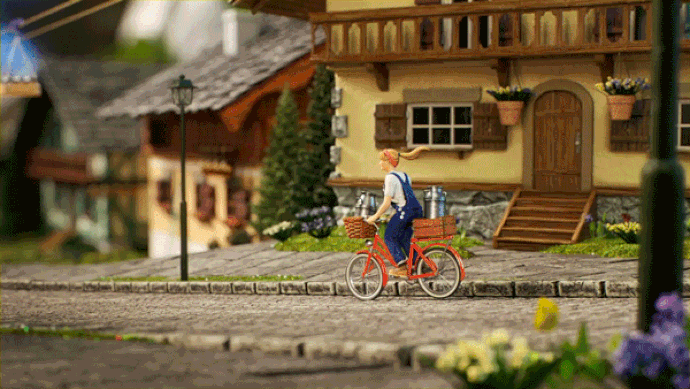 The devil stands in detail, so Southward was very careful when he crafted the animation. He used real cotton wool to form the clouds, alongside a multi-layered sense of depth and scale. He explains: "Creating Milka's alpine wonderland was an exercise of pure escapism for me. From the early concepts through to the fully realized world, we wanted to achieve a detailed and tactile feel that would exude charm. Immersing viewers in this heartwarming miniature world and leaving them with a truly memorable moment of goodness."
The 3D animation uncovers the secret to the irresistible Milka chocolate. If you ask us, this is how we have imagined the manufacturing process behind the delicious sweet. But our imagination is far from what the director outlined… A remote and rural community where everybody works together to help a "family-owned" business flourish and deliver "memorable moments of goodness."