Music is the universal language we all use to express ourselves and our feelings. We use it even though we don't know the language of our companion. Music helps us to strengthen our social bonds and build new relationships. It is so powerful that can be used as a communication tool with our beloved pet. A few years ago, the University of Glasgow partnered with Scotland's Animal Welfare Charity (SPCA) and discovered that each dog has an individual music preference. Be it rock, reggae, or hip hop, animals do have a preference in terms of music.
This scientific database is what inspired Spotify to launch Adoptify, a platform from where you can choose your new pet based on the music taste you and the future dog prefer. Now, let's suppose that you have already picked your furry friend from the German animal shelter Tierschutzverein München e.V. and currently, you are looking forward to seeing if your pet really shares the same musical taste as you.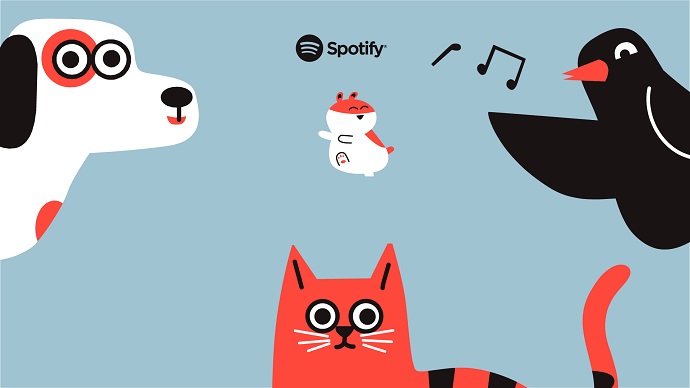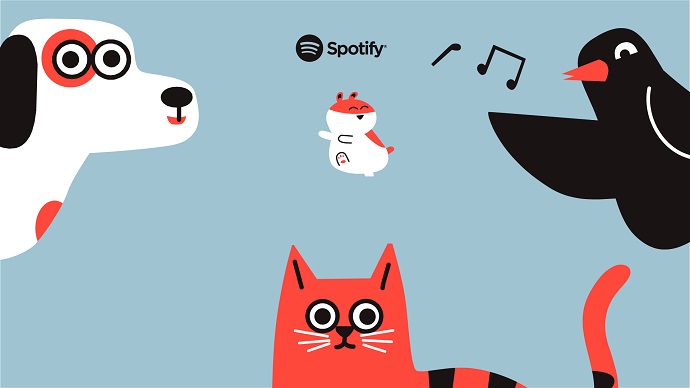 There is something uniquely special about the relationship we humans have with our pets. It is all about love, cuddling, and snuggles. This is why it is only natural that we want to assure ourselves that our pets feel good. We give them unconditional love, food, and, best of all, music. That's right animal lovers: You can now chill with your dearest friend on the beats of your favorite music. Well, yours and your pet's most-liked sounds.
Sadly, most pets spend time alone because their owners are at work. But there's something you can do so that your pet doesn't get bored while you're gone. Music streaming giant Spotify with the help of Stink Studios and Le Cube are here to "al rescate!" Together, the partners developed "My Pet's Favorite Podcast," which, based on a large array of algorithmically supported playlists and taking into consideration your musical taste, it gives birth to a playlist that your pet will simply adore.
For Le Cube Studio, says the director Santiago Oddis, "It was a huge pleasure and honor to dive into this project, creating fun animations to go along Spotify's new animal-centered effort.  It's easy to forget that animals also feel lonely while loved ones are away, and lecturing people about their 'parenting skills' has never been an easy mission, especially doing so with a light, fun touch."
Oddis adds, "This project was the perfect excuse to revisit all the pet memes we love, just to get those expressions that make our tails wag.  From a design standpoint, we got to know a lot of awesome pets that the team shared with us, using them as references of actual final designs."
Ralph Karam, Le Cube Creative Director, takes it further, saying that the brief combines two of their absolute passions: character animation and music. "Bringing compelling characters to life (in this case a menagerie of achingly lovable pets) is what we do best. And what better way to do that than to a soundtrack of carefully curated, personalized (animalized?) tunes."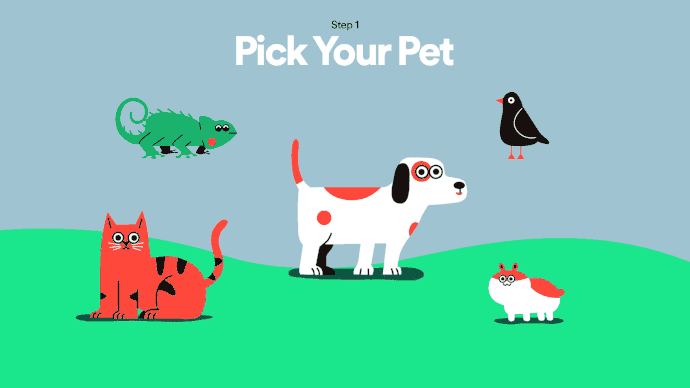 Now, the campaign is backed up by science. Spotify dug its paws into the subject and conducted a study on how pet owners use music with their pets. Amongst the brand's discoveries, there is a cute small fact: 8 in 10 people believe their pets like music, and around 46% of people feel that music is a stress reliever for their furry friends. If you want to find more interesting facts, please check out the infographic below!

While your animal can relax on music beats, you can boost your mood with the Los-Angeles-based studio's illustrations, which convey simplicity and easy recognition of the shapes and forms. The artists succeeded to transform cute pets into marvelous images, and all without losing the expressions that make them so engaging and hilarious. The creative team flirted with a reduced color palette to reinforce the recognizability, whilst also giving the right amount of maturity to the graphics.