Inequality for women in the workforce persists worldwide. It is an issue that most of the countries have to face. Sure, there are governments that begin to understand the cost of it and they take action in order to solve this imbalance. No country gets a perfect score on women's workplace equality, yet there are states that come pretty close to 100. Like Australia, which has a score of 94.9 out of 100. This is a happy case but still, we can' forget that there are countries out there that are labeled as the worst ones for workplace equality. So, at the opposite pole stands Yemen, with a score of 24.2. Despite having a good economic reputation, the UAE is not far from this score: the country has a score of 36.6 out of 100. Not a pretty sight for such a developed country. This is a figure that does not honor them.
Statistics support one thing, yet words prove otherwise: the UAE ranks first in the world for respecting women. The fact that the state lies in the heart of the MENA region, which lags far behind the rest of the world, doesn't mean that the country encourages the social barriers that women face at work. On the contrary, the UAE wants to see its women thrive in the workspace. This is just one more reason for the UAE to do something to bring justice to women in the workplace.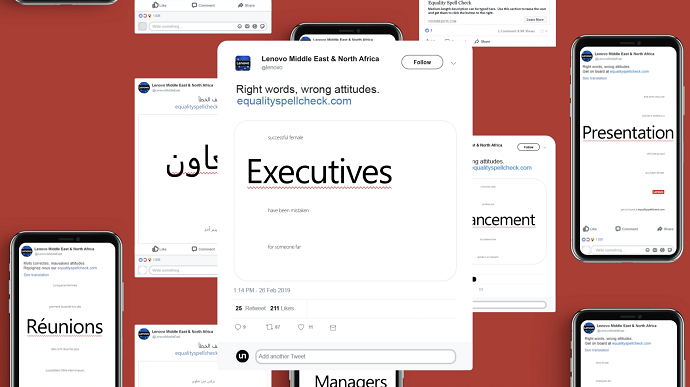 Just in time for International Women's Day, the UAE saw one of its tech players, Lenovo, rubbing the lamp in search of the Genie, who was summoned to do his magic and fulfill some of the brand's wishes. Much to one's surprise, the spirit in the lamp is Wunderman Dubai, which listened to the company's prayers and came up with the 'Equality Spell Check' campaign, as a way to make Lenovo's voice heard and help women achieve equality.
Gender equality is an issue that Lenovo is deeply committed to. The brand took advantage of this great opportunity, which is IWD, to talk about this problem that affects so many countries. And just like that, the company came up with an amazing idea: To slightly change the way Microsoft Word works. This is a program people normally use every day at work. So why not use it as a perfect platform to highlight this issue?
The 'Equality Spell Check' allows the users to use Microsoft Word as they usually do. What makes this tool so special is that it delivers a message and teaches people about gender equality in the workplace in an innovative way. "For example, 'Seniority' for a man means authority, but for 64% of women means to have their abilities questioned constantly," explained the Wunderman team. Basically, the plug-in gives facts about some highlighted keywords related to gender equality.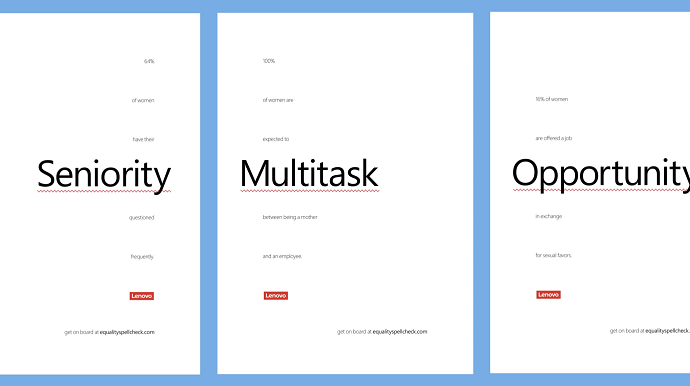 To make this happen, the Dubai-based agency combined data and hard-hitting facts to develop a plug-in for MS Word. This highlights a bunch of everyday workplace words as incorrect. Once the users click on such words, they are greeted with an alternative definition of these words for women.
Through this initiative, Lenovo seeks to positively change people's behavior and encourage them to engage in conversations about gender equality in the workplace. The brand's campaign is a source of inspiration for other companies too: "Now, many other companies in the region are joining this cause and installing Equality Spell Check in their offices," concludes the agency. Anyone can learn more and get involved by visiting http://equalityspellcheck.com/.
Credits:
Client: Lenovo
Agency: Wunderman Dubai / Beirut
Executive Creative Director: Pablo Maldonado
Creative Team: Saymon Medeiros, Dina Alsharif, Waleed Bachnak
Designer: Erick Canedo
Head of Strategy: Alvaro Bretel
Social Media Director: Hisham Othman
Tech development: Jaafar Serhan
Developer: Jalal Wehbi
UI UX Designer: Diogo Borges
Videographer: Angélica Tenorio
Music & Sound Company: CANJA Audio Culture
Editors: Soheil Magdi, Valerie Pinto
Sr. Account Director: Irmak Aktas, Layal Azar
Account Manager: Lara Medanat
Account Executive: Kalid Elali, Ioanna Mavroeidi, Manon Gobet
CMO Lenovo: Claire Carter
Marketing Manager Lenovo: Bushra Nasr