Wise words have been spoken by Dalai Lama XIV: "We human beings are social beings. We come into the world as a result of others' actions. We survive here in dependence on others. Whether we like it or not, there is hardly a moment of our lives when we do not benefit from others' activities. For this reason, it is hardly surprising that most of our happiness arises in the context of our relationships with others."
And we couldn't agree more. Humans are inherently social. Yet, with the lockdown upon our heads, we can no longer manifest this feature of ours (except virtually) because rules of social distance and isolation were (and are still) imposed. Terms that we have ridiculed so far. We took for granted activities such as going to the cinema, walking in the park, or having a pint of beer with friends. We would give anything for a real party. Or would we?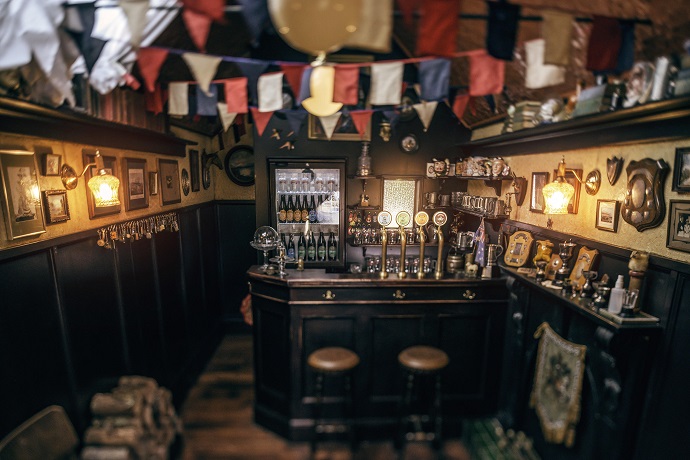 We are still exposed to danger, that's a fact, so we would not risk our lives for a beer. But if we were given the opportunity to enjoy a beer in the safest conditions, would we take it? Hell yeah! Emerson's Brewing Company proposes to Kiwis (and even encourages them) to reconnect with old friends over one of its brews which can be consumed in one of the smallest pubs in New Zealand's history.
The original bar has been named the "Tiny Pub" and can be spotted nationwide, traveling between Auckland and Dunedin. It is equipped with a tiny dartboard, a tiny piano, one bartender, and can be used 27 minutes at a time. Emerson's first major activation campaign since March, developed in partnership with creative agency DDB New Zealand, promises to offer customers "uninterrupted one-on-one with an old mate."
Dave Pearce, General Manager, Craft-Lion, says: "Kiwis have realized just how much they've missed the simple pleasure of catching up with a friend for a beer. We have been craving the joy of uninterrupted face-to-face conversation, it's uncomplicated and it builds an unhurried environment to properly enjoy a pint of Emerson's — we wanted to capture that familiar feeling for Kiwis, through Tiny Pub."

Gary Steele, Executive Creative Director DDB New Zealand, continues: "Kiwis are reconnecting with a deeper appreciation for social activities that may have been taken for granted in a pre-lockdown world. Emerson's is not for drinking on your own, it's there as a rewarding excuse to catch up with mates — the Tiny Pub campaign invites New Zealanders to simply take some time out to practice the art of genuine human connection."
The campaign is supported by a video, showcasing two old friends reconnecting over a pint of beer at the Tiny Pub. Besides this, the ad will also be visible through 30", 15", 6" cutdowns, OOH, social media, and PR. But the star of the initiative is a website, where users can discover more about the bar, track its next move, and book a new experience.
Emerson's. Because no great story ever started with a glass of milk!
Credits:
Client: Emerson's Brewing Company
Agency: DDB New Zealand
Client credits:
General Manager Craft: Dave Pearce
Insight's and Innovation Director: Scott Wright
Brand Manager – Craft Beer: Alison Futcher
Sales and Marketing Manager – Emerson's: Greg Menzies
Agency credits: DDB Group New Zealand
Regional Chief Creative Officer, Australia & New Zealand: Damon Stapleton
Executive Creative Director: Gary Steele
Creative Director: Rory McKechnie
Art Director: Zac Lancaster
Group Account Director: Jennifer Travers
Senior Account Manager: Michael Doolan
Business Co-Ordinator: Maddie Page
Planning Director: Lucinda Sherborne
Senior Planner: Jack Murphy
Agency Producer: Amanda Summersby
Head of Design: Jason Vertongen
Digital Designer: Ashley Cook, Matthew Jones
Head of Technology: Simon Betton
Front End Developer: Paul Hutcheon
Editor: Mike McMillian
Head of Digital Delivery: Johannes Gertz
Illustrator: Blair Sayer
PR: Mango Communications
Experiential Director: Brianna Elder
Senior Experiential Producer: Sonja Motus
PR Account Director: Patricia Grieg
PR Senior Account Executive: Hannah Pearce
Production Company: Revolver/Will O'Rourke
Directors: The Glue Society NZ
Artist/Director: Pete Baker
Managing Director/EP: Michael Ritchie
EP: Pip Smart
EP/Producer: Jasmin Helliar
Producer (Aust): Isabella Vitelli
Producer (NZ): Kate Moses
Production Designer: Bruce Everard
Construction: Unique Creative
DOP (Film): Rob Marsh
Editing & Post Production: The Glue Society Studios
Music and Sound: Otis Studios
Production Company: Reel Factory
Photography: Troy Goodall