"He that hath clean hands, and a pure heart; who hath not lifted up his soul unto vanity, nor sworn deceitfully.
He shall receive the blessing from the Lord, and righteousness from the God of his salvation," says the Bible. Of course, in this context, the idea of ​​"clean hands" is used in a metaphorical sense, but, regarding the situation in which humanity is at the time, clean hands can really bring us salvation. They are our ticket to a good health condition, both of ours and of those we come in contact with. It's common sense and we didn't need a pandemic to understand how important it is to wash our hands. But now that we are here, we need to know how to do it right so that we can slow the spread of the virus.
For example, did you know that almost 97% of people do not know how to wash their hands properly? Yes, this was discovered by the U.S. Department of Agriculture via a study that looked at 383 participants in a test-kitchen environment. During the pandemic Coronavirus Disease 19 (COVID-19), keeping hands clean is especially important to help prevent the virus from spreading. But how do we do it correctly? Medpeople, a Swedish company that provides medical services, came up with an ingenious idea, conceived from head to toe by the creative agency Le Bureau. Together, they asked themselves: "Why not design a poster that actually helps people have clean hands?"
The Stockholm-based company's latest ad highlights the importance of keeping our hands' hygiene. Its design features a plan that we need to stick to if we want to have clean hands. But not only that; the ad also doubles as a hygiene product, as you can rip it off from the magazine and actually use it for your hand washing ritual. The ad is printed on a very special piece of paper, a soap one. When adding water to the paper, the print transforms into soap, which you can use to clean your hands.
"With this ad, we wanted to do more than just inform about the importance of good hand hygiene. So, we thought, wouldn't it be nice if you could wash your hands with it too," says Victor Lindkvist, art director at Le Bureau.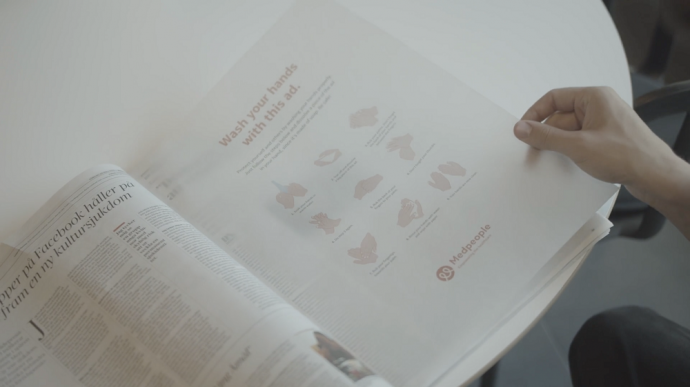 "The pressure on healthcare is extremely high. Therefore, we all must do what we can to reduce the risk of getting infected, and then good hand hygiene is very important. We are confident that this ad can contribute to just that. Partly because of the important message, but also because you can wash your hands with it," says Ebba Lagercrantz, Marketing Manager at Medpeople.
A similar campaign had taken place in South Asia a couple of years ago. There are many kids living in poor hygienic conditions here so, it is understandable why hand washing isn't a priority for them. This translates with a high rate of child mortality, as most of them die because of infections like pneumonia, diarrhea, and malaria, which are transmitted via dirty hands. To teach the little ones about the importance of having clean hands, ANGFA and McCann Health developed the "Washable Book," an interactive tool that invited kids to have a good time reading about hygiene. To 'activate' its story, children needed only one simple ingredient: soap.
Such ads have great potential to achieve their goal, as Jakob Alledal, copywriter at Le Bureau, says: "An ad with double function is so much more interesting. Stay safe and wash your hands."
"It is a good example that the more tangible is the message, the better it is perceived. As Abraham Lincoln said, 'Tell me and I'll forget, involve me and I'll learn'," concludes Ivan Gurkov, contributor at our sister site, Brandingmag.
Credits:
Client: Medpeople
Agency: Le Bureau
Creative Director: Josephine Wallin Ankarstrand
Art Director: Victor Lindkvist
Copywriter: Jakob Alledal
Copywriter: Hjalmar Delehag
Graphic Designer: Mimmi Ericsson
Illustrator: Agnes Wahlberg
Project Manager: John Wernvik
Production Manager: Elisabeth Philipson