The COVID-19 pandemic had a huge impact on the film industry, being responsible for the loss of billions of dollars. This sector was put on hold across the world, devastating the hearts of cinephiles. However, Kia Motors America thinks that no movie aficionado has to go through something like that. Frankly, not even normal people – us, the general amateurs – should experience that, because, who doesn't love a good movie.
"Hold my beer," said the brand to David&Goliath creative agency, "Because we are about to give people something they have been waiting for the whole summer: A blockbuster action movie," that kills two birds with one stone. Well… three birds, if you ask us: The film addresses moviegoers, car enthusiasts, and adrenaline junkies.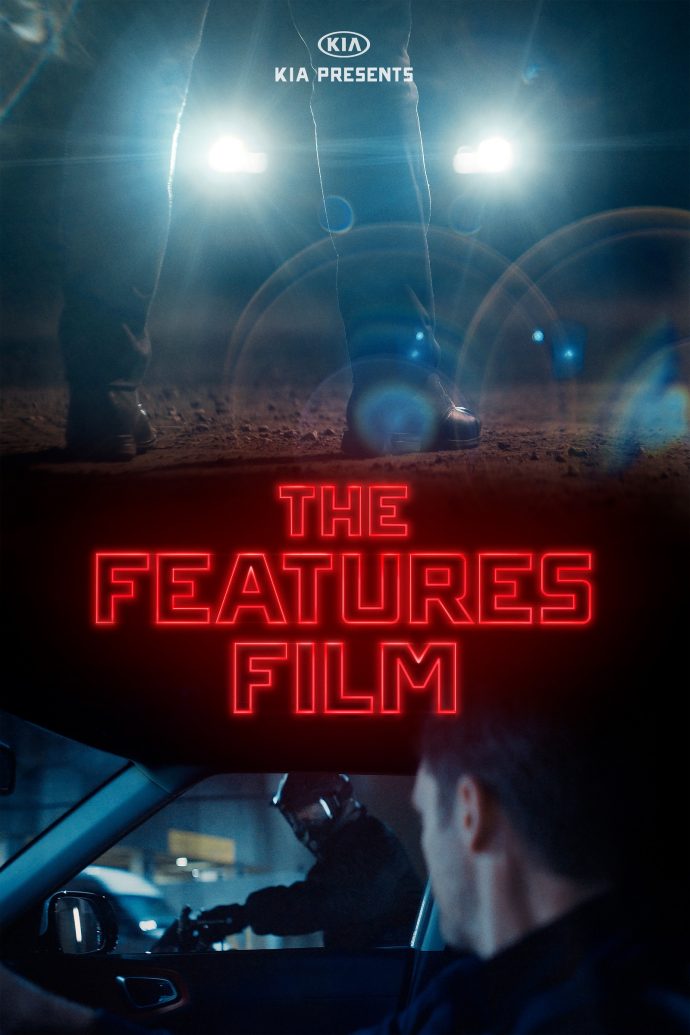 Directed by Ozan Biron, "The Features Film" is a thrilling cinematic experience, inspired by noir thrillers like "John Wick" and "The Bourne" series. The story unfolds in one night and follows the actions made by a couple, desperately looking for a way to get rid of a career in crime. Throughout the whole video, we see the two partners switching from one Kia car to another. And the mafia doesn't want to be outdone, so they also use Kia cars to catch their prey.
The movie's heroes are not the mob nor the duo. Instead, they are represented by A-List Kia vehicles, such as Forte, Soul, Stinger, Niro EV, Niro HEV, Seltos, Sportage, and Sorento, each of them adapted with amazing features — Remote Start; Remote Climate Control; Rear Cross-Traffic Alert; Rear Camera Display; Smart Trunk; Mood Lighting; Premium Audio Systems; Lane Keeping Assist, Long-Distance EV & Hybrid range; Cargo Space; Blind-Spot Collision-Avoidance Assist; and 365-Turbocharged engines — without which the visual show would not have been possible.
"We'll miss going to the movies this summer and catching the latest Hollywood blockbusters, so Kia took this as an opportunity to provide a similar viewing experience, but with a plot twist you never saw coming," said Russell Wager, Head of Marketing Operations, Kia Motors America. "With many automakers offering the same or similar vehicle options, 'The Features Film' is a unique, entertaining, and fun way to differentiate ourselves and reach consumers directly with highly creative content."
Kia's campaign has the ability to change the way car ads are made. The film elevates the expected demonstrations by placing car features at the heart of the ad. A different approach, sure, but one that promises more views and appreciation from consumers. The cinematic experience is divided into a series of 13 individual: 15-second pre-roll videos. The centerpiece is the six-minute film, which is accompanied by a 30-second trailer and a 60-second teaser.
"In many cases, the car feature becomes so dominating that it overshadows the story and diminishes the impact of the concept," David Angelo, Founder and Creative Chairman of David&Goliath, adds. "So we turned this convention on its head and created an entire idea where not one, but 13 features would be 'featured' in a highly watchable film that not only demonstrates capability but also makes them the captivating lead 'actors' of the film."
Great, we will not interpret car chase films in the same way ever again!
Credits:
Client: Kia Motors America
Agency: David&Goliath
Production Company: Slice