The year 2020 is simply a disaster: Not a month goes by without a new negative event taking place. So, the internet agreed that this year doesn't count. Frankly, we didn't use it; most of us didn't celebrate their anniversaries. We didn't even have a proper Easter. However, we adapted to the global crisis and "celebrated" it virtually. Yes, we do want to exclude this year from our agenda, but there's one thing we wouldn't miss for the world: Christmas!
Given the current global situation, it's no wonder we're waiting for this holiday to come. Besides the fact that Christmas means family, the holiday marks the end of the year and, let's be honest, we can't wait for this hell to be over. If only Christmas would happen sooner…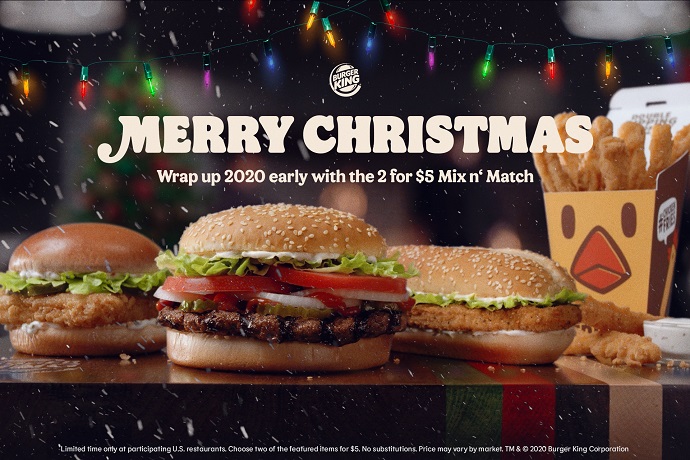 The Bible doesn't make it clear that Jesus was born in December (still, it offers clues that make us assume His date of birth). Theologians argue that it happened in October, making the Son of God an autumn baby. But He might just as well be a summer child, as astronomer Dave Reneke said. After analyzing the stars and the position they had two millennia ago, the scientist concluded that June is the month when Jesus came to earth. So, if you think that a Christmas party in July sounds ridiculous … think again! The study's results strengthen our belief that throwing a themed party in the middle of summer is not wrong. You see, that's one more reason to welcome X-mas now, right?
We don't know if they took the scientific part of the phenomenon into consideration, but it is certain that Burger King really wants to celebrate Christmas asap — at least to give people the illusion that 2020 will end soon. By partnering with creative agency David in São Paulo and Miami, the fast-food chain created the "Christmas in July" campaign, which overlapped with its "Mix n' Match" deal so that consumers can "wrap up 2020 early" with two Whoppers for the price of $5.
"They should leave this up all year," "Christmas in July," and "2020, No good!" are just some of the reactions BK's consumers had regarding this campaign. With this initiative, the brand aims to bring a little joy into the world so that we shift our focus from the crisis to the small pleasures of life — such as two burgers served during the somehow-traditional, yet "summery," Christmas dinner.
BK also equipped one of its restaurants accordingly, with Chrismassy "clothes." The location was decorated with icicle lights, snowflake ornaments, giant colorful trees, and red-ribboned wreaths. Plus, there was fake snow and all of the employees wore Santa hats. The campaign is so delicious that even the most dedicated Grinch surely enjoys it!
Credits:
Client: Burger King
Agency: David Sao Paulo and David Miami
Global CCO & Partner: Pancho Cassis
Global COO: Sylvia Panico
Creative VP: Rafael Donato
Creative Director: Edgard Gianesi
Associate Creative Director: Fabricio Pretto, Rogerio Chaves, Curtis Caja
Art Director: Thiago Ferreira
Copywriter: Lucas Vigliar, Jared Schermer
Group Account Director: Stefane Rosa
Management Supervisor: Jenny Gobel
Account Executive: Rachel Startz
Executive Producer: Brenda Morrison Fell
Associate Producer: Brenda Osorno
Senior Business Affairs Manager: Barbara Karalis
Business Affairs Manager: Elizabeth Torriente