According to scientists, the name can significantly affect one's life, even what career one can have. People whose name can be pronounced easily, those who have a common name, or with the initial of the name closer to the beginning of the alphabet can be closer to success. We can't help but wonder what will baby X Æ A-12 (eventually named X AE A-XII because of legal reasons) do when he will be an adult? Having an unusual name is nothing new. For example, a Swedish couple named their baby Brfxxccxxmnpcccclllmmnprxvclmnckssqlbb11116 — pronounced Albin — as a form of protest against Swedish naming laws. Another example is that of Michael and Karolina Tomaro couple, who named their daughter Metallica.
And as long as we mentioned Sweden, we have to underline the fact that one of the reasons Scandinavia is famous for is that it is a "heavy metal breeding ground." So, it should come as no surprise to see that some parents wanted to name their baby after the famous American heavy metal band. Moving on, we see the Liquid Death brand taking things quite seriously. Driven by the tagline "Murder Your Thirst," the California-based company whose differentiation point is a Heavy Metal aesthetic, came up with the idea of giving parents a tool that they can use when choosing the baby's name. The catch is that it suggests only heavy-metal-inspired names. In fact, this is the leitmotif of their latest campaign, courtesy of creative agency Humanaut.
According to the agency, which thinks that the initiative is "sure to become the biggest viral hit of Fall 2020," the campaign reaches its climax through the KillerBabyNamer.com microsite, the baby-name generator. And while the interactive experience is all fun, the explanation for it and how to use it is described via a 90-second-long video. "Naming a human is really hard, we thought Liquid Death could help people give their baby a more badass name that instills confidence," said David Littlejohn, Co-founder and Chief Creative Director at Chattanooga-based agency. "So we designed an interactive baby-naming website, and generated a list of baby names approved by metal experts that anyone can choose from."
The spot opens up with a mother bonding with her newborn in a pastoral setting. Things move quickly, so we meet these babies as they approach adulthood. All looks sweet until you hear the low growl of the narrator, who presents us to the "people" (who look like the members of the Lordi rock band) in charge of selecting the best killer names, which scientifically maximize a kid's success in life.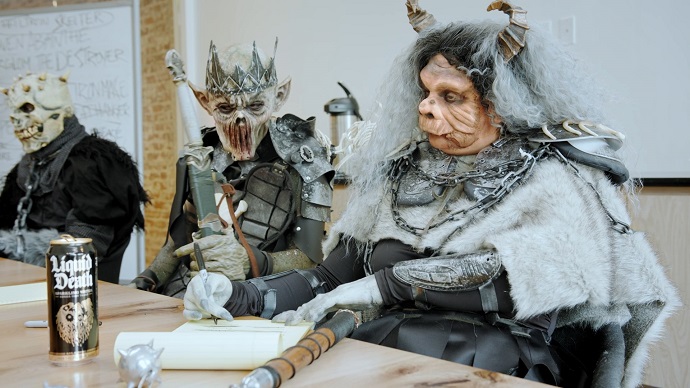 To do so, mothers and fathers are invited to access killerbabynamer.com, enter the last name, then choose the baby's gender, and the desired occupation for them. Some examples include Killery Killface, Doctor MurderBones, Zorglom the Destroyer, and Hellface Meathammer.
"Did you know employers can attach their biases to names on resumes?" the narrator informs us as an executive looks over a candidate's CV. "So when Krogwrath McKillington Clark applies for a job, you know that baby's going straight to the top."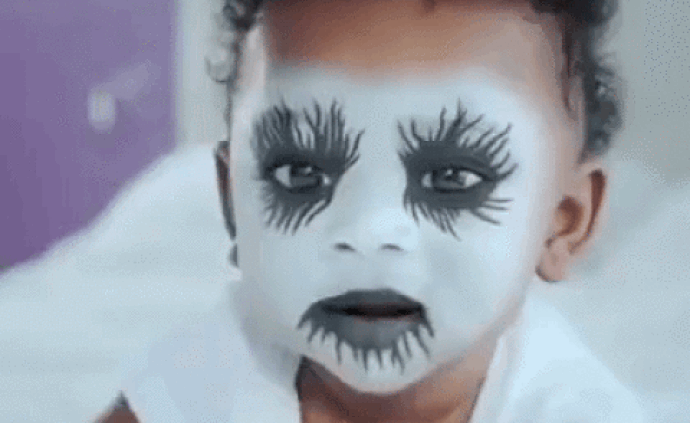 The campaign addresses "flat-earthers" too, who are not convinced by science but like free stuff. Parents who name their babies based on the generator are promised to receive a supply of Liquid Death until that baby's 18th birthday. Of course, they have to prove this by sending a legitimate birth certificate to the company as proof.
Rather than targeting pre-teens, Liquid Death focuses on "fetuses:" "We wanted to start indoctrinating kids into Liquid Death while they are still in the womb," explained Liquid Death's Founder Mike Cessario. "Our consumer cognitive analytics team found that a child born with a ridiculous heavy metal name is five times more likely to become a consumer of ridiculous heavy metal water."
Well, we wouldn't go that far and judge a consumer for enjoying "ridiculous heavy metal water." Liquid Death plans to make people drink more water more often. The brand offers 100% mountain water from the Austrian Alps and serves it in ice-cold sustainable cans. Aside from having an interesting design packaging, these cans are made of aluminum. An average aluminum-made can contains over 70% recycled material, whereas plastic bottles contain only 3%. So, drinking Liquid Death not only makes you "murder your thirst" in a healthy (heavy-metal) way, but you will also join the brand's cause to bring #DeathToPlastic.
We took the test ourselves and came up with Dusk Spinesnapper Branding.news. Judging by researchers' findings, our baby may have a higher-status position at work, as the name is "Dusk" and, therefore, easy to pronounce. The middle initial can make people think of a competent person, and given the one-syllable name, having a c-suite position is more likely.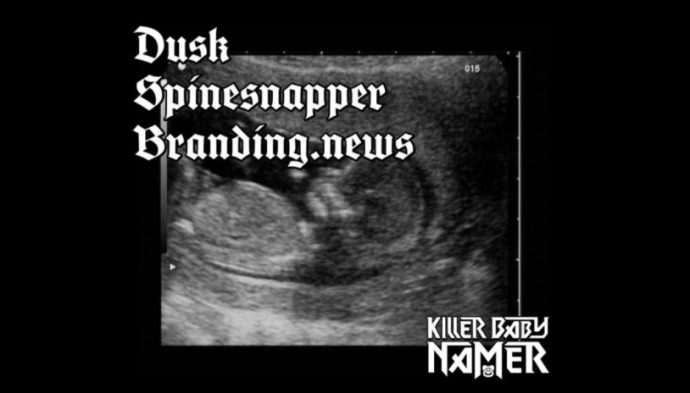 Credits:
Client: Liquid Death
Agency: Humanaut
Chief Creative Director: David Littlejohn
Chief Strategy Officer: Andrew Clark
Associate Creative Director: Bethany Maxfield
Executive Producers: Dan Jacobs, Tommy Wilson
Creative Producer: Jes Shipley
Brand Producer: Marco Wade
Associate Producer: Thomas Stroud
Production Coordinator: Rosie Graber
Senior Art Director: Carrie Warren
Copywriters: Emily DeMario, Steven Preisman, Steve Maloy, Jeff Greenspan, Kt McVeigh
Designer: Coleson Amon
Creative Coordinator: Rachel Bohanon
Production Company: Humanaut
Director: Dan Jacobs
Producer: Tommy Wilson
Director of Photography: Victor Tyler
Production Designer: Carrie Warren
Editor: D'arce Peter
Special Effects: Outpost Pictures
Color: Annie Huntington
Audio Mix: Daniel Cooper