One of the many side effects of the coronavirus pandemic, which appeared as the restrictions eased, is defined by a possible increase in the use of personal vehicles, "as people more concerned with hygiene choose personal transportation," Daniel Davenport of Capgemini's North America auto sector, explained, based on a study. The report revealed that 35% of the participants are thinking of buying a car this year, whilst 68% of respondents agreed that a personal car reduces their chances of getting infected. And this can only translate with one thing: traffic jams.
Road congestions are not only frustrating for you, as a driver, who spends many hours trapped in traffic, but they can slow down emergency vehicles as they try to reach their destination. In such cases, every minute counts, so Ecox, the French eco-mobility specialist, in partnership with Wunderman Thompson Paris, came up with a solution that's fast, especially now, when the City-of-Light is ranked as the most congested city in Europe.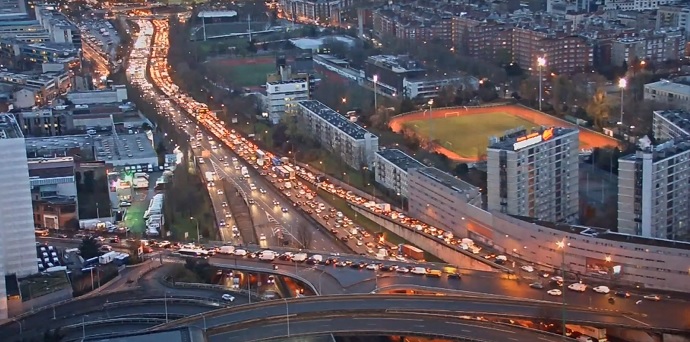 The company's mission is to research and come up with eco-mobility solutions. And given the pandemic background, they came up with the "Emergency Bikes," an electric bike that is designed for doctors, firefighters, paramedics, or other emergency professionals. According to Ecox's website, these bikes can be "used on several bicycle models (cargo, hybrid, urban) and personalized according to specific needs."
The Emergency Bike was designed so that it meets doctors' requirements. It comes with a large box where medicine can be carried, and it is built with an aluminum frame. It was brought to life thanks to groundbreaking, innovative technology. This bike is a doctor's best sidekick, as its 500 N.M battery pumps the vehicle's heart with enough energy to drive for about 160 km. The wheels are equipped with a cat's eye retroreflective devices so that they can be spotted with ease in traffic. Also, the bikes have a 140 dB horn, a GPS tracker, and a USB connection.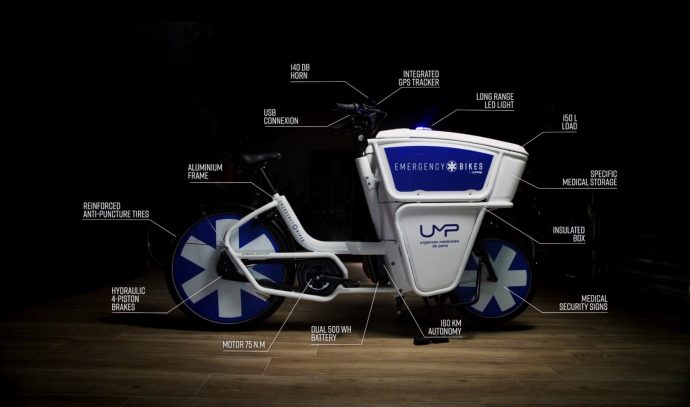 According to the video made to support the campaign, people from Paris spend around 140 hours a year stuck in traffic jams. In case of an emergency, every minute lost means 10% fewer chances of survival for the victims. Mathieu Froger, CEO at Ecox, says in the video that this concept "is our responsibility to address the complex problems related to the movement of doctors in towns. It was found that they were spending too much time in city congestion. Thus, as experts in developing bikes solutions, we created this new product to fit all their specific needs."
Dr. Martin Mealet, an Associate Urgentist doctor in Paris, added that he spends an hour less in transport every day, and all, thanks to this device. The CEO continues and sums up the potential of this bike in just a few words: "When there are traffic jams or city congestion, Emergency Bikes matter."
The bikes were designed to make emergency physicians reach their destinations faster. The creators of this bike intent to extend the idea so that nurses and transporters of medical equipment can use it too, whether they work in Paris or other large French cities.
Credits:
Client: Ecox
Agency: Wunderman Thompson Paris