France is famous for cheese, perfume, and wine. But how many of you know that the country hosts the capital of vinegar? The title is proudly worn by Orléans, a city that is home to Martin-Pouret, a vinegar producer that was born in 1797 and keeps making vinegar using the old tradition. The company is the last maker in Orléans and is probably the last in the country to make vinegar entirely in wooden barrels. In 2019, the leadership was taken over by gastronomic enthusiasts Paul-Oliver Claudepierre and David Matheron, who reached to Sid Lee's help to update the company's branding.
The Paris-based agency came up with the idea of combining modern elements with traditional ones, strengthening the brand's national distribution and expand internationally. Earlier this year, the creative agency redirected the company around a new signature, "Maîtres Vinaigriers d'Orléans depuis 1797," positioning the brand as a model of a vanishing culture. Martin-Pouret's new visual identity is built around this special signature. The colors and typography that the creatives used point out to the brand's roots, expressing its historical excellence while still keeping the looks of its products modern.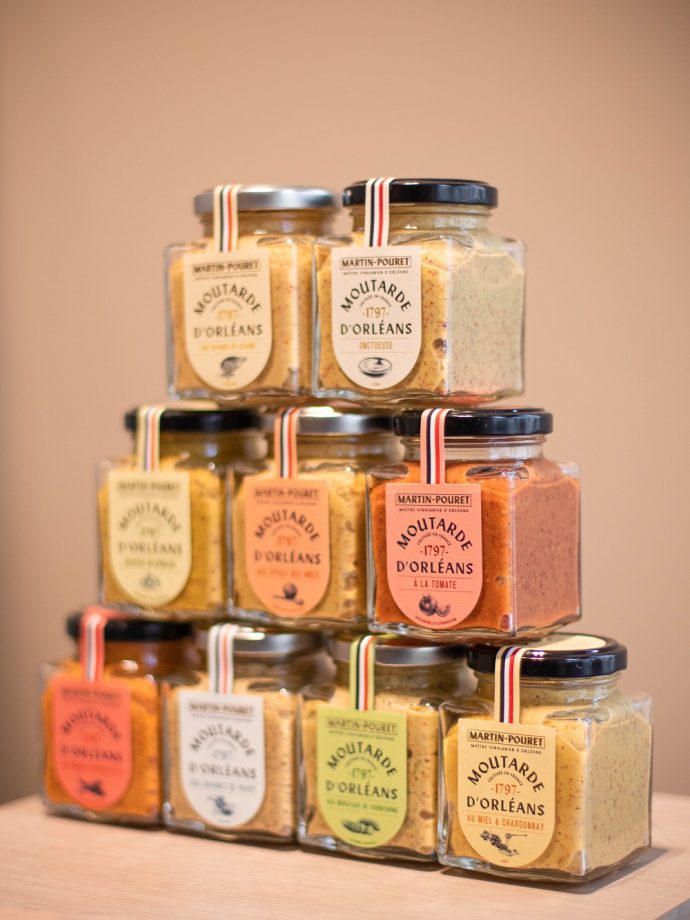 More than 50 labels were created as part of the rebranding project. Thus, the company's line of vinegars, mustards, and cornichons have new appearances, highlighting Martin-Pouret's know-how, "anchoring the brand in local culture (100% Made in France) and history, and rendering an authenticity to each product," says the agency.
The illustrations, sketched by Chisato Tsuchiya with the pencil on paper in the traditional way, are strategically placed on solid and colorful backgrounds, accentuating and preserving the company's vintage appeal. These are accompanied by short words that describe the brand's products. The new packaging design faithfully mirrors the Master Vinegar Maker's origins, a profession that was officialized via a decree signed by the King of France, at the end of the 16th century.
Martin-Pouret's line of products has been pleasing the most demanding palates since its birth and, hopefully, it will continue to do so for many years to come. And the help given by Sid Lee supports the company in this regard: The reposition and fresh design convinced retailers like Le Bon Marché to add the products on their shelves, while the National Assembly (France's House of Representatives) showed its interest to include the range into its kitchen.
Credits:
Client: Martin-Pouret
Agency: Sid Lee Paris
Chief Creative Officer Europe: Sylvain Thirache
President: Johan Delpuech
Copywriter: Kim Froissant, Max Harrigton
AD: Romain Lehur, Olivier Bodet
Account Director: Jean-baptiste Destabeau
Account Manager: Paul Pieuchot
Production Director: Thomas Laget
Illustration: Chisato Tsuchiya
Co-Director: Paul-Olivier Claudepierre
Co-Director: David Matheron
Communications Manager: Lea Evin
Quality Control: Amandine Clerc