Whether we admit it or not, at times, there's a grinch in every one of us. The Cambridge Dictionary defines this term as "a person who does not like other people celebrating or enjoying themselves, especially a person who does not like Christmas." Maybe this happens because there's pressure to make this festivity "the most wonderful time of the year," which can be overwhelming for some of us. But if even Dr. Seuss' The Grinch understood how Christmas works, that it isn't just about presents, it means we have a chance, right? Seeing that people continue to celebrate even though he stole their Christmas, the Grinch's heart begins to grow. He finally cares!
Similar feelings (not to steal Christmas but to not cooperate in creating a festive spirit as cheerful as possible) spin around Tom, McDonald's protagonist of the "Inner Child" campaign, imagined by Leo Burnett and directed by Againstallodds from Passion Pictures. The 2020 Christmas ad follows the story of a teenager who refuses to let his inner child define him. He faces an internal struggle between who he was and who he wants to be. Teen Tom is unresponsive to his mom and her attempts to involve him in the Christmas activities. However, his inner child says otherwise. But if Grinch's heart could be melted, so can Tom's, who begins to listen to his inner child at the sight of the Reindeer Treats, which he and his mom picked up at McDonald's.
Throughout the day, Tom's grumpy side vanishes and he no longer battles between his inner child and his teen version, learning that he can embrace both. He even suggests leaving the Reindeer Treats from McD for Santa, proving that he is finally #ReindeerReady. Chaka Sobhani, CCO at Leo Burnett, said: "Tom and his mum perfectly demonstrate the truth of the teenage/child conflict that we can all relate to, and ultimately the magic of Christmas in bringing people closer together. After all, if you can't be 'forever young' at Christmas, when can you be?"
The campaign launch also marks the fast-food chain's pledge to provide millions of meals to families in need via a partnership with FareShare. Earlier this year, when the world went through the first lockdown phase, the brand donated over 400,000 tons of food to FareShare, food Drop, and other charities. "In a year like no other, I am proud that we can stand together with organizations like FareShare and the End Child Food Poverty Task Force to support those in greatest need. Together with our franchisees, we will provide funding to the charity to enable them to redistribute over five million meals to vulnerable families," Paul Pomroy, Chief Executive Officer, McDonald's UK and Ireland, said.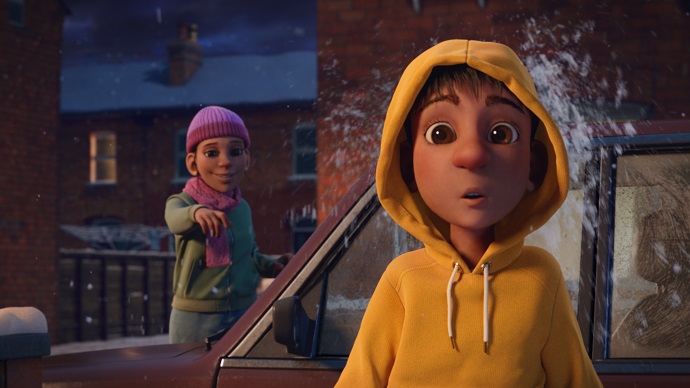 As part of their festive initiative, McDonald's will also launch the #ReindeerReady Hub, an online platform featuring activities for kids, competitions, and an audiobook giving more details about Tom's story. What's new this year is that the platform englobes a social AR game, developed by The Marketing Store, where families can get #ReindeerReady with Tom by catching Reindeer Treats and avoiding Brussel sprouts. All of these virtual surprises will be unlocked via a QR code featured on the packaging of the McDonald's Christmas Menu.
Credits:
Client: McDonald's
Agency: Leo Burnett
McDonald's Brand Team
Vice President of Marketing: Michelle Graham-Clare
Marketing and Food Director: Steve Howells
Marketing Manager: Hannah Pain
Senior Brand Manager: Hollie Subhan
Brand Manager: Anna Kerr
Campaign Assistant: Chansey White
Creative agency: Leo Burnett
CCO: Chaka Sobhani
Creative Director: James Millers & Andrew Long
Creative Team: Steph Ellis & Rory Hall
Head of Planning: Tom Sussman,
Planning Director: Joe Beveridge
Planner: Thomas Schofield
Business Lead: Bethany Watts
Account Team: Steph Bates, Laura Taylor, Alice Pavey, Annie Flood
Project Director: Emily Green
Head of TV Production: Graeme Light
Media Buying Agency: OMD
Production company: Passion Pictures
Director: Againstallodds
Exec Producer: Debbie Crosscup
Head of Production: Mike Turoff
Producer: Matt Saxton
Production Assistant: Honor Martin, Nefeli Petika
CG Co-ordinators: Emma Rider
Head of CG: Jason Nicholas
CG Supervisor: Stuart Hall
Animation Supervisor: Wesley Coman
Character Design: Againstallodds, Juan Useche
Background Design: Alejandro Diaz, Jules Durand
Research & Development: Ronnie Mitchell
Boardomatic / Animatic: Againstallodds
PREVIZ: George Rigby, Wesley Coman
Editing: Againstallodds, Kingley Bailey, Christina Conradi, Tim King
Layout: David Burtle, Jason Nicolas
Modelling (character): Mattias Bjurstrom, Filippo Bovolini, Florent Rousseau
Modelling (environment): Florent Rousseau, Jack Enever, Maryka Laudet, Quentin Camus, Camille Jalabert
Texturing: James Nardelli, Maryka Laudet, Quentin Camus, Jose Hernandez, Francois Pons, Camille Jalabert, Fanny Teisson, Interference Pattern, Jack Enever
Texturing Characters: Eva Prado
Rigging: Victor Vinyalls, Mattias Bjurstrom, Arthur Ranson, Sarah Forest
Hair Groom: Keyvan Leriche
Animation: Wesley Coman, George Rigby, Alan Person, Lucas Pratdesaba, Francisco Garcia, Jordi Girones
SFX & SIM: Colin Perrett, Kwai Ip, Derlene Buttner, Tyler Daniells , Stephane Daguin
Lighting & Rendering: Howard Bell, Jose Hernandez, Francois Pons, Ian Beresford, Stuart Hall
Compositing: Sam Meisels, Daniel Lopez, Flavio Kawamoto
Matte / Background Painting: Sam Klughertz
Post-Production: Framestore
Passion Pipeline TD: Javier Edo, Tony Ambles
IT Support / Engineering: Tim Wharton, Daniel Borg, Thomas Lynch
OMD:
Account Team: Amy Lea, Laurence Ruthven, Eleonora Sceusi
Media Planners: Jamie Callaghan, Becky France
Media Buyers: Alex Neary, Alex D'Albertanson
The Marketing Store:
Digital Creative Director: Darren Groucutt
Creative Technology Director: Hils Jakison
Senior Creative: Mark Kelly
Senior Creative: Vanessa Tucker
Digital Designer: Jade Wilson
Account Team: Emily Duggan, Alice Napier, Madhushri Nadgir