Committed to helping seriously ill children have the best chance to fulfill their potential, Great Ormond Street Hospital Children's Charity (GOSH Charity) has recently launched a new campaign, under the guidance of adam&eveDDB agency, through which it wants to give every kid the chance to be at home for the most wonderful time of the year. The charity's admirable effort to reunite little patients with their parents and siblings can be seen in a short animated video, for which the London-based agency partnered with animator and illustrator Marlies van der Wel and soundtrack composer Pieter de Graaf.
GOSH's staff is dedicated to working all year round to help kids get in the bosom of their families. For Christmas, this incredible team wants to give every kid the chance to celebrate alongside their family, at home. And even though some of them cannot leave the hospital, the staff adorns the building with Christmas decorations, so that every kid can feel the magic of this festive season as if at home.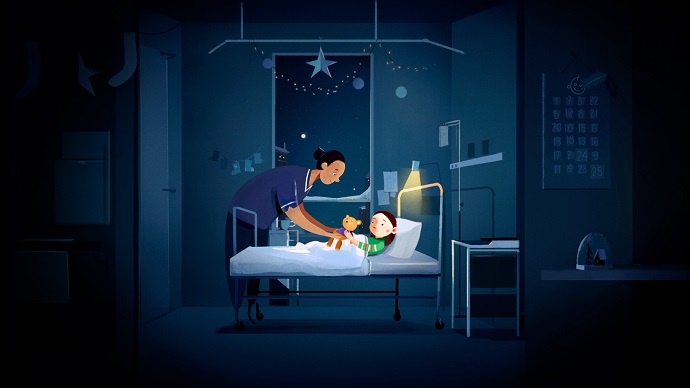 It is simply wonderful when a kid finally gets to go home for Christmas. And that's exactly what the charity wanted to capture through its animation, part of the "Home for Christmas" campaign. The one-and-a-half-minute long video brings to life the journey kids make from the hospital to their home for Christmas.
The protagonist of the video is Mia, who is spotted falling asleep in her hospital bed, in a room adorned with Xmas decorations. With her eyes closed, the Christmas lights turn on and a magical force starts controlling the bed's wheels, pushing the bed through the hospital's corridors and out of the building. Other patients embark on a similar adventure, returning to their homes across the country. Featuring national landmarks such as the Clevedon Pier or Angel of the North, the short video ends with Mia returned to her home, where her sister Amy warmly greets her. The film is inspired by patient Mia and her sister Amy who were treated at GOSH, years apart, both having the same rare condition.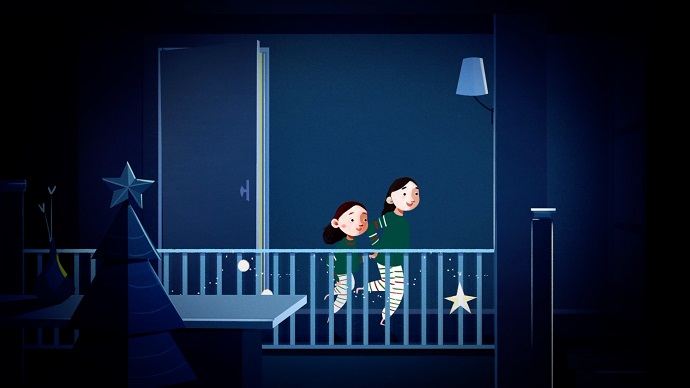 Louise Parkes, GOSH Charity's Chief Executive, said: "After the year we've all had, spending time with loved ones feels even more important than ever, and that includes the seriously ill children who are being treated at GOSH this festive season. We're so excited to launch our Home for Christmas campaign which will help GOSH get more children home to their families and to help the hospital be a 'home from home' during these incredibly difficult times. Over the last few months, we have been truly humbled by all the amazing support we've received, and hope that people can come together again to spread as much Christmas cheer as possible, at a time when we need it most."
Charlotte Wolfenden, Managing Partner at adam&eveDDB, said: "The incredible team at GOSH work tirelessly all year round to make sure as many children as possible can celebrate Christmas at home. We're humbled to have helped bring to life the magical story of Mia's journey home and hope it encourages people to support GOSH Charity this Christmas."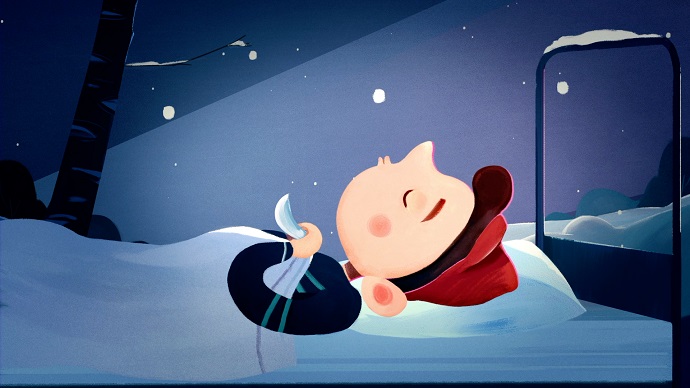 The campaign's media has been arranged by Hearts & Science and has largely been donated free of charge by Ocean Outdoor, JCDecaux, Verizon, News UK, The Guardian, and The Telegraph. But you can also be a hero by donating to the charity. The money raised from this campaign will be used to funding vital resources and support GOSH in its way to get seriously ill kids go back home as quickly as possible.
Sam, Amy and Mia's mum, said: "With both Mia and Amy spending time at GOSH for such a rare condition, our family knows first-hand how important it is to support GOSH Charity, particularly at Christmas. When we were in the hospital with Mia, we were blown away at the amount of effort the hospital goes to make the wards feel as festive as possible, they are all incredible. After everything we've been through, Christmas is such an important time for us, and we love spending quality time together at home."
You can go the GOSH Charity's website to discover more about the campaign, how Mia got home (and her reaction to the video), how Christmas at GOSH unfolds, and meet Melissa, a Ward Sister on Koala Ward who loves working at GOSH during Christmas. Actually, she is so dedicated to making kids here feel cozy during the holiday that she did it for 15 years in a row.
Credits:
Client: GOSH Charity
Deputy Director (Brand & Content – Hospital and Charity): Nick Radmore
Digital Content Manager: Charlotte Young
Brand Manager: Miranda Williams
Head of Digital Engagement: Dave O'Carroll
Filmmaker and Photographer: John Stead
Senior Innovator: Oliver Field
Senior Business Development Executive: Amy Perkins
Creative Agency: adam&eveDDB
Chief Creative Officer: Richard Brim
Executive Creative Director/s: Mike Sutherland and Ant Nelson
Creative: Simone Warme and Jeppe Vidstrup
Agency producer/s:
TV/Online: Nikki Cramphorn
Print/Digital/OOH: Chris Battye
Joint CEO: Mat Goff
Managing Partner: Charlotte Wolfenden
Executive Strategy Director: Nick Hirst
Planner/s: Stuart Williams, John Blight
Business Director/s: Jo Lorimer
Account Director/s: Bea Kenyon-Jones
Account Manager/s: Dorothy Tang
Project Manager: Lara Harper, Clare Dimmock
Senior Paralegal: Trine Odin
Business Affairs: Gemma Davies
King Henry Design:
Designer: Paul Knowles
Design Studio Manager: Rob Wallis
Senior Creative Artworker/Deputy Studio Manager: Dave Callow
King Henry Retouch:
Studio Manager: Dan Sandles
Retouch: Gemma Lawton
Gutenberg:
Studio Manager: Marc Dolby
Artworkers: Tony Hutton & Jonny Young
Gutenberg Digital:
Studio Manager: Richard Bryne
Digital Designer: Simon Wright
Media agency: Hearts & Science
Media planner/s:
Production company: Partizan Films
Executive Producer: Duncan Gaman
Producer: Leo Green
Director: Marlies Van Der Wel
Animators: Marlies Van Der Wel, Manuel Ferrari, Taco Potma
Illustration & Design: Marlies Van Der Wel
Background Illustration: Freek Verhagen
UGC Post Production: Untold Studios
Post Producer: Ian Berry
Cain & Abel – James Ireland
Sound Design & Mix: James Utting – Factory
Audio Producer – Lucy Spong
Soundtrack Name and Composer: Home Sweet Home – Pieter de Graaf