Some women are restricted from participating in some official sports competitions because they are considered as being "too masculine." The World Athletics (WA), formerly known as the International Association of Athletics Federations (IAAF), says that athletes with a difference of sex development (DSD) may pose a challenge to their counterparts. To "ensure fair competition for all women," WA introduced the Eligibility Regulations for the Female Classification [Athletes with Differences of Sex Development], stating that ladies who have above-average natural testosterone levels are not eligible to participate in international running events from 400 meters to the mile run. That unless they lower the level of testosterone in their blood down to below 5 nmol/L.
This leaves athletes such as Francine Niyonsaba from Burundi, Margaret Wambui from Kenya, and the Olympic champion Caster Semenya at disadvantage. The females can lower the testosterone level through birth control pills, hormone-blocking injections, or surgery if they want to compete at top events. The rules stop Semenya, the two-time Olympic champion in the 800 meters, from defending her title at Tokyo 2020. Yet, she decided to switch to the 200 meters competition in a bid to qualify for the Olympics.
Semenya has allies by her side, a coalition of former athletes, sports scientists, and doctors, TV channel SporTV, and agency Africa, who all joined forces under the #LetHerRun movement. She took her fight to the court and has twice lost legal appeals against the WA.
The campaign, which makes the subject of our weekly #ThrowBrandThursday column, is a movement that invites all women who want to run and are not allowed to because of their testosterone level. A website supports the initiative that makes it clear that "No woman should prove that she is really a woman." Sadly, in sports, female athletes must bring evidence to this claim. Sex testing had many faces over the span of the years and it keeps damaging girls' mental health.
#LetHerRun also features a short video, portraying a female athlete going through a humiliating "nude parade." The video was produced by Santeria and directed by Rafa Damy, with executive production by Damy, Edgard Soares, and Telma Silva. Jackie Silva, ambassador of the initiative and former volleyball players, said: "Caster's case deserves our attention because it affects the destiny of dozens of other athletes who will have their careers ended prematurely simply because they were born out of the standards imposed by technocrats from a regulatory agency. Why hasn't the natural hormone production invalidated any male career ever? Has anyone stopped to compare Usain Bolt's levels of testosterone to those of Justin Gatlin, for instance?"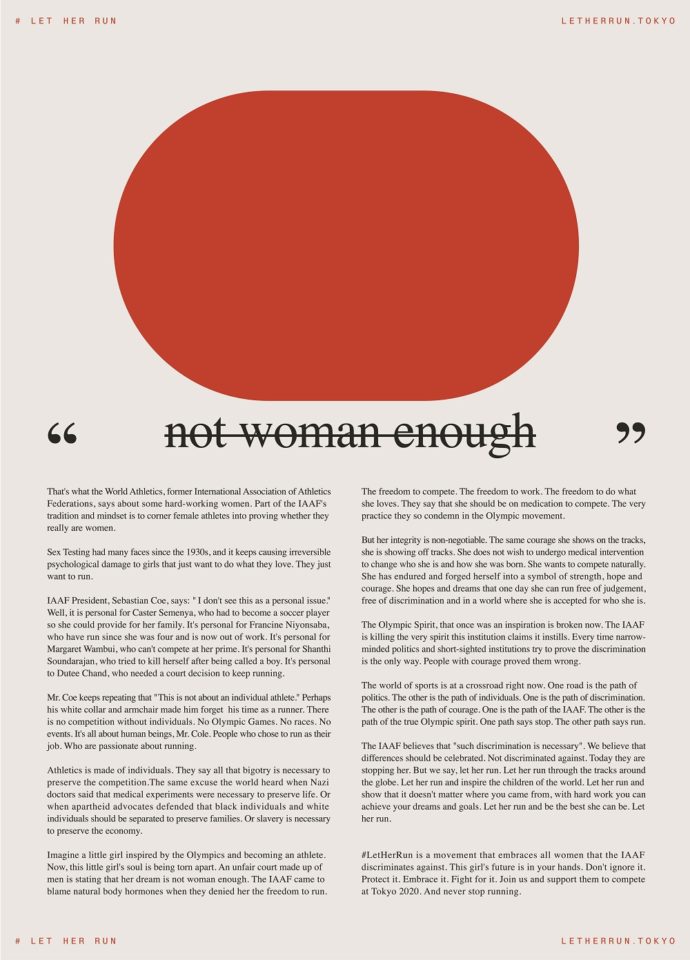 Besides Jackie Silva, there is her partner, Sandra Pires. The movement is also supported by Dr. Travers, a Professor of Sociology at Simon Fraser University in British Columbia who studied the relationship between sports and social justice.
"The reasons I am involved in this project center around my strong beliefs in gender justice and anti-racism. I believe that sex testing is not consistent with social justice and I'm particularly concerned that it is deployed most harmfully against racialized women," says Dr. Travers.
Credits:
Client: SporTV
Agency: Africa
CCO: Sergio Gordilho
ECD: Matias Menendez
Copywriter: Nicholas Bergantin
Art Directors: Rodrigo Adam/ Pedro Galdi/ Yan Graller
Special Projects Directors: Monique Lopes Lima/ Juliana Leite
Special Projects: Fernanda Segura / Fernando Alonso / Lica de Souza / Isabela Levy / Thays Miranda / Caio Rodrigues / Aline Saraiva / Malu Lins
Sustainability & Institutional Relations: Raphael Vandystadt
Community Managers: Carol Patrocinio / Carolina Camila
PR: Valerie Silverman Kerr / Fabiana Antacli / Carina Miranda / Inovem Comunicacao
Agency Producers: Rodrigo Ferrari / Renata Sayao / Ian Inglez
Production Company: Santeria
Director: Rafa Damy
Assistant Director: Barbara Aranega /Pedro Sokol
Director of Photography: Guilhe Muse
Production Co./Art Direction: Paty Pereira/ Thiago Cusack
Make-up: Miriam Kanno
Costume: Kleber Lucin
Editing: Rodolpho Ponzio
Post-Production: Line
Color Grading: Osmar Junior
Production: Paula Ortiz
Executive Producers: Telma Silva/ Rafa Damy / Edgard Soares Filho
Sound Design: Studio Cabaret
Musical Production:  Mauro Kuschnir
Composer: Guilherme Azem
Mixing and Post-production: Gab Scatolin
Coordination: Verusca Garcia / Junior Freitas