The Nontuberculous Mycobacterial (NTM) is a rare pulmonary disease that is often difficult to diagnose because of its similar symptoms to other lung conditions. To raise awareness about it, ad agency AREA 23 teamed up with animation studio ROOF Studio and launched "Unbreakable," biopharmaceutical company Insmed's heartwarming story about the experiences of such patients. The CG film took shape as a metaphor, aiming to create a sense of urgency for doctors and specialists to recognize and diagnose the condition.
The animated film introduces viewers to Barbara the Bunny, a plush toy that was born in a toy factory. Alongside its brothers and sisters, Barbara is spotted on what looks like an assembly line. But she immediately feels that something is not right as she starts coughing. She ends up splitting a piece of fabric on her chest and, moments later, the "Quality Control" expels her from the factory.
She starts her journey on the streets of a city, desperately looking for help. Barbara goes from shop to shop, where people try to fix her but, unfortunately, they fail to find a solution to her problem. When seeing a string of yarn on the streets, Barbara has a Eureka moment. Following the thread's direction, the bunny arrives at a toy repair shop, where the lady owner gives her hope that something good will happen.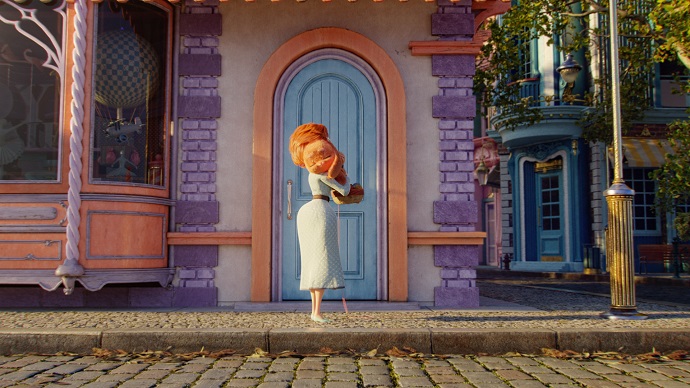 "We took a folkloric Pinnochio-like approach to tell not only the story behind the physical symptoms of NTM but also the social ostracization from the chronic cough that patients endure with the condition," explains Guto Terni, ROOF Studio Co-Founder / Creative Director. "This approach allowed us to use rich, poetic visuals with a character-driven story around Barbara the Bunny to engage the viewer with the deep concerns of NTM sufferers and their experience. At the same time, it lent us room to be playful and humorous to bring a hopeful tone to the conversation around NTM."
Vinicius Costa, ROOF Studio Co-Founder / Creative Director, adds: "We wanted to design places that would feel rich and inviting — places that you may even wish to visit. We pursued an extremely high level of detail in every asset to create an experience that would encourage people to keep following this story along through the behind-the-scenes materials in social media. It is common to focus on a video and extract parts for its 'making of' but we put equal effort into engaging people with the film and with every asset outside of it. We wanted to bring a much broader approach and this film was perfect for that."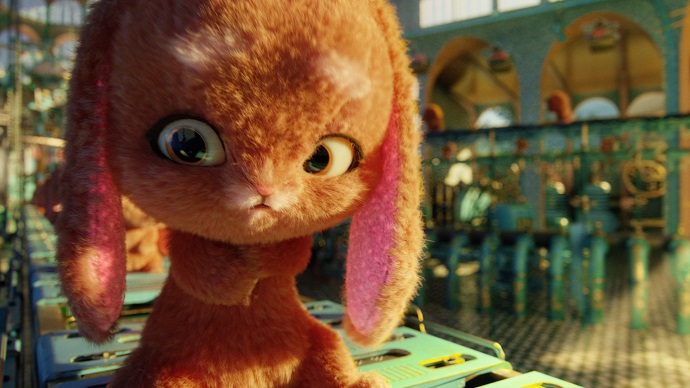 The New-York-based studio also developed the film's entire previsualization in 3D. Besides offering the client the opportunity to have a sneak peek at the visual style and direction of the video, this pre-production step allowed the crew to evaluate some critical details, such as composition or camera movements.
"Animation is a powerful technique for tackling often-abstract or complicated subjects, and credit goes to the AREA 23 team for being open to exploring its full potential in 'Unbreakable'," concludes Terni. "Together, we created a dream project, which will hopefully resonate with health care providers and people in general and help those suffering from NTM in particular."
The team at ROOF worked hard to bring the 24-inch-tall bunny to life, including everything she comes in contact with in her way to see a specialist. Through Barbara, the team wanted to express the real emotions of such a patient, and, at the same time, they aimed for the protagonist to have cute features so that empathy can be triggered.
Credits:
Client: Insmed
Ad Agency: AREA 23
EVP, Chief Creative Officer: Tim Hawkey
SVP, Group Creative Director: Chris Bernesby & Joe Capanear
VP, Creative Director: Paul Harrington
VP, Associate Creative Director: Jennifer Harrison
Associate Creative Director: Kristen Bell & Corinne Feight
Senior Copywriter: Sasha Mishkin
VP, Group Executive Producer: Chinkara Singh
VP, Associate Creative Director: Ronnie Caltabiano
VP, Management Director: Martha Simpson
VP, Account Director: Jack O'Shaughnessy
Senior Integrated Producer: Kevin Mullucks
Senior Broadcast Business Manager: Helen Hathiramani
Production Company: ROOF Studio
Director: ROOF Studio
Creative Directors: Guto Terni, Vinicius Costa, Lucas Camargo
Executive Producer: Marcus Lansdell
Head of Production: Vanderlei Santana
3D Lead: Heber Conde
Story Lead: Guto Terni
Storyboard: Estevao Chromiec
Animation Lead: Bruno Celegao Monteiro
Animation: Alex Ferreira, Andrea Delfino, Bruna Berford, Bruno Santos, Christian Weckl, Daniel Oliveira, Emerson Manfrin, Francisco Catão, Hannry Pschera, Jesiel Almeida, Jonathan Edward, Jorge Zagatto, Leonardo Felix, Leonidas Maciel, Marcio Nicolosi, Matheus Caetano, Rodrigo Dutra
Modeling: Steferson Rocha, Carolina Avelino, Lincoln Horita, Gean Carlos, Geison Araujo, Roberto Fernandes
Rigging: Danilo Pinheiro
Look Development Lead: Gustavo Rangel
Look Development: Mateus Kurzhals, Josemar Queiroz, Rafael Chies, Camilo Franco, Lucas Camargo, Guto Terni, Vinicius Costa, Renato Braz
3D Layout: Heber Conde, Guto Terni
3D Lighting: Guto Terni, Gustavo Rangel, Rafael Chies, Lucas Camargo
Prop Design: Vinicius Costa
Environment Design: Vinicius Costa, Guto Terni
Character Design: Lucas Camargo
Character Explorations: Lucas Camargo, Victor El Guy
Compositing: Guto Terni
Simulation: Heber Conde, Lucas Camargo, Alejandro Echeverry.
Pipeline: Rosenio Pinto
Grooming: Hasan Tawfiq, Rouhollah Toghyani, Lucas Camargo