Many industries feel threatened by climate change. Take coffee, for example: As temperatures rise, coffee will be difficult to grow and, thus, will become a luxury for some of us. It's impossible to create a new beverage that delivers the same taste and experience as coffee. And Finnish company Paulig proved this when it tried to create a substitute for coffee in case there will not be enough for everyone. Blend 2080 was born, a beverage that tries to replicate the taste of the popular drink but which has been described as "flat," very thick," and "somewhere close to really bad coffee" by its creators.
The beer industry is in a similar position: Increased temperatures would shrink growing regions of barley, making the ingredient far more expensive. Extreme weather events and constant drought would have a negative impact on the entire crop years, making perishable ingredients like hops and malt rare. Other ingredients would be constantly contaminated by smoke from wildfires. To help protect the future of our planet and of beer, New Belgium Brewing's flagship beer Fat Tire announced the launch of a new beer just in time for Earth Day, "Torched Earth Ale."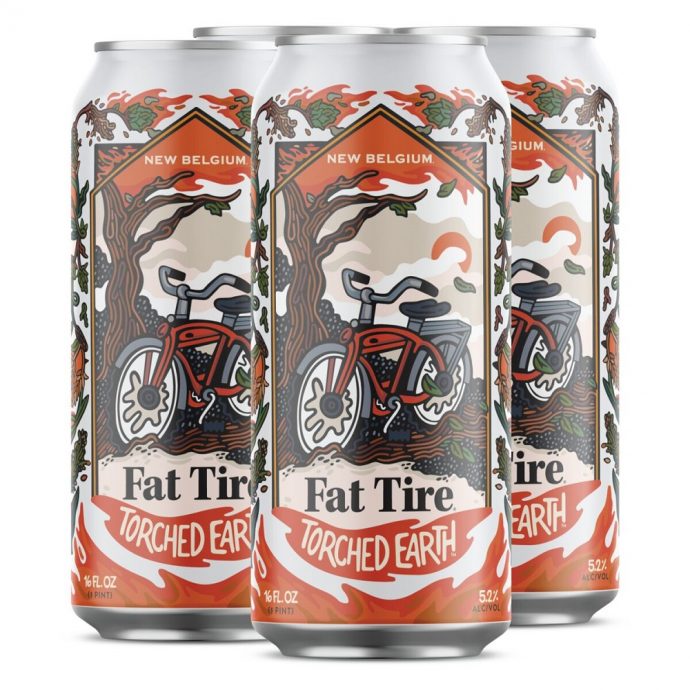 The initiative is brewed by creative agency Red & Co. and uses smoke-tainted water, dandelions, and drought-resistant grains as ingredients. As you might have guessed, it tastes awful, but please consider that it is made from ingredients that would still be available and affordable to brewers in a climate-ravaged future. The company admits that the new ale "is not likely to win any awards," but it does show how climate change would influence the taste of beer.
To bring the limited-edition beer to life, brewers at New Belgium started with smokey malt to imitate the impact wildfires have on the water supply. Then, they added drought-resistant grains such as millet and buckwheat. For bitterness, dandelions seemed to be a great choice, as they grow almost everywhere, and shelf-stable hop extract, which has far less aroma than fresh hops.
Clearly, the beer's message is to raise awareness about climate change and its impact on the brewing industry, which is also communicated on the beer can. The brand commissioned Los-Angeles-based artist Kelly Malka to design the can's apocalyptic look. As a first-generation Moroccan immigrant, the artist experienced the devastating direct impacts of this climatic phenomenon, including worsening wildfires and air pollution. To outline the illustrations, she got inspiration from films and documentaries. For the color palette, she chose something that would make people consider the future — which is not going to be that great if things don't change.
In addition to the beer, the company launched a sustained campaign through which it asks beer drinkers to make a "Last Call for Climate," by requesting their favorite brands to adopt 2030 climate plans. According to Fat Tire, 70% of Fortune 500 companies lack a meaningful climate action plan. To make things easier for users, the company designed an online tool, where people can see which brands have plans already and which don't, allowing them to reach directly to those who don't.
Last year, Fat Tire became America's first certified carbon neutral beer, with its parent company announcing that it plans to achieve net-zero emissions across the entire company by 2030.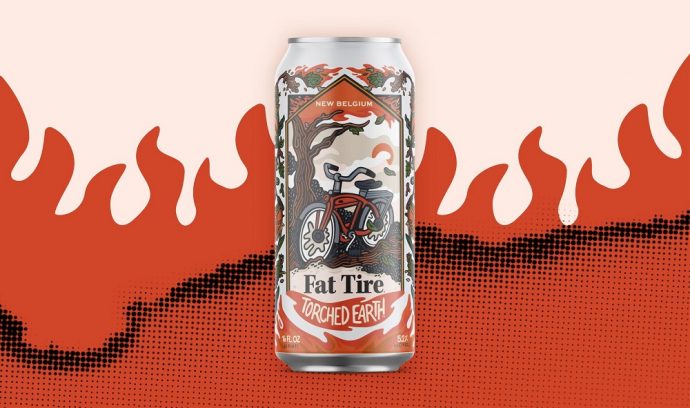 "If you don't have a climate plan, you don't have a business plan," said New Belgium CEO, Steve Fechheimer. "Aggressive action to help solve the climate crisis is not only an urgent environmental and social imperative — it's also a no-brainer for companies seeking to create long-term shareholder value, compete with rivals like China, and create good-paying jobs here at home. As a medium-sized company, New Belgium can only have a medium-sized impact. We need more of the big guys to step up, too."
Mira Kaddoura, Founder of Red & Co., said: "We are so proud of our partners at Fat Tire for taking this big idea and making it come to life — brewing a real beer from a Climate-Ravaged Future. We love working with brands that align with our purpose of making a larger, more meaningful impact on society. Only 30% of Fortune 500 companies currently have 2030 climate plans, and if it takes drinking awful beer to change that, we will do our part!"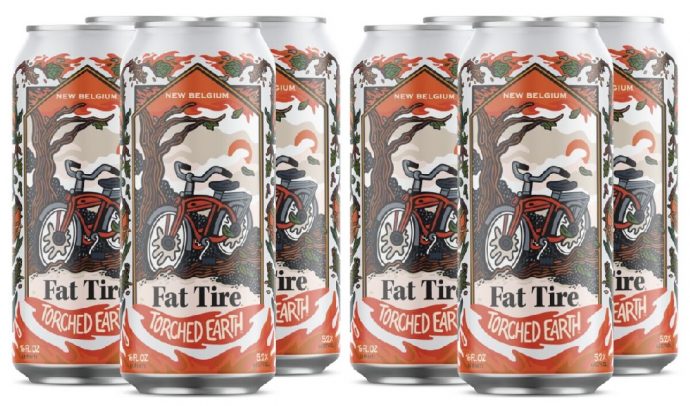 Last year, for International Beer Day, New Belgium tried to catch people's attention with a print, social, and retail concept called "The Real Cost of Beer," selling Fat Tire six-packs at a terrifying price: $100. The cost is supposed to be this high in 2070 if we do nothing about global warming now. The initiative was supported by an ad that stretched over a full page in the New York Times which read "$100 for a Six-Pack? Get Used to It."
The Torched Earth Ale will be available through New Belgium liquid centers in Fort Collins, Colorado, and Asheville, North Carolina, and in limited quantities online. For $39.99, users will get two four-packs of 16-ounce cans, with all profits from these sales going to Protect Our Winters (POW).
Credits:
Client: New Belgium Brewing – Fat Tire
Agency: Red & Co.