It's been over a year since the border between Singapore and Malaysia closed because of the COVID-19 pandemic. Border travel is allowed in some circumstances, yet the strict criteria and high costs due to quarantine measures have forced many Malaysian workers in Singapore to remain in the city-state, spending Ramadan alone.
"I thought it was just going to be two weeks. But now, I've been in Singapore for over a year," says Samsuri, a McDonald's employee. He says that this year's Ramadan will be different, as he won't be able to break fast with his family at the same table. The same goes for Rozaini, who has been working in Singapore for 11 years, and for Anas, who has been working across the border for 3.5 years.
But "what if the spirit of Ramadan is stronger than the borders that divide us?" McDonald's Singapore wonders. With an ingenious activation developed by Leo Burnett Singapore, the fast-food brand launched "My Happy Table," a physical experience that helps families to virtually reunite during this Ramadan. Through the activation, members of a family can celebrate the holiday together as if they were seated at the same table.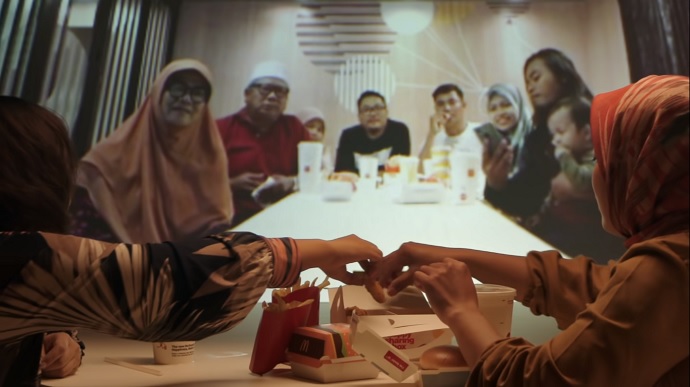 The full-sized hybrid table is set up at the brand's locations in Singapore and Johor Bahru, where families separated by borders can sit at the same table and enjoy their McDonald's meal. Even though they are virtually reunited, new happy moments emerge, fueled by real emotions.
Drina Chee, Senior Director, Marketing and Digital Customer Experience McDonald's Singapore, says: "We empathize with the many families who have been separated by distance, across borders, since COVID-19 hit us last year. My Happy Table at McDonald's is our way of helping to narrow that distance by facilitating mini-reunions for Muslim families during this Ramadan. As a brand that celebrates family togetherness, we're heartened to see our employees and customers reunite 'virtually' with their families and create happy memories during these trying times."
The activation launched with a video featuring some of the company's employees in Singapore, originally from Malaysia. They had to take the difficult decision of moving across the border for work so that they can support their families back home. Prior to the pandemic, Malaysian workers in Singapore could commute daily or over the weekends.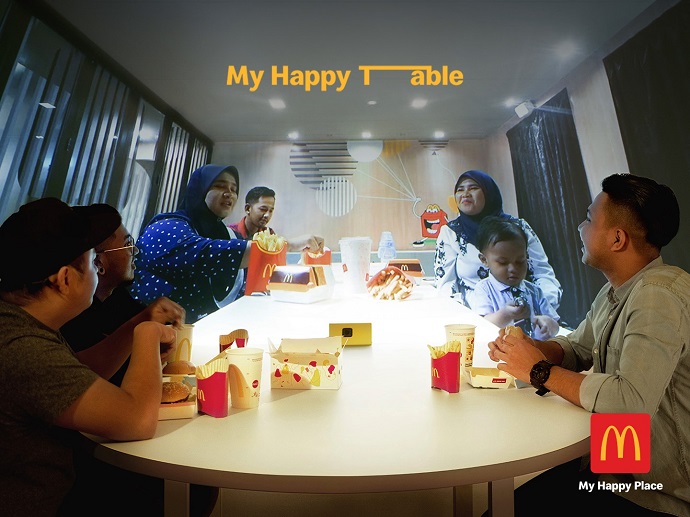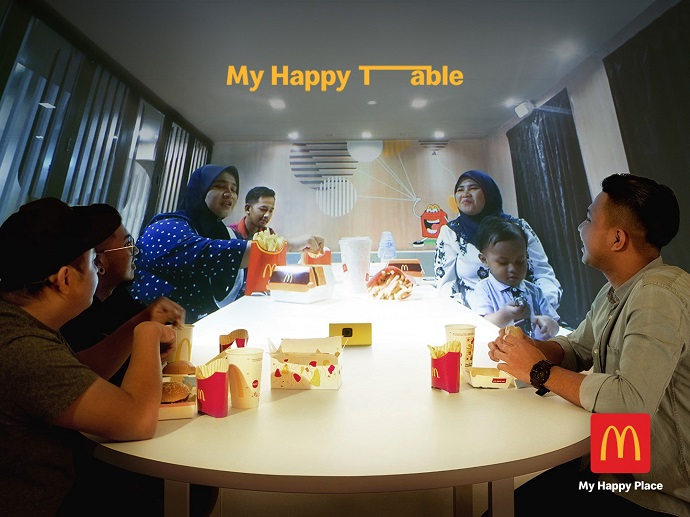 "McDonald's is one of the few brands that can authentically participate in culture. My Happy Table is a wonderful example of meaningful creativity, where even just for a few hours, McDonald's could recreate the magic of sharing a meal together — showing that our Spirit of Ramadan is definitely stronger than the border that divides us," adds Jennie Morris, Publicis Communications' Chief Creative Officer.
The brand invited Malaysian Muslim family members being able to visit McDonald's restaurants in Canberra Plaza (Singapore) and Taman Desa Tebrau (Johor Bahru, Malaysia) to try the experience between 23 – 30 April. With limited slots available, McDonald's announced that My Happy Table is fully booked.
Credits:
Client: McDonald's Singapore
Senior Director, Marketing and Digital Customer Experience: Drina Chee
Senior Marketing Manager: Eileen Ang
Marketing Manager: Nicole Low
Agency: Publicis Communications Singapore // Leo Burnett Singapore
Chief Creative Officer: Jennie Morris
Group Creative Director: Sharim Gubbels
Creative Director: Adrian Yeap
Associate Creative Directors: Claudia Ribeiro & Chong Wei Cong
Managing Director: Serene Koh
Business Director: Lim Xin Wei
Senior Account Executive: Jazzeca Pachai
Strategy Director: Arielle Brustein
Strategy Planner: Wong Teng Fon
Senior Producer: Caroline Frances, Prodigious Singapore
Production House: Digital Cartel
Director: Sufyan Sam'an
Executive Producer: Brandon Tay
Producer: Terence Tay
Post House: Prodigious Singapore
Audio Post House: Fuse Adventures in Audio