Moving into a new era, Italian luxury vehicle manufacturer Maserati has found the perfect partner with which it can share this adventure: Sporting legend, style icon, businessman, and philanthropist David Beckham joined the automaker's team as the global brand ambassador. For more than a century, Maserati's formula of creating iconic vehicles included a mix of innovation, design, and passion has functioned so well that it has changed the way the world thinks about motoring.
The very essence of the brand's values is perfectly captured in the partnership with the former English footballer. "The Brand is moving forward, inaugurated a new Era. Maserati is driven to challenge the status quo being innovative by nature, powered by passion, and unique by design. The partnership with David is the embodiment of all these values," says Paolo Tubito, Maserati Chief Marketing Officer.

The collaboration can be seen in a global campaign made with the help of the creative agency Droga5 London. Titled "Maserati x David Beckham," the first act mirrors Maserati and David Beckham's brave spirit in a short film directed by Harmony Korine. The short video sees Maserati "bending one of its SUVs like Beckham," a move carefully controlled by the player. The ambassador looks like doing his legendary curling free-kicks, only this time, behind the wheel of the brand's powerful Levante Trofeo. Viewers get to see him doing a risky maneuver, riding the car in tight circles. His performance is an "audacious act of driving in a Maserati, just for the sheer joy of doing the unexpected."
"It's an exciting time for me to begin this partnership with Maserati; an iconic Italian brand which shares my appreciation for the very best innovation and design. I'm looking forward to working closely with the brand at such a pivotal time in their history and continuing their growth on a global scale," says Beckham.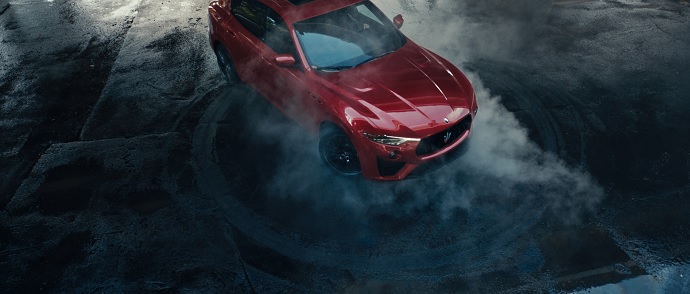 The two embarked on a special journey, and even though their adventure has just started, the duo can't wait but show the world where they are headed. As the audience would expect from two icons, something "unique and progressive is on the horizon," says the brand on the page dedicated to the partnership: Made Audacious.
The campaign is visible across social and online, globally. Last year, Droga5 was appointed by the car manufacturer to create a new brand strategy and creative platform for its range models in 2021.
Credits:
Client: Maserati
Chief Marketing Officer: Paolo Tubito
Head of Brand Creative: Mariano Rosario Zumbo
Brand Communications: Anna Cavallieri
Agency: Droga5 London
Chief Creative Officer: David Kolbusz
Creative Director(s): Ed Redgrave, Dave Wigglesworth
Creative: Ethan Bennett, Liam Crerar
CEO: Bill Scott
Group Account Director: Mike Waywell
Head of Production: Chris Watling
Assistant Producer: Oliver West
Chief Strategy Officer: Dylan Williams
Strategist: Francesa Zedde
Production Company: MJZ
Director: Harmony Korine
Production Company: MJZ
DOP: Jared Fadel
Executive Producer(s): David Zander & Helen Kenny
Head of Production: Lindsay Turnham
Producer: Emma Butterworth
Line Producer: Judd Allison
Commercial Production Studio: Studio99
Managing Director: Nicola Howson
Exec Producer: Elizabeth Derham
Exec Producer: Nicola Doring
Production Manager(s): Sofia Ricci, Claire Luke
Editing House: Marshall Street Editors
Editor: Guy Savin
Assistant Editor: Oliver Morgan
Head of Production: SJ O'Mara
Post Production: No. 8
Managing Director: Barny Wright
VFX: No. 8
Grade: Tim Smith (Cheat)
Sound: No. 8
Audio Creative Director: Sam Robson
Sound Design & Mix: James Lyme
Producer: Emma Shuter
Music: "Fall" by The Bug