The Roma people have been persecuted and discriminated against throughout history. Although severely punished if they dared to speak to each other using their own language, Roma managed to pass on their native language. Some have given up on it in order to be accepted in society. However, the language defines their culture and, if lost, the traditions of this community will also vanish. The Romani language is, for the most part, spoken, the Roma population does not write or read in this language. And that reflects on issues of integration, illiteracy, or equal rights.
Wanting to preserve this culture and the linguistic roots, Vice, the international publication that fights against discrimination, joined forces with civic platform Aresel, publication Scena9, and agency MRM Romania, launching the "Internet Learns Romani" initiative, a campaign through which the team wants to "hijack" the most popular search engine platform, Google, because, "sometimes, teaching a machine is easier than teaching humans."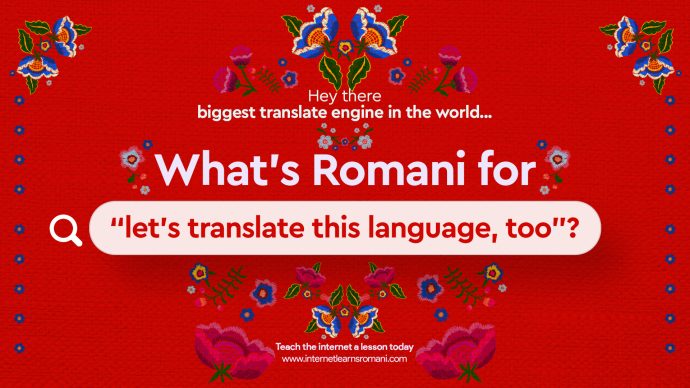 "We exist, we speak it, so basically the language is still alive, it hasn't died yet," says Juliano Dumitru, activist, in a video made to support the campaign. To help the community preserve their language and thus their identity, Vice embarked on a mission to help Google learn this language by uploading content written in the Romani language on the web.
Despite being one of the largest minority communities in Europe with millions of speakers, the Romani language isn't available in Google's translation section. The team discovered that any mirrored content in a language known by the AI-based translation system, the algorithm analyzes the linguistic models and is able to learn a new language that could be indexed and perfected over time. Via a website supporting the initiative, the team is inviting any publication, media outlet, or online content creator to join and help Google improve its vocabulary. If there's plenty of content on the web, Google will recognize the Romani language and offer translations from and in this language.
"This will be a tool to legitimize the culture, facilitating access to education in the Romani language, entertainment, games, articles, and helping to eliminate the stigma associated with this culture," says Ioana Zamfir, ECD MRM Romania.
"By integrating the Romani language into Google Translate, we can help the entire culture grow and can make a big difference in the lives of 12 million people," adds Catalin Dobre, CCO McCann Worldgroup Romania & Regional CD McCann Central Eastern Europe.
"We need translators. If someone speaks Romani and wants to help us with translations, they can do so by registering on the campaign platform. Soon, we can have the Romani language translated by Google," says Adrian Tudor, Aresel Activist.
According to a survey by European Union Agency for Fundamental Rights, only 15% of Roma children are graduates of upper secondary education and 20% of Roma kids over 16 included in the study are illiterate. In Romania, 22% of the Roma children over the age of 6 are not enrolled in school and 31% of Roma kids over the age of 16 are illiterate. With this campaign, Vice, which publishes content in Romani, wants to teach Google this community's native language, hoping to help in the fight against illiteracy.
Credits:
Client: Vice
Agency: MRM Romania