Have you ever slept so well that you wanted to tell everyone about it the next day? A good night's sleep makes you feel happy and energized. You could almost sing about it, right? Or even yodel about it, just like eve sleep's rooster, which slept so well that it decided to let everyone know how much a good night's sleep "mattress."
To mark the launch of the "La Vie En Jaune" ("Life in Yellow") platform, sleep wellness brand "eve sleep" worked closely with adam&eveDDB agency and Peter Sluszka from New York-based Hornet Animations and created the short video "Le Coq," featuring a well-rested rooster "that knows a thing or two about style and comfort."
It's time to wake up and start a new day but not on cock-a-doodle-doo beats, as eve's rooster switched to well… yodeling. Adopting a new musical genre has to do with the way it rested, which is on an eve mattress. Monsieur le Coq starts the day with a huge dose of energy, gets out of bed, and starts yodeling "Hocus Pocus" by Focus. It dramatically opens the barn doors, waves through cow udders, and engages the other farm animals to take part in his show.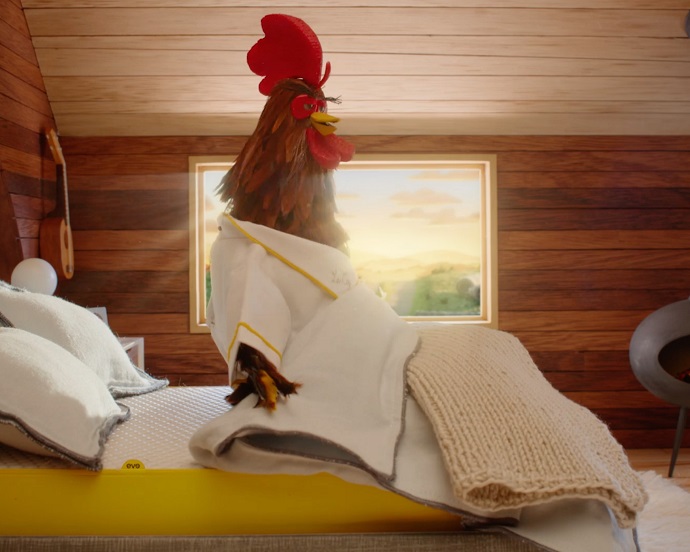 The advertising platform is inspired by the brand's yellow brand identity and core product benefit. The company helps customers get some rest, supporting them in waking up feeling full of optimism and energy. The name of the platform, "La Vie En Jaune," pays a passing nod to Edith Piaf's song "La Vie En Rose."
Charles Digby-Smith, Managing Director France at "eve sleep" said: "Here at eve, we've always done things a little differently. We know how amazing you feel after a great night's sleep, and our business and culture are built around helping as many customers as possible enjoy that feeling each and every day. That feeling, we've come to realize, is the feeling of living a life in yellow. And what better way to celebrate that than the launch of a yodeling cockerel?"
The "Le Coq" campaign marks the company's first major branding push in France and includes three TV commercials, two DRTV ads, and sponsorship for "C à Vous," an early-evening French weeknight TV program, supported by four sets of branded top and tail idents.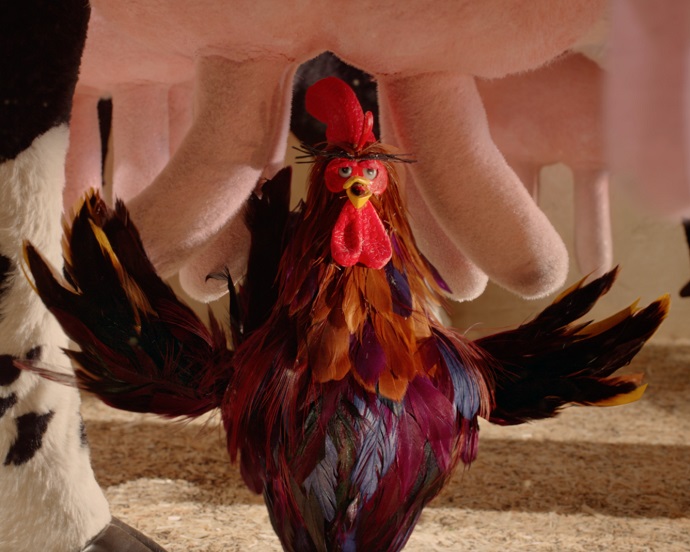 Paul Billingsley, Managing Director at adam&eveDDB, said: "eve sleep wants to redefine the mattress category in France. This new campaign establishes the brand as a business whose amazing sleep products don't just help you sleep better — they help you see the world in a different light."
He continues: "Our brief was to bring to life the way you feel after sleeping on an eve sleep mattress. Our response articulates eve sleep's mission to make the world a happier, healthier place through better sleep and brighter mornings by giving people the sleep they need to rise and shine."
Positive thinking is what life in pink means. Yet, to get there, a life in yellow is necessary, which eve says is a "better color for seeing the world," one in which a restful sleep can help you get through the day. So, if you feel that the sun is shining brighter or that the toast tastes divine, you're just experiencing your daily life, only better. And this is what life in yellow feels like, according to the brand.
Credits:
Client: eve sleep
Agency: adam&eveDDB
PRODUCTION CREDITS
Chief Creative Officer: Richard Brim
Creative Directors: Mark Lewis, Matt Fitch, Nat Potter
Copywriter: Edward Usher
Art director: Xander Hart
Agency producer: Kreepa Naisbitt
Planners: James MacAskill, Martin Beverley
Project Manager: Abi Robinson
Managing Director: Paul Billingsley
Account Director: Mitch Lovich
Account Manager: Yael Genossar
Design: King Henry
Designers: Roberto Celentano, Nadine Fer
Playout: Gutenberg
Producer: Gwenaela Quillere
Media agency: Mediaplus (France)
Production company: Hornet Animations Inc.
Executive Producer: Anne Skopas
Producer: Trever Stewart
Director: Peter Sluszka
Music Supervisor: Theodore Music
Audio Post Production: Mark Hills at Factory
Bande son: Hocus Pocus de Focus