Every year, more than 5,000 people lose their lives in car accidents in Brazil, with 65% of these deaths being caused by alcohol consumption. There are many campaigns implemented with the goal to reduce road traffic accidents but few travel further than large centers, where most accidents occur. To ensure that the message is heard in every corner of the country, Ambev, the Brazilian brewing company of Anheuser-Busch InBev, used its fleet, which is one of the largest in the country, as a communication tool.
During this week's #ThrowBrandThursday, we learn that "Where there is a driver, there can't be alcohol." Literally! As part of the "Responsible Billboards" campaign developed in partnership with Agencia Africa, the company embarked on a drunk driving awareness journey throughout the South American country, having as means of transport an updated truck fleet. Wanting to underline the importance of responsible driving, the brand changed the design of some of its tractor units: While the shipping containers which deliver alcoholic drinks kept their looks, the driver cabins were decorated with the images of Ambev's non-alcoholic drinks.
Pepsi merged with Budweiser, Lipton teamed up with Stella Artois, Gatorade powered the Corona truck, and Guarana Antarctica was at the helm of the Skol car. Promoting a message that's intended to save lives, the award-winning campaign directly connected the driver with non-alcoholic beverages.
Covered with stickers, hundreds of trucks traveled one million kilometers across Brazil, the company delivering not only its goods to the destinations but also an important message to the whole country. To keep supporting its campaign, the brand has been gradually increasing the number of transformed trucks in its fleet.
Ambev and Brazil have been collaborating on road safety programs for a long time, with eight years of projects in partnership with the Sao Paolo state, the Federal District, and the federal governments. According to the company, Ambev contributed to data management, new systems, and has prevented more than 1600 deaths.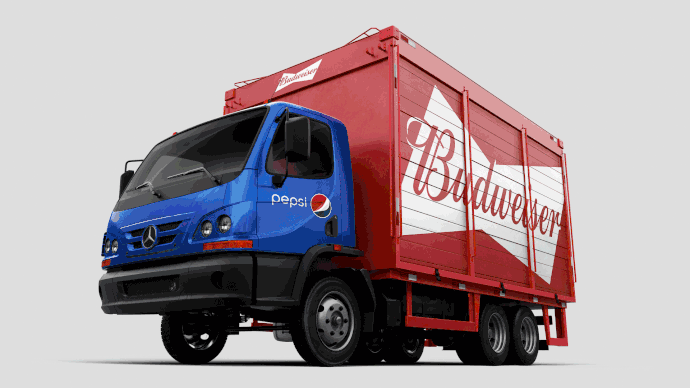 "'Responsible Billboards' is in line with Ambev's long-term commitment to promote responsible consumption. Our initiatives range from awareness campaigns to in-depth solutions to try to mitigate impacts. We do this through campaigns, but also projects like 'Consumption X-Ray,' a screening questionnaire that reveals someone's consumption profile, and the 'Road Safety' project, which works together with the public, private, and civil society sectors for the reduction of risks related to road safety," says Alexandre Costa, Marketing Director at Ambev.
Credits:
Title: Responsible Billboards
Agency: Africa
Product: Institutional
CCO: Sergio Gordilho
Copywriter: Pedro Bullos
Art Director: Erico Braga
Designer: Yllo Pedra
Special Projects Director: Monique Lopes Lima
Special Projects Managers: Juliana Leite, Fernanda Segura, Fernando Alonso
Special Projects Producers: Isabela Levy, Julia Newman
Client Services: Heloisa Pupim, Rafael Marques, Victoria Jaffe, Karen Pardo
Strategy: Aldo Pini, Douglas Godoy, Tiago Tuiuiu
Agency Producers: Rodrigo Ferrari, Tais Olhiara, Juarez lima
Production Company: Corazon Filmes
Director: Pedro de La Fuente
Executive Producers: Igor Ferreira, Renato Chabuh, Joao Luz
D.O.P.: Alex Vecchi
Film Art Direction: Ana Carolina Montagnana
Production Coordinator: Juliana Sigolo
Post-production Coordinator: Rodrigo Parente
Post-production: Warriors VFX
Editing: Mariana Becker
Color Grading: Acauan Pastore
Sound Design: LOUD
Sound Production: LOUD Team
Musical Director: Gustavo Garbato
Client approval: Ricardo Dias, Alexandre Costa, Mariana Taborda, Renata Almeida