Living in pandemic times, people are questioning how safe blowing out candles on birthday cakes is. A pre-pandemic study revealed that this ritual increases bacteria by 1400%. Because there is a risk of spreading germs, 58% of parents say this tradition is no longer COVID-friendly. So, has this ritual become a thing of the past?
Well, not exactly. Having helped families celebrate birthdays for 100 years, Betty Crocker came up with a hygienic alternative to the classic flame cake candle, meant to keep this tradition alive for another hundred years. The brand celebrates its centenary this year and, to mark this moment, Betty Crocker joined forces with Virtue Worldwide — the creative agency born from Vice — and invented a device that's meant to save the (birth)day.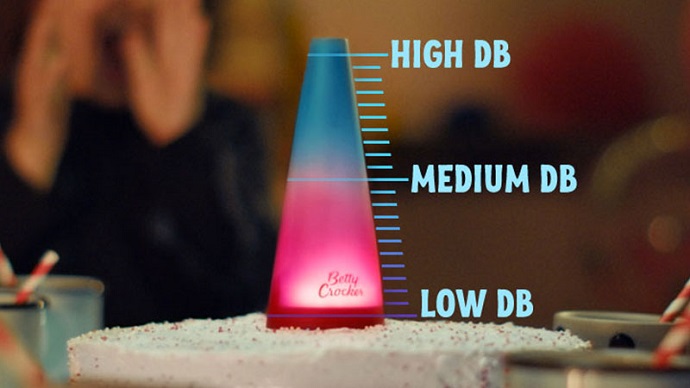 Meet the No Blow Candle, a cone-shaped candle that turns the sound of joy into an unforgettable moment. The invention is a sound-activated, interactive LED candle that reacts in line with your cheerful spirit. Instead of blowing, the gadget uses universal expressions of joy, such as shouting, singing, and clapping, inviting you and your friends to have lots of fun and make the candle light up from the bottom to the top. You'll know that it's time for you to make your birthday wish when the top of the candle becomes bright.
"Unfortunately, the pandemic has meant a few traditions have been lost, and blowing out birthday candles is one of them. Our research tells us however that the cake is not lost, in fact, it's still very much at the heart of the party. Our germ-free candle solution reacts to universal expressions of joy and celebration: singing and clapping. Give it all you got to light it up completely, make your wish — and then extinguish it with a single clap, no blowing required. We've imagined it as a way to lose the germs but keep the cake," explained Arnaud Sliwa from Betty Crocker.
Betty Crocker's No Blow Candle is currently at a prototype stage. But the brand is eager to hear from other people on how they can make the product even better. To find out more about the device, users are invited to sign up for news on the company's page.
Credits:
Client: Betty Crocker
Agency: Virtue Worldwide