38.2 million tons of citrus peels are estimated to be produced in the food industry each year. While researchers have figured a way to put the remains to good use, a team of creatives in Italy thought of helping oranges continue their life cycle, transforming their peels into sustainable design objects.
As a strong believer of the fact that taste, innovation, and creativity can transform people's lives, Bibite Sanpellegrino initiated its revolution starting from oranges, one of the sources for its refreshing drinks.
The company has been capturing the essence of Sicily's oranges in its iconic soft drinks and now, the brand thinks that it is time to thank these lands for their treat, giving the oranges a second life. Out of this idea is how Sicily's (R)Evolution emerges, a collaboration between We Are Social agency and Bibite Sanpellegrino, enhancing "Italian creative flair by making sustainable design objects that elevate the experience of refreshment."
Fratelli Branca, a Sicilian citrus supplier, collected the orange peels from the production of soft drinks. The specialists in Circular Economics and Design, Krill Design, used their technology to then turn the remains into biopolymers, which can be modeled in 3D printing. Designer Seletti came up with the resulted collection which pays homage to the origins of citruses.
The collection includes homeware objects that borrow some typical features of the fruits: A table lamp shaped in the form of an orange slice tastefully illuminates your room, a glacette (a vessel) follows the fruits' delicate aesthetics becoming "a treasure chest of freshness," and lastly, a tray, ideal for when you are about to indulge yourself with one of Sanpellegrino's (R)Evolution limited-edition cans that feature designer's Seletti fresh graphic.
The Aranciata, Chinò, and Aranciata Amara cans are the canvas where innovation and creativity merge while preserving Sicily's oranges' colors and texture. The star of the show is obviously the orange, with each can portraying a different, refreshing story.
"With Sicily's (R)Evolution we want to create a revolution and evolution, enhancing not only the juice of Italian raw materials in our drinks but also their peels that have never been fully exploited until now," Stefano Marini, Chief Executive Officer of the Sanpellegrino Group, said. "The project represents a solid commitment in favor of environmental sustainability and innovation, which is why we have relied on excellent Italian partners. Sicily's (R)Evolution celebrates one of our key territories through a sustainable logic and shared value, in line with the strategic actions of the Sanpellegrino Group."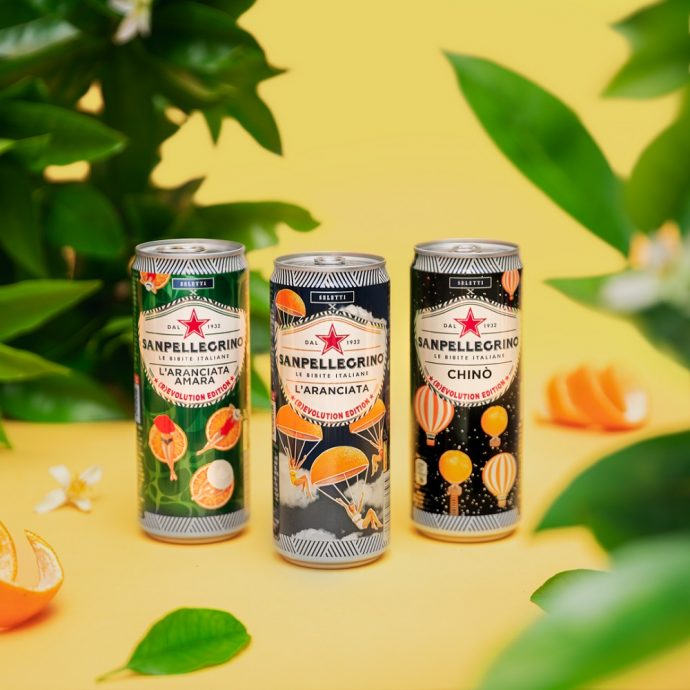 L'Aranciata Amara can showcases slices of oranges floating "in a sea of taste." The Chinò cans illustrate oranges as hot air balloons while the citruses on the Aranciata cans allude to the peels which, just like bubbles, float in the sky, releasing the unique taste of the drink into the air.
"Experimentation and contamination with other worlds have always been elements that characterize Seletti's identity, so it was really interesting to collaborate with Sanpellegrino drinks, icons in the imagination of all of us," continued Stefano Seletti, artistic director. "It all started with the fruit, we studied it, looked at it, touched it, to create a collection that reflects the spirit of Sanpellegrino that has always been avant-garde and innovative."
Doesn't such a story make you thirsty for sustainable design? Then quench your thirst with the videos below.
Credits:
Client: Bibite Sanpellegrino
Agency: We Are Social
Executive Creative Director: Alessandro Sciarpelletti
Executive Creative Production Director: Daniele Piazza
Associate Creative Director: Paulo Gonzalez, Mattia Lacchini
Senior Creative: Alberto Mora
Art Director: Giulia De Chirico
Junior Art Director: Agnese Mignone
Editor: Andrea Ruscitti
Head of Client Services: Miguel Lima
Account Director: Elisa Menghi
Account Manager: Camilla Beghi
Account Executive: Giorgia Cassina
Writer: Michela Barbone
Head of Strategy: Bruno Tecci
Strategy Supervisor: Marta Prosperi
A We Are Social Studios production
Head of We Are Social Studios: Sandro Amabili
Producer: Barbara Vivino
Direction: Rocco Brandini
Dop: Diana Borinato
Video Editing: Rocco Brandini
Color: Max Finotti
Photo: Alessia Zuin, Francesco Berra