Despite the warnings, some people still forget to protect themselves from the sun, simply because they don't put sunscreen on while on the beach. Sure, some of us might not listen to what other people say, but can one say no to some adorable puppy eyes? Without resorting to fear tactics, Human Nature, a Philippine-based international enterprise brand of genuinely natural products, found an ingenious way to raise awareness and encourage sun safety: man's best friend!
Developed in partnership with creative, data, and technology agency Wunderman Thompson Hong Kong, the campaign, which makes the subject of our weekly #ThrowBrandThursday column, kindly reminded beachgoers to stay safe while relaxing under the sun. The initiative addressed the Philippine market, a country where the sun shines constantly for 365 days a year. Even though the context is pretty "shiny," some people still prefer to not put sunscreen on. And who else could make them learn about the importance of wearing lotion than dogs?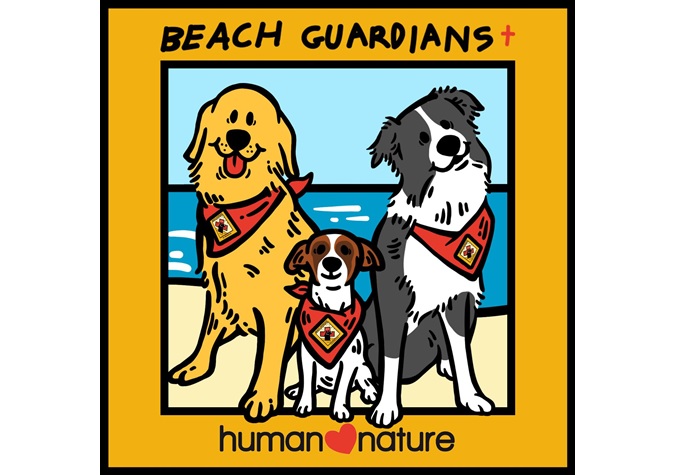 Known for being protective, especially towards their owners, dogs can be protective of others as well. Mitch, Hobie, and Summer, collectively known as the "Beach Guardians," were specially trained to sniff the presence or the absence of sunscreen on beachgoers. If detected, the dogs would simply move on; otherwise, the clever guardians would react accordingly.
Joining forces with a team of professional trainers — who started to train the dogs six months before the activation — the brand picked the most approachable dog breeds, making sure that beachgoers were unperturbed by the furry guardians. Using the same techniques taught to police dogs, the protectors were trained to identify some of the most common chemicals found in most sunscreen brands. They were then trained to signal their humans, who offered an eco-friendly gift, courtesy of Human Nature, to those discovered not wearing sunscreen.
"Who better than a lovable, loyal, adorable dog to grab people's attention and remind them to stay safe under the sun? And not just any sunscreen will do! It has to be reef-friendly and safe for our seas as well like Human Nature SafeProtect Sunscreen," shares Joanna Gilladoga, Human Nature's Head of Marketing.
"People don't listen to people, but they'll listen to dogs," head trainer, Ruel Tria, said. Woofcourse, the dogs' mission to keep people safe was a success: The "Beach Guardians" campaign had an 80% success rate, convincing eight out of ten people to put sunscreen on. But the dogs also made sure to reach the online audience, leading a social campaign where they shared tips on how to stay safe. A microsite also supported the initiative, where users had the chance to signal the guardians to patrol a beach near them. Within the first month, the campaign generated more than 400,000 impressions and over 6,000 interactions in the first two weeks.
Credits:
Client: Human Nature
Agency: Wunderman Thompson Hong Kong