In an effort to reduce pollution, increase road safety, and make the city more pedestrian-friendly, Paris has introduced the 30 km/h speed limit everywhere except for some main roads and highways. As you might have guessed, it made people talk: While the rule is bad news for some drivers, slowing them down, for others, it represents a step forward towards safer and cleaner streets and also in the fight against climate change. However, there is a third group of people who saw in this rule a new challenge to see whether they can break it or not.
Meet the "Outlaw Runners," a team of athletes who were given the opportunity to cross the line — but not from behind the wheel. Instead, DISTANCE — a concept store specialized in running — in partnership with agency BETC Paris and production company SOLDATS, put the runners' limits to test, asking them to run faster than the cars.
As such, on August 31, a group of athletes who accepted the challenge ran from speed camera to speed camera with the sole purpose of triggering the radars' flash. A short video directed by Jules Renault documents the runners in their mission to get flashed by the speed cameras. But are they successful in being fined?
The campaign was not about getting speed tickets though. Indeed, the runners exceeded the speed limit, being faster than the cars — which now have to comply with the new rule. And, as one might expect, there is also visual evidence of what happened on the streets of Paris during that night.
DISTANCE turned the radar images into promo materials as part of its marketing effort to showcase the store: "This new measure is causing a lot of talk in Paris. We thought it was a great opportunity to promote the store and our concept of running," says Guillaume Pontier, one of the founders of DISTANCE. Amongst the ones who joined the initiative were professional French athletes Léna Kandissounon, who was captured on camera at 36 km/h, and Quentin Malriq, who speeded at 38 km/h.
"Very often, in advertising, when you want to do a print campaign, you hire a photographer. Well, for the first time, this photographer is a machine, and more exactly an automatic radar," continues Argues Stéphane Xiberras, President and Creative Director of BETC.
Also, following the Paris Half Marathon, which took place September 5th, the store announced a speed contest, inviting everyone to test their limits. A radar installed at the shop's address was given the task of deciding who amongst the ones engaged in the contest is worthy to be an Outlaw Runner.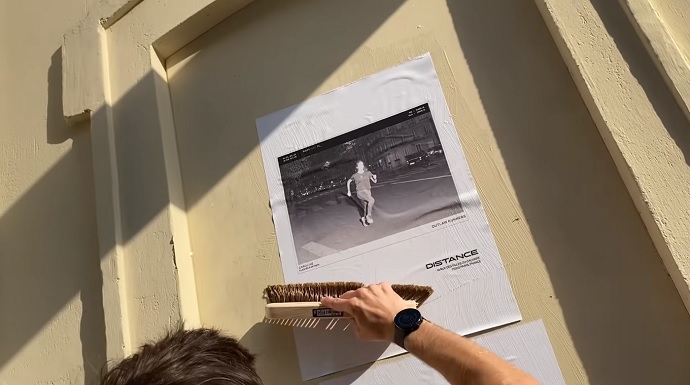 Credits:
Client: DISTANCE
Agency: BETC Paris
Production Company: SOLDATS