Designed to Bring You Closer to What You Love, Microsoft's new operating system, Windows 11, is scheduled to become available as of October 5, 2021. The OS has the equipment it needs to unlock a fresh adventure for the users, nurturing their productivity and creativity. A rejuvenated Start menu, putting people and their ideas at the center, a design and sound that enable them to experience a sense of calm and ease, and new ways to connect to people, news, games, and content are some of the highlights that make the OS ready to be your trustful digital partner.
A new campaign by McCann New York and m:united describes the Windows 11 experience as being something magical, a world that hides fantastic places but which can be discovered as users try the OS' new and improved features. At the heart of the initiative is a one-minute-long video directed by Tarsem Singh via RadicalMedia and visual effects provided by Framestore, showcasing the role the Windows 11 plays in helping bring you closer to what you love.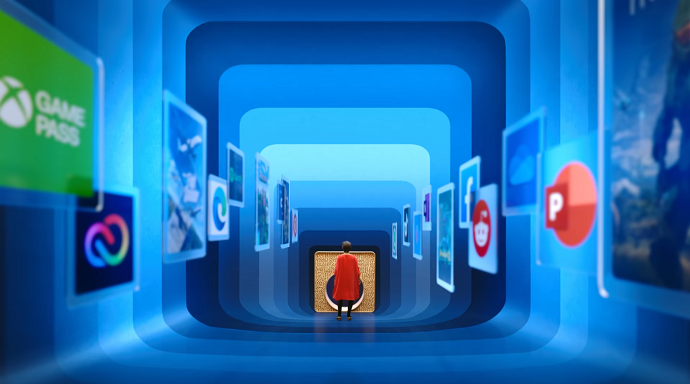 "The experience and power of Windows 11 are as much about how it makes you feel, as it is about what it helps you get done. We wanted to bring that to life in a magical way; and who better to do that than Tarsem," said Kathleen Hall, CVP, Brand, Advertising & Research, Microsoft.
The action of the video unfolds as Odessa ft. Tim Myers' song "All Starts Now" plays in the background. It presents the fantastic journey that a woman triggers when she opens the Start menu. A tap on one of the icons sends her from her couch to a blue room where different icons are displayed on the walls. Upon clicking on the Xbox Game Pass icon, she is able to travel to a desert where a Covenant Banshee seems to follow her. Luckily, the aircraft is destroyed thanks to Halo's Master Chief.
The explosion gives rise to a pink cloud which shows a screenshot of the all-new Widgets on the OS. Next, the Chat feature from Microsoft Team steals the focus, the audience seeing the woman catching up with a friend who's on the other side of the world. A tab floats over a river, below which we can see the video's hero admiring the default Windows 11's wallpaper. The spot ends with a dance, highlighting the Snap Assist feature and its ability to let users organize more efficiently.
According to the agency, the story of the campaign is about technology that doesn't stand in the users' way. Rather, it follows their rhythm, allowing them to focus on what's most important for them.
The wait is almost over. But if you are feeling impatient, then we invite you to catch a glimpse of how the Windows 11 experience feels like by watching the video below.
Credits:
Client: Microsoft
Agency: McCann New York