With so many things on our minds, some of us turn to sticky notes to remind us of the small — but usually quite important — tasks that need to be urgently resolved. Hopefully, post-it notes can help Project Everyone, a not-for-profit organization promoting the UN's Global Goals, in its mission to inspire businesses and world leaders to take action and help save the planet.
Developed with the help of Karmarama, part of Accenture Interactive, the "World's To-Do List" campaign is in line with the UN's 17 Sustainable Development Goals (SDGs) and sees major companies uniting their forces to support the UN's Global Goals. Led by the organization and as part of this initiative, the group of companies known as Global Business Avengers — including Arm, Avanti, Commvault, Diageo, DPDgroup, Google, Mars, NTT, Reckitt, Salesforce, SAP, Unilever, and Wood — will show their support in the effort of building a better future for everyone.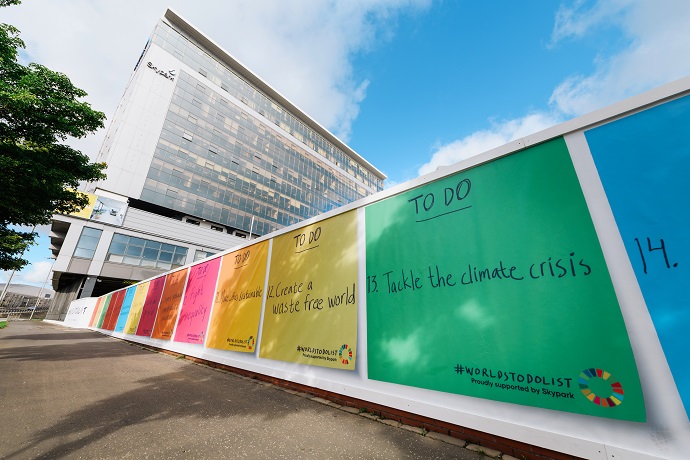 Each of these brands is actively contributing to the achievement of one of the 17 Global Goals and, as part of the initiative, they will also share what's on their "to-do list" for the future. For example, Google launched its $25 million Impact Challenge to create opportunities for girls and women and help them reach their full economic potential, an effort aligned with Goal 5 — Gender Equality. Meanwhile, Unilever has pledged to ensure that everyone who provides goods and services to the company earns at least a living wage or income by 2030, thus showing its contribution to Goal 10 — Reduced Inequalities.
"It's been a tough year on so many fronts — but I'm still delighted and cheered every day by the passion and action of so many businesses in support of the Global Goals. It's such an interesting time, as well, as consumers expect more of businesses and increasingly support those fighting for sustainability and as more and more employees expect their firms to reflect their ethics and priorities. The World's To-Do List campaign, led by businesses, is a vivid reminder of what is needed, and how the Goals are a To-Do List we all must get done," says Richard Curtis, Writer, Director & UN Sustainable Development Goals Advocate.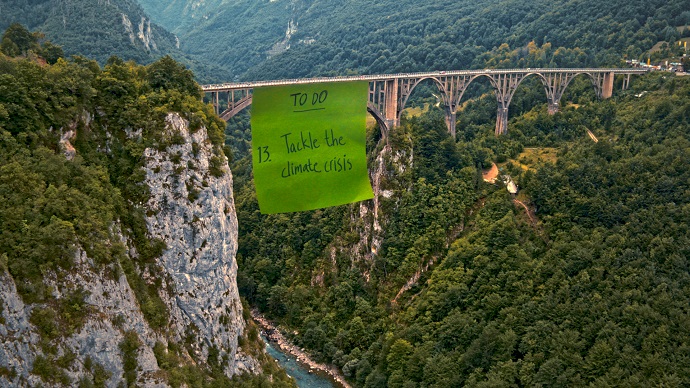 The UN's 17 Global Goals are aimed at ending poverty and inequality and solving the climate crisis by 2030. Via the new campaign, Project Everyone wants to let everyone know that, by taking action, they are playing their part in shaping a better world. Accompanied by a short video, the campaign brings all of these goals to life in the form of giant sticky notes covering the facades of buildings or placed in iconic locations around the globe.
The message of these handwritten notes is to refresh people's memory on the UN plan, showing them that even though it's been six years since the Goals were set up, there's still much to be done. Among these "to-do's" which we must keep in mind, those that appear in the film are 1 — End poverty, 2 — End world hunger, 3 — Deliver good health for all, 4 — Provide quality education for all, 5 — Achieve gender equality, 13 — Tackle climate crisis, and 16 — End conflict and corruption.
Ben Bilboul, CEO, Karmarama and Managing Director at Accenture Interactive, said: "Time is running out. If we're going to hit the UN's Goals by 2030, we need to shift from talking to doing. And enlist business to help us get there. The World's To-Do list is a simple idea that everyone can get behind, and harnesses the power of business to help save the planet."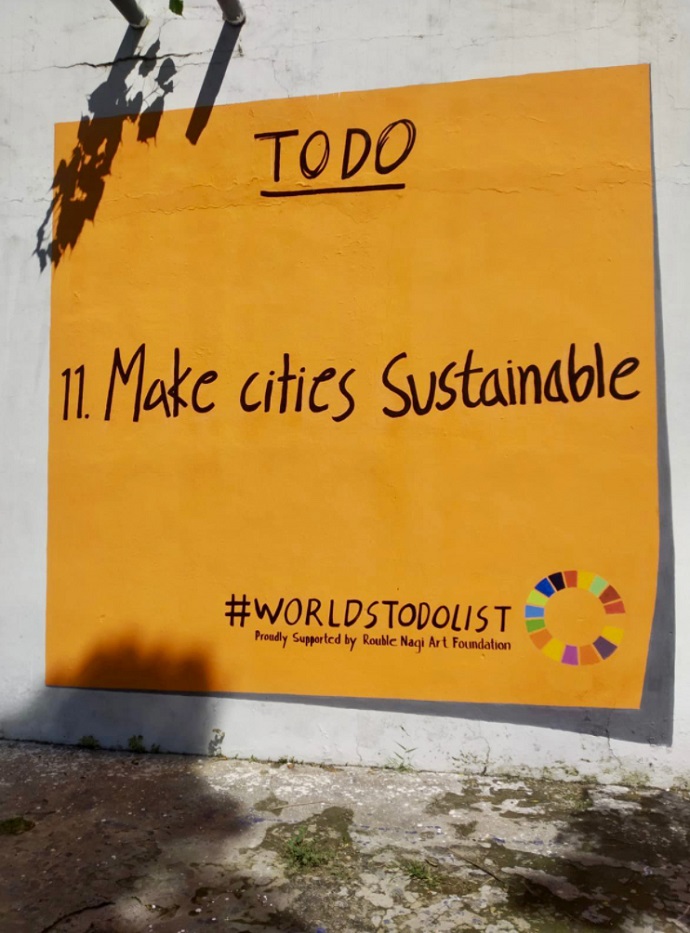 "Important stuff that needs doing now? We write it on a sticky note. Well, it doesn't get more urgent and important than the Global Goals. So we went big and unmissable. Let's get The World's To-Do List done," concludes Adam Kean, Karmarama Creative Director.
The campaign's launch coincides with Global Goals Week, an annual event that marks the SDGs' anniversary during the UN General Assembly, and it will reach its climax at the Global Citizen Festival, a one-day, live-streamed event across six continents. More activations will be carried out during the COP26 climate conference, happening in November.
Throughout the Global Goals week, various locations around the world will host giant sticky notes including the Southbank Center in London. Also, a large-scale art project will be carried out across India with the Rouble Nagi Art Foundation, painting murals in villages of five states. Other activations include static and animated billboards, social media and brand website takeovers, projections on buildings, and DPD van takeovers.
Credits:
Client: Project Everyone
Agency: Karmarama
CEO: Ben Bilboul
Executive Creative Director: Adam Kean
Creative team: Rachel Holding & Dan Leppanen
TV producer: Carol Oakley
Creative Producer: Christina Lambrou
Head of Design: Simon Wakeman
Artworkers: Sam Coyle & Dipesh Soni
Senior Planner: Max Richards
Business Lead: Eilidh McGregor
Account Director: Sophie Jackson
Nineteen Twenty
Director: Ludo Fealy
Colour Grade: Kai Van Beers
2D artist: Jamie Stitson
Producer: Isabella Hunt-Davis
Post Producer: Ondrej Faltin
750 mph
Sound Engineers: Mike Bovill & Michalis Anthis