That time of the year during which we feel comfortable wearing scary masks, maybe visiting houses supposed to be haunted, or listening to horror stories is finally here. People usually associate Halloween with scary things and for many adrenaline-seekers, being frightened is kind of like the highlight of this spooky season. But last year though, Russian dog-shampoo brand mitch&me suggested trick-or-treaters to forget about fears and not let anyone scare them in a campaign to encourage people to adopt big adult dogs.
During this week's #ThrowBrandThursday column, we are reminding you of the brand's "Non-Scary Halloween" initiative to help big, black, and "bully" dog breeds find a new home, portraying them as faithful guardians people can rely on in scary situations, like randomly meeting with Pennywise while out for a walk. Developed with the help of Jekyll&Hyde agency, the initiative includes three posters showing people what the real advantage of having such a dog by their side is.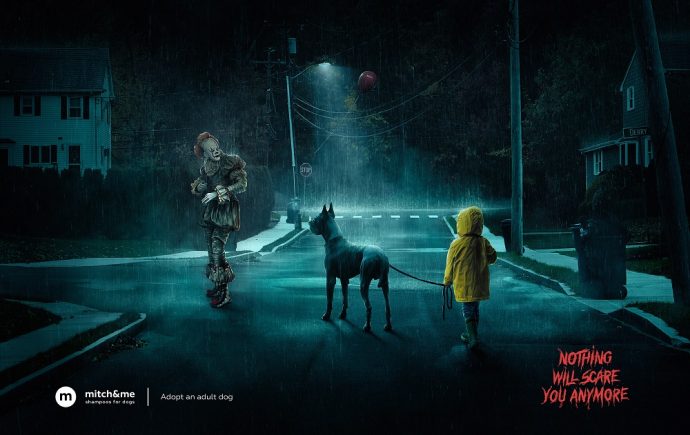 If the dog is big, has black fur, and comes from a breed classified as "bully," the chances of them being adopted are quite low. Black dogs seem to be less likely to be taken home, with several theories explaining why this happens. As for the bully breeds, some people wrongly assume that they are "dangerously aggressive."
"These dogs just don't get adopted. It doesn't matter how 'sweet' or 'well-behaved' they are. If your dog doesn't get adopted within 72 hours, it will be put down," according to an anonymous shelter manager in North Carolina.
The Halloween-themed posters depict horror movie characters totally freaked out at the sight of some large dogs. Held in a leash by their owners, who probably went out for a routine evening walk, these four-legged friends show that they are loyal to their humans by protecting them from anyone, even from iconic villains such as Freddy Krueger or Jason Voorhees.
Accompanied by the message "Nothing Will Scare You Anymore," the illustrations were used in an online move, with the company inviting both Instagram users and animal shelters to join the cause, supporting it in spreading the message and helping such dogs find a place to call "home."
Following the campaign, twelve dogs found their loving (and lucky) owners with whom to have fun and share precious moments together. Still, thousands of other shelter dogs dream of having a loving, caring, and affectionate human to protect.
Credits:
Client: mitch&me
Agency: Jekyll&Hyde
Creative Director: Mikhail Rakov
Art Director: Anton Rusanov
Copywriter: Mikhail Rakov
Motion Designer: Dmitry Miusov
Project Manager: Elena Palamarchuk
PR: Ekaterina Voskoboinikova, Vasilisa Lerke, Sofia Lobacheva
Interaction with shelters: Natalia Smirnova