Produced in both English and Spanish, one of Toyota's festive-themed ads follows the lovely story of a woman who traps her feelings of joy in jars, which she stacks in a garage. The automaker's cute spot, titled "Nora's Joy," showcases the experiences of Nora as she embarks on an emotional journey, driving a red Toyota Tacoma to deliver some interesting "packages" after learning how good it feels to let your happiness manifest.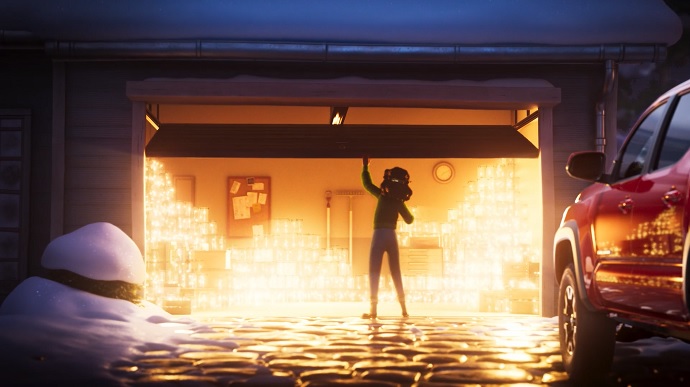 The shy young girl looks like coping with feelings of joy by actually suppressing them, locking her happiness in glass containers. Every time there's something that triggers her joy, a glowing positive emotion pops out of her chest, but she immediately captures it and stuffs it in a jar.
Driving around the city, her heart keeps pumping joy as she finds herself in the middle of happy events. While waiting at the traffic light, a guy from a car next to hers waves warmly at her. Then, a group of exciting teenagers passing by her Toyota smile at her, making her experience a new wave of joy.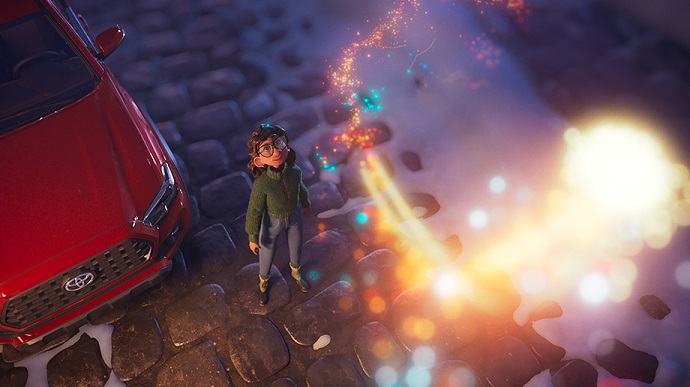 Each time, she locks her feelings in jars… Until a family enjoying beautiful moments together makes her change her mind and finally let her feelings out, sharing her joy with those around her. She goes back to her place, loads her Toyota Tacoma with all of the jars, and drives through the town's streets, leaving a flurry of bright lights behind her.
"We've all been dealing with social distancing lately," says Gustavo Sarkis, Chief Creative Officer, Conill Advertising. "But that doesn't mean we should be distant emotionally. In this campaign, Toyota invites you to express your feelings to connect with your loved ones as we enter the holiday season."
Made with the help of Conill Advertising, directed by Kyra & Constantin, and produced by Passion Pictures, the spot is audio narrated by Robert DiPietro's unique musical composition "Starlight" and produced by Pickle Music.
Toyota invites its followers to #ShareTheJoy and send virtual "joy jars" to their friends via the @ToyotaLatino Instagram channel. Social media users can engage in the initiative until January 3. The call-to-action initiative marks the car manufacturer's effort to support Hispanic student scholars, the brand turning the shares into donations (up to a total of $50,000) which will go to the Hispanic Scholarship Fund.
"Nora's Joy" is Toyota's second holiday ad, following "Bookstore," which debuted earlier this month. Developed by Saatchi & Saatchi and directed by Ted Melfi, the one-minute-long ad presents the story of a young girl who helps the owner of a local bookstore put his business back on its feet after it had been devastated by a fire.
Credits:
Client: Toyota
Nora's Joy
Agency: Conill Advertising
Production Company: Passion Pictures
Directed by: Kyra & Constantin
Bookstore
Agency: Saatchi & Saatchi
Director: Ted Melfi