As technology keeps shaping the world, so does the non-profit computer science organization All Star Code, which directs its efforts towards supporting underserved groups, preparing them for a future in the tech industry. Ambitioned to change the face of tech, the organization encourages Black and Latino young males to acquire financial independence and social mobility through the power of code.
To help more young men of color connect with the tech industry, the organization unveiled a new website, brand identity, and brand platform, creatively engineered by IPG creative agency Elephant, hoping that the changes will attract new users who want to develop skills to become successful entrepreneurs in tech to the platform.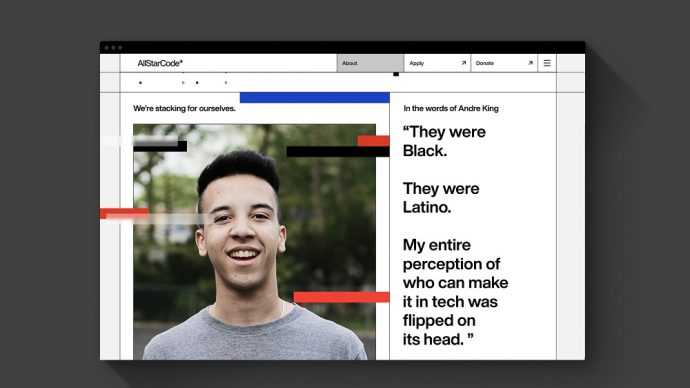 As part of the agency's #CommitmentToChange effort, Elephant — which formed a pro bono collaboration with the organization a year ago — assisted All Star Code in implementing a new look, targeting high-school-aged young men of color. The new brand platform is named after "Hello World" programs, traditionally used to introduce novice programmers to the world of coding.
Usually being the first programs new coders rely on in their learning process, the Hello-World-inspired tagline "serves as a confident reintroduction into a world created by the student."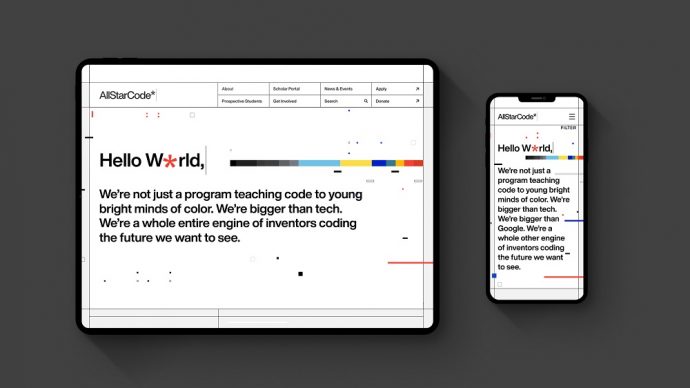 The changes bring the next generation of ambitious entrepreneurs' voices to life, which are echoing across the new brand identity and website. For instance, the online portal guides the new users throughout the All Star Code experience, warmly inviting them to discover how the program works, how they can apply, or even help fund the change in tech.
As for the design, elements from the code language, such as JavaScript, were used to make the organization more visually appealing to new students. The agency included primary colors as well and, to resonate with the youth audience and speak to them in a friendly manner, it elevated the looks with more editorialized photography.
"All Star Code is an amazing organization that champions code as a means for change and progress. Without people of color at the coding table, inequality continues to perpetuate," explains Eric Moore, CEO of Elephant.
"All Star Code is extremely grateful for Elephant's commitment to diversity and inclusion in tech," continues Danny Rojas, Executive Director, All Star Code. "The agency's work in establishing our new brand platform is best-in-class and will help position us nationally as an innovative organization addressing the problem of systemic inequality in tech. Thank you to Eric Moore and his team for being a committed partner. This is the type of leadership we seek to highlight through our mission."
Twenty-eight employees invested more than 3,000 hours of work in the project, making sure that All Star Code's voices can be heard loud and clear. Their work paid off, the results placing the organization as a great partner students can trust in their quest to become leaders in the tech industry.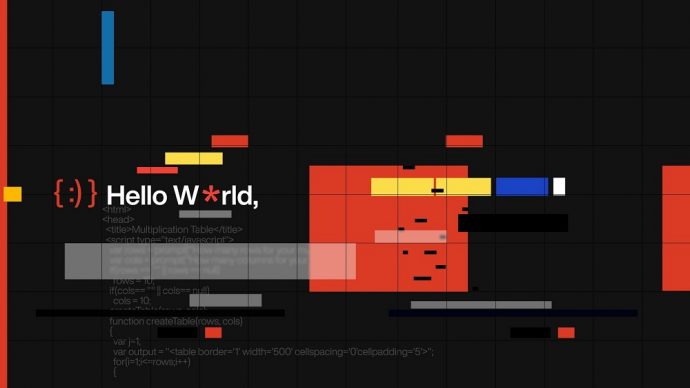 Credits:
Client: All Star Code
Founder: Christina Lewis
Executive Director: Danny Rojas
Director of Development & Strategic Communications: Dondrie Burnham
Director of Marketing & Communications: Tony Stewart
Communications Associate: Rachel Armamento
Technical Program Associate: Dante Rivera
Agency: Elephant
Senior Quality Assurance Analyst: Adam Cantwell
Director of Product Management: Adam Rosenberg
Group Technology Director: Alec Cumming
Project Management Lead: Alexandra Raman
Program Director: Ali Ng
Strategy Director: Becky Lau
Engineering Lead: Brittney Kernan
VP Design: Carlos Matias
Engineering Lead: Cesar Santos
VP Engineering & Product Management: Charles Duncan Jr
GVP, New Business: Erica Riccobono
President: Greg Assemat Tessandier
UX Designer: Hanyuan Zhang
Senior User Experience Designer: James Garvey
Senior Client Lead: Kate Callaghan
Senior Project Manager: Kristen Rantuccio
Creative: Lucia Jang
Senior Creative Director: Maria Montero Vargas
Associate Creative Director: Nina Mourin
Executive Creative Director: Pablo Marques
Project Management Lead: Paige Sharkey
Client Lead: Perry Feld
Client Partner: Stephanie Tanguay
Senior Creative: Seonhwa Kim
Technology Director: Sohel Siddique
Associate Design Lead: Terry Lee
Associate Creative Director: Tom Mandel
Senior Creative Director, Design: Wojciech Zalot