Founded in 2016 as India's first digital insurer, Acko General Insurance Limited has created and delivered products to more than 50 million customers. The team at the country's fastest-growing insurance company is "obsessed with making insurance effortless," tirelessly working to show clients that, with Acko, the process of insurance purchase or claims is as easy as ABC.
The thing is that insurance doesn't have to be an extra stressful thing customers have to worry about. It shouldn't be something scary; yet many Indian clients might feel this way because of the traditional companies, which ask them to fill truckloads of papers and forms. While other companies rely on the "almighty" paperwork, Acko works differently, by adopting a paperless approach.
The brand "wiped out much of the paperwork associated with it," taking insurance online. Wanting to reach the digital-savvy youth, Acko launched a new print campaign, communicating the benefits of choosing the paperless services the brand offers. Signed by Ogilvy India (South), the work includes three illustrations, each capturing the sometimes-monstrous feelings people are experiencing upon learning about the enormous amount of paperwork they have to go through to obtain a claim, for example.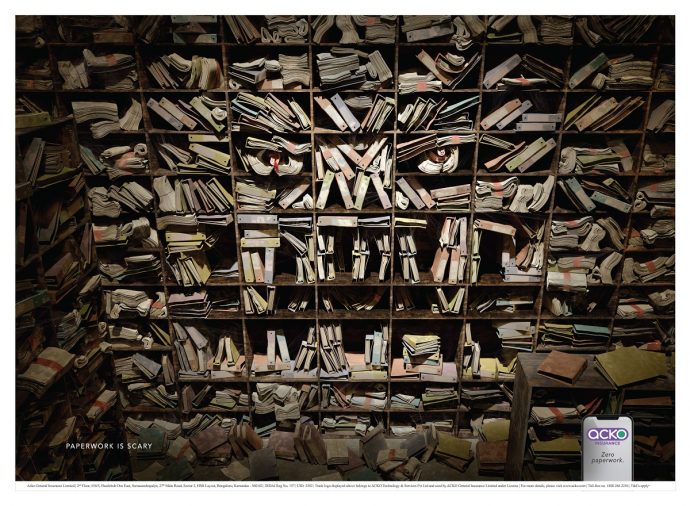 Filling out forms is no fun — sometimes, the process can turn into insurance holders' nightmare. So, it should come as no surprise to find out that Acko decided to develop its print ads around this concept and, well, exaggerate it a bit by giving it a spooky twist. The collection allows us to take a sneak peek at what happens inside an archive. The decor borrows visual elements from the typical brick-and-mortar offices in the country — in a degrading state, where files and folders are the protagonists of a chaotic story. On closer inspection though, the audience sees who are the villains behind this mess: paper monsters.
Mahesh Gharat, Chief Creative Officer, Ogilvy India (South), said: "With Acko, there is zero paperwork. Our creative idea and execution were born out of this simple product insight. We wanted to dramatize the pain point and highlight the horrifying experience one has to go through while dealing with traditional insurance companies. To see the campaign come alive on print was truly gratifying. Acko believed in the idea, and to see brands like Acko investing in the craft and not just the message, is great to see."
The execution was implemented to show how frightening the paperwork with other insurance companies can be for customers, whereas Acko's way of doing insurance is a smooth, paperless process.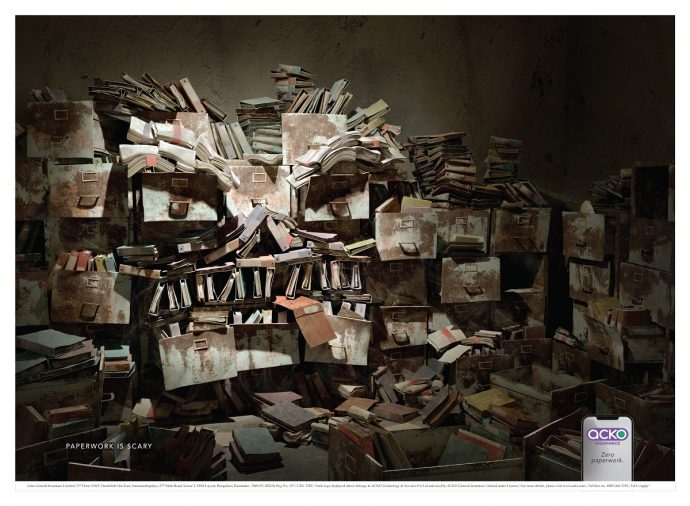 Credits:
Client: Acko General Insurance Limited
Agency: Ogilvy India (South)
Chief Creative Officers Ogilvy India (South): Mahesh Gharat & Kiran Anthony
President – Ogilvy India (South): N Ramamoorthy
Group Creative Director: Sharat Kuttikat
Creative Director & Art Director: PA Vidyanath
Sr. Creative Director & Copywriter: Nikhil Narayanan
Account Management: Sivaramakrishnan Dandapani
Illustration & 3D: Twinbrains, Delhi