There's no denying in admitting that the internet has brought great value to humanity — the technology is a great tool that facilitates communication, allowing us to virtually connect with anyone in the world anytime we want. At no other point in history has mankind appreciated the advantages offered by the internet more than during the pandemic, as cyberspace proved to be something essential in helping us continue with our professional and personal lives in a safe way.
However, the internet isn't always a land of milk and honey; it can also taste bitter to users who find themselves at the end of online trolls' hateful messages. Wanting to sweeten the bitter side of the internet and make a better place out of it, MullenLowe MENA sends Chocapologies to victims of online trolling, a sweet form of saying sorry on behalf of the internet.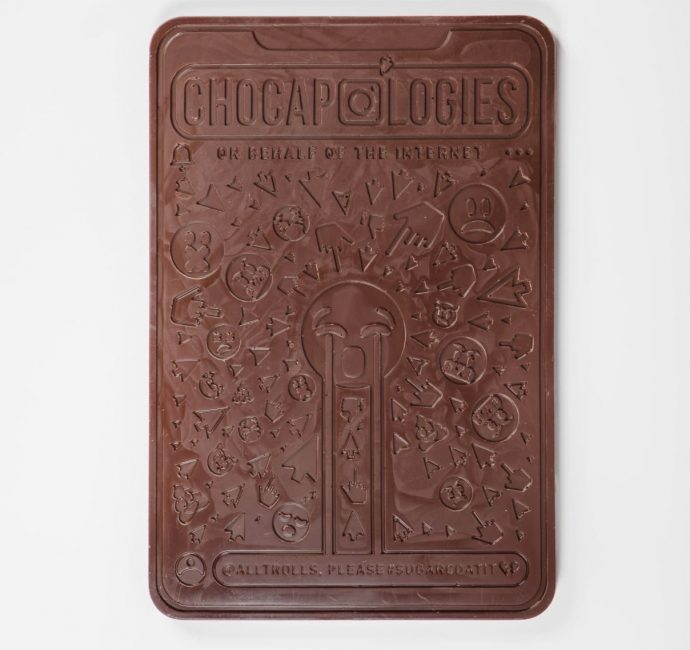 The initiative marks a social campaign the agency launched together with Lebanese pastry chef Karim Bourgi, both wanting to raise awareness about the damaging effects body shaming, hate messaging, and cyberbullying have on people experiencing online trolling. Believing that "the internet will be a much better place if it were to be sugarcoated," the team designed three Chocapologies, each with a packaging design that displays the reality of online bullying (without the sugarcoating).
To spread the word, the Dubai-based agency and the chef have sent these chocolate-made apologies to celebrities, influencers, gamers, and people who have been victims of trolling. In return, they show their support in the battle against this issue by taking their stories on their social media profiles, while also encouraging people to #SugarcoatIt. Users who have been trolled and consider they deserve an apology from the internet are also invited to join the campaign, by dropping a message to Chocapologies and sharing their experience on @chocapologies Instagram account, thus having a chance to receive a giant bar of 🙏 Chocapologies – on Behalf of the Internet🙏.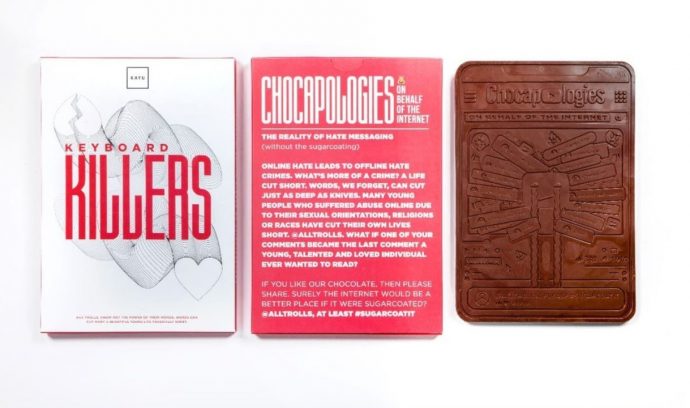 According to the press release, 61% of teens reported that they have been bullied because of their appearance. 80% of people have encountered hate speech online, while 40% said they felt attacked or threatened via social network sites. 3 out of 5 kids are bullied on social media platforms, with 7 out of 10 teens experiencing cyberbullying before they even turn 18.
With this campaign, the agency and the chef want to tackle cyberbullying, showing the audience the impact such rude behavior has on a victim's life. The emotional wounds they experience span from low self-esteem, depression, anxiety, and even self-harm. Some may feel so overwhelmed that they decide to take their own lives. Without the sugarcoating, the internet can feel like an extremely dark place.
"Due to the above statistics and consequences, it is crucial to bring the issue to the limelight and apologize on behalf of the internet because it won't. And like Karim Bourgi, all we ask of all trolls is to at least #SugarcoatIt!" concludes the agency.