Not all menstruating people around the world have access to sanitary pads and menstrual products to safely deal with their periods when the moment comes. In fact, one in four girls around the world is affected by period poverty, growing up having poor knowledge or even no education at all and no clue about their bodies and reproductive health. If cultural stigmas and other social complexities step into the scene, these individuals' chances of shaping a better future for themselves are limited.
Freedom Cups, a Singapore-based social enterprise that's set to bring education and reusable menstrual product into under-resourced communities, has recently joined hands with Wunderman Thompson Singapore for a campaign that allows readers to experience periods as if they were underprivileged girls from Manila, Chennai, and Kuala Lumpur. The Period Poverty Chronicles narrate the real stories of such teens, for whom period products, clean water, and adequate washing facilities are luxury items.
Visible as newspaper ads, these stories invite the audiences to put themselves in the shoes of Tin-Tin, Kavitha, and Aisyah. For some, a magazine is simply a resource to stay informed. But for girls coming from poor backgrounds, the pages of a newspaper represent a desperate alternative to sanitary pads. Based on this insight, Freedom Cups writes these young females' stories around the shape of a pad, communicating the need for proper menstrual products in under-resourced communities like the Philippines, Cambodia, Nepal, India, Nigeria, Kenya, and Uganda.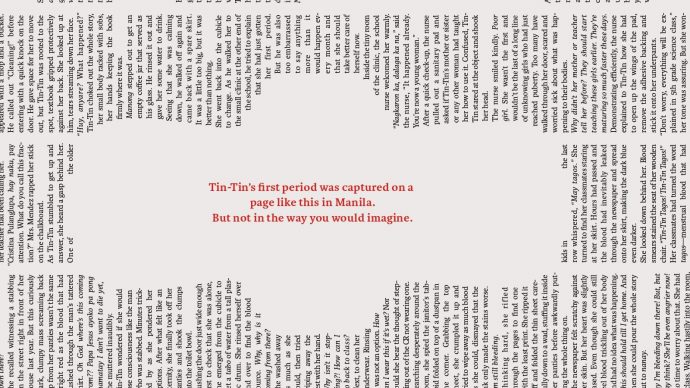 Freedom Cups' mission is to bring a menstrual cup to as many women and girls as possible. Being reusable, the product is not only an economic option people can opt for to deal with the monthly bleedings but it is also a nice way to show care for the environment. Most importantly, buying a cup from Freedom Cups means helping a woman living in an underprivileged community, as the company operates under the buy-1, give-1 model.
Vanessa Paranjothy, Co-founder of Freedom Cups, explains: "We are doing our part to alleviate this goliath, age-old, and multifaceted issue. With our buy-1, give-1 model that allows us to provide a Freedom Cup to underprivileged females in need. We believe these cups that last for several years are the best option for the body, wallet, and planet."
"These stories deserve to be read. It feels good to do long copy again," concludes Mateusz Mroszczak, Chief Creative Officer of Wunderman Thompson Singapore.
The pad-shaped ads that reflect period poverty can be noticed on Singapore's The Business Times' pages throughout the month of April. According to the agency, the series will live next as OOH and as a free podcast voiced by local artists to ensure accessibility for all. Below, you can read Tin-Tin's story and, by clicking here, you can discover Kavitha's and Aisyah's experiences as well.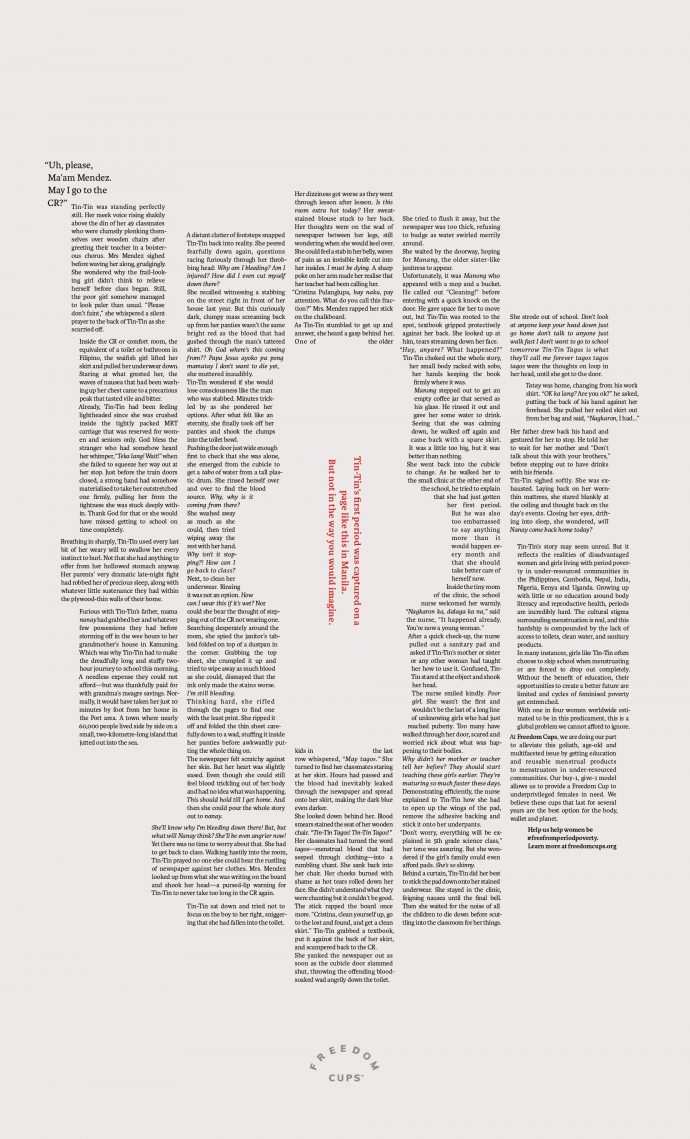 Credits:
Client: Freedom Cups
Agency: Wunderman Thompson Singapore